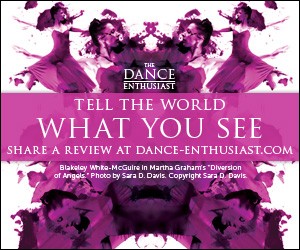 Related Features
Hope and Activity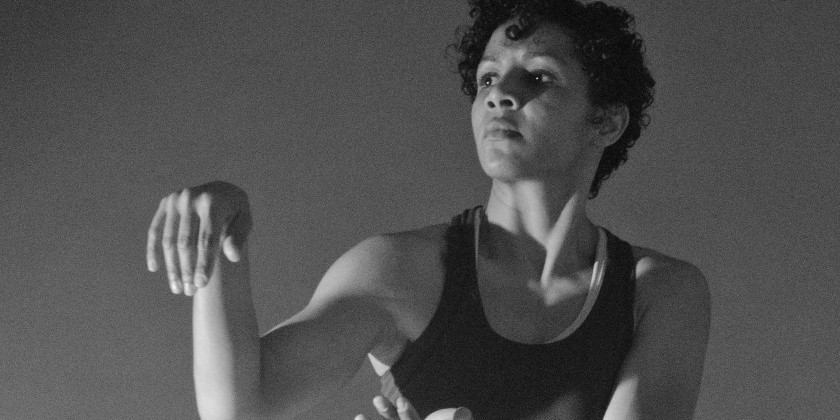 Maria Bauman on Undoing Racism
Dance artist, Maria Bauman and I sip "green" shakes, while sitting in a small cafe in the West Village. Summer vacation is over, and the back-to-school bustle in the air signals a new seriousness. It seems "just right" to take a moment to fortify ourselves.

Bauman is, happily, busy. The dancer, artistic director of MBDance and former associate artistic director of Urban Bush Women, has just returned stateside from Zhengzhou, China where she taught contemporary dance as part of the American Dance Festival's "mini-ADF." Now, after conducting a residency in Rhode Island with Fusionworks Dance Company, Bauman is preparing for a fall residency at Brooklyn College inspired by the writings of the poets Audre Lorde and James Baldwin. She plans to delve into what radical love looks like for black queer people. Intimacies, connections and social issues fascinate Bauman, the choreographer. She is also a quite marvelous performer. Keep watching.
Maria's upcoming events:
*
CUNY Dance Initiative Residency
: Sneak peek into MBDance's creative process, including a preview of movement phrases and Q&A as the company develops their latest project 
Attend Me
, inspired by queer feminist writer Audre Lorde--radical self-acceptance and self-love, romantic love, and defiant queerness.-
Sept 18, 2014 I 3:30-4pm- Open Rehearsal Viewing -4:00-5pm Lecture Demonstration -Brooklyn College Quad Bldg, Studio 240 (2900 Bedford Ave Brooklyn, NY)
*Radical Love Fest!
Maria Bauman, Artistic Director of MBDance, is facilitating several Radical Love Fests, calling upon her extensive experience facilitating artistic community engagement projects. The sessions are participatory and open to all, and will include discussion, free writing, partner stretch, and other restorative practices. Adaku Utah, founder of Beatbox Botanicals (click HERE), is designing the space and loving up the atmosphere. "
Caring for myself is not self-indulgence, it is self-preservation, and that is an act of political warfare." Audre Lorde.
Oct 9, 2014 I 6:30-8:30 I BK College. For more information, click here.
While the excitement of new art projects abound, one can't help but reflect on the summer. It has been a rough season. The War in Gaza crushed us with a constant flow of limp, dead bodies, suffering children and families, and messages of hate. The beheading of journalist James Foley (and later Steven Sotloff) by the radical terrorists ISIS was singularly frightening and brutal. Right here at home in Staten Island, Eric Garner, a 43-year-old asthmatic, African-American died as he was being arrested for the selling of untaxed cigarettes. The cause of death — compression of the neck as a police officer (one of five) restrained Garner with the controversial "choke-hold" maneuver. Then, on August 9th in Ferguson, Missouri, Michael Brown, an unarmed 18-year-old black teen was shot and killed by a police officer. Dorian Johnson, a friend who was with Michael Brown when this happened, said Brown had his hands in the air and was unarmed when he was killed.

The pain and violence that  exploded in Ferguson after Brown's killing set in motion a barrage of events which we are used to associating with war torn countries far away: armored cars rolling through the streets, heavily uniformed soldiers from the National Guard, tear gas thrown into crowds, looting, rioting, stories of journalists being arrested, the FBI needing to be called in, and, finally, the President of the United States sending his Attorney General, Eric Holder to the tiny town to call for calm and transparency. The drama continues as more eyewitnesses come forward and citizens call for the arrest of Wilson, who has been laying low since the shooting. Watching this tragedy play out on television was surreal and sickening. One can't imagine what it has been like to live in Ferguson.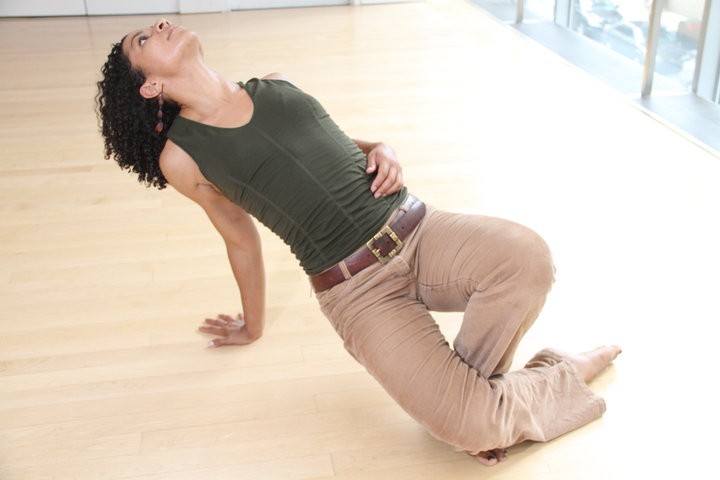 Maria Bauman:Photo by David B. Smith
Bauman agrees. "It was a rough summer, but it isn't an anomaly. I wish we could say that. This has been one cycle, which is part of a large arc of racism."  She reminds me that it is time to catalyze.  Bauman's company motto is "Sweat Your Truth," a catalyzing sentiment if ever there was one.

Over a decade ago, when she was a 19-year-old college kid, studying Dance and English at Florida State, Bauman was introduced (through a workshop with Urban Bush Women) to an organization called the People's Institute for Survival and Beyond (PISAB). PISAB devotes their efforts to anti-racist work. The mission is to "focus on understanding what racism is, where it comes from, how it functions, why it persists, and how it can be undone." Undoing Racism is one of the many community programs the group offers to educate, train, and motivate participants to change the future.

Today, Bauman continues to work closely with the group organizing Undoing Racism workshops for arts communities. In fact, this weekend she, along with Company Cypher, Nathan Trice RITUALS, and NOCD-NY will present a transformative training session geared for artists called Understanding & Undoing Racism + Community Organizing for Cultural Workers.
"We all deal with racism in one way or another, and we (artists and arts organizations) have our own STUFF to deal with."  Bauman points out that bias can be seen in who is presented by theaters and other artists. It can distort how we feel about our own work compared to others, or taint our feelings about the value indigenous dance forms. Her work with PISAB has allowed Bauman to navigate, with enlightenment, what she refers to as the "matrix" of racism. She now has the tools to collaborate across race lines; she can quickly detect how she is being perceived, or if a working environment will be an equitable place.

One of the remarkable features of the organization is its hopefulness. "We come to this work with a lot of hope," declares Bauman. "We believe that what has been done can be undone. It won't be easy or quick. Racism is centuries old, but we can create a paradigm shift."
But hope isn't always readily available, and Bauman describes a despondent time eight years ago, when Sean Bell was murdered.

Bell, a 23-year-old black man, was returning home from his bachelor party at club in Queens. There was an argument between someone in his party and another man at the club. Someone was overheard talking about getting a gun. A team of police, conducting a drug smuggling sting there, interceded and fired at Bell's car. They shot 50 times. Bell was killed and two of his friends were wounded.

"Fifty times," says Bauman. "I just couldn't wrap my head around that number. Why would police be so hyper vigilant, so ready to associate a black man as 'dangerous and scary' that that would be their response. That took my breath away."

Bauman describes feeling as if as if a huge boulder rolled down to crush everything that had been worked for around race equity. Her response was to create 50 Ways To Say, a piece that used the Myth of Sisyphus (Sisyphus was condemned by the gods to perpetually shove a boulder to the top of a mountain only to have it fall back down again) to come to terms with the violent death of Sean Bell.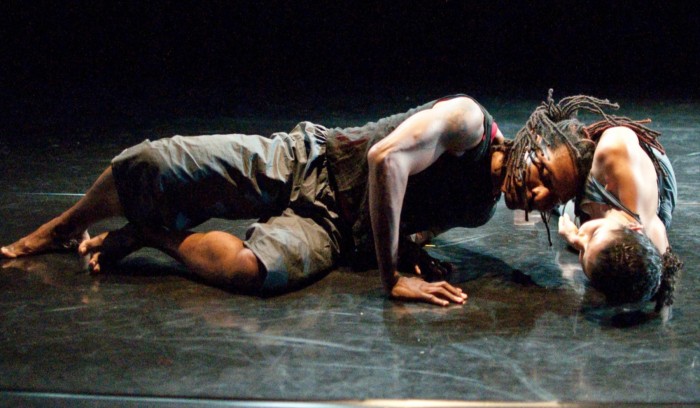 Maria Bauman's 50 Ways To Say  -Photo by Adrian Jones
Dancers: Trebien Pollard and Maria Bauman
Perhaps it is Bauman's current studying of the art and activism of Audre Lorde, or simply her natural inclination to refuse to be a casualty of racism, that keeps the young artist pushing forward, no matter what boulders may roll.  
"I am not a Pollyanna," she asserts, "I have a consciously cultivated hopefulness. I don't want to focus on things done to me, (but rather) on what I can do." Art is part of that for Bauman. It is her light and her connection to the grace of the universe. "We need that connection; we are not automatons," she smiles as we get ready to continue moving through the rest of our day.

Racism douses the light. "It dupes the world and robs all of us by stealing our humanity and smothering our identities," states Bauman.  "Racism would have us believe, this is just the way it is-- but hope is revolutionary."