Jennifer Edwards on The Rosas Project: A Virtual Performance Collaboration between DanceWorks Chicago and Shenandoah Conservatory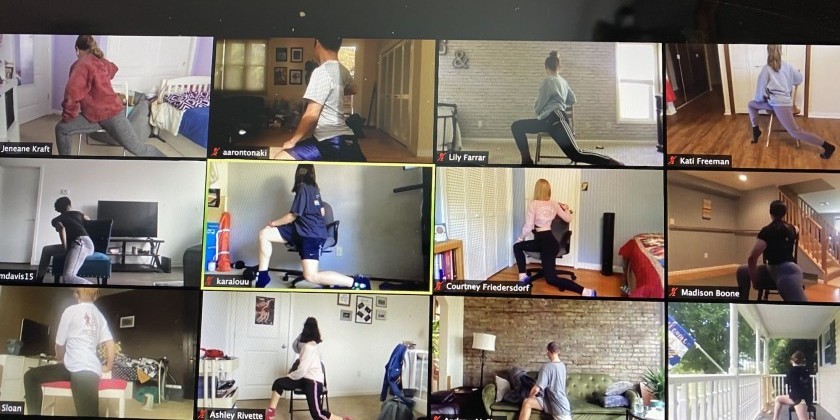 Tune in May 8th at 2PM eastern time, streaming from both the Shenandoah University, @shenandoahconservatory and Dance Works Chicago, @danceworkschicago Facebook pages
Dancers: DanceWorks Chicago Company Members: Kim Davis, Racquel Mar, Elijah Richardson, Kara Hunsinger, Andrew McShea, Imani Williams
Current Shenandoah University Students: Maddi Boone, Lily Farrar, Rachel Hock, Berkley Lipscomb, Ashley Rivette, Cara Thomas, Natalie D'Angelo, Kati Freeman, Jeneane Kraft, Donovan Mellon, Erisa Sloan, Aaron Tonaki
Shenandoah University Dance Alumni: Adrienne Elion, Courtney Friedersdorf
---
Weeks ago, as dance companies canceled performances, university campuses closed, and dance departments scrambled to put classes online, two directors, states apart, turned to the missions of their respective organizations, surveyed resources, and hatched a plan. Julie Nakagawa, director of DanceWorks Chicago, reached out to the universities the company has a relationship with — asking how they might assist — knowing her dancers were on contract through April and that dance majors in their final semesters needed the professional experience that generally accompanies the completion of one's college training.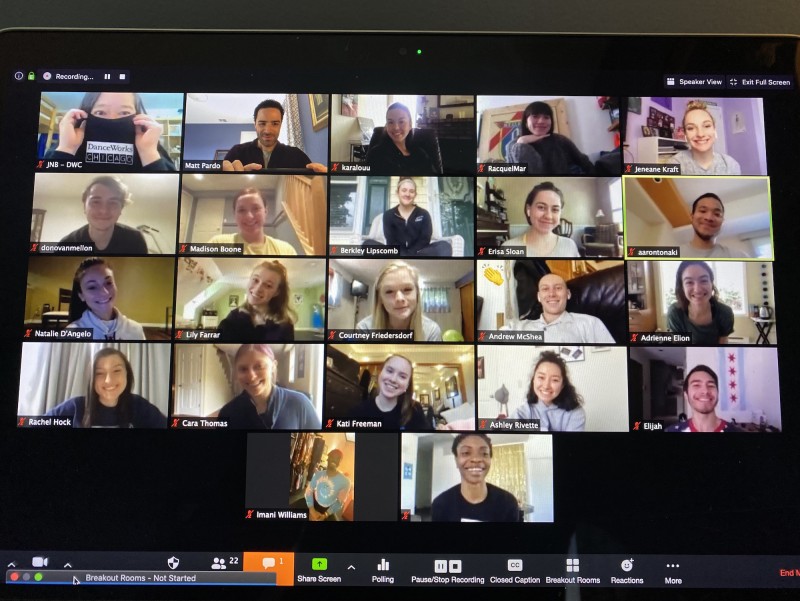 Photo by Matt Pardo & Julie Nakagawa
At the same time, Matt Pardo, professor of dance at Shenandoah Conservatory, was focused on the university's mission to develop artists who are 'collaborative at their core' and working at a high level of artistry. He had been interested in exploring Anne Teresa De Keersmaeker seminal work, Rosas Danst Rosas, with his students and because of the minimalistic, contained and largely gestural nature of the piece, now seemed like the perfect time. Additionally, as part of the thirtieth anniversary of the premiere of Rosas Danst Rosas, in 2013, the company launched Re: Rosas, The Fabuleus Rosas Remix Project. This enabled the dancers to learn a section of the choreography and explore the score and movement vocabulary from its source, Anne Teresa De Keersmaeker and her company. 
Photo Matt Pardo & Julie Nakagawa
When Pardo received Nakagawa's email, asking if Shenandoah would be interested in collaborating, he jumped at the chance. DanceWorks Chicago is "committed to building a foundation for early-career artists by providing a laboratory from which dancers and choreographers propel themselves and the art form to a new level of artistry through training, collaboration, mentorship, and performance." They were the perfect partner and bridge for Shenandoah students to continue their training, build relationships with a professional company and its dancers, and tackle an iconic piece of choreography.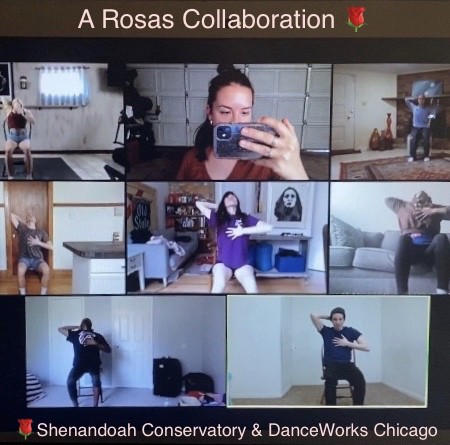 Photo by Matt Pardo & Julie Nakagawa
I was fortunate to 'sit in' on their process — meaning I had access to the Google Drive and files-on-files of schedules, scores, videos, and even attended an open Zoom rehearsal. To appreciate the teaser video below, imagine breaking down every movement of a dance into a grid that mimicked the grid of a Zoom call gallery. Dancers were responsible for learning the movement phrases, recording them on their phones or computers at exactly the same distance every time, meticulously counting to a metronome each gesture alone, to be able to perform in unison via video. Now layer in the constraints of roommates, families, dogs, cats, siblings, scheduling space and quiet time with your housemates to record material that often took 10, 20 or even more takes to capture. The proof is in the blooper reel that Shenandoah student Lily Farrar compiled for her fellow cast members, which featured many laughs, pets, face palms, wide eyes and falling cameras, exasperated exclamations of "I think this is take 53?".
A lot of learning took shape over this four-week process. Several dancers found it useful to have a safe space, extreme organization, and self-directed focus as they approached the material. Things that they articulated they hadn't found in other processes. Other dancers shared they realized how much they needed others in space and time with them to move beyond the, often, toxic self-judgment and self-talk that crept up as they navigated the work alone. However a common thread felt by all was deep gratitude for the community that they felt, the new friends made through figuring out not only the Rosas Danst Rosas section 2 score, but the five other sections that some of the dancers constructed via remixing movements form the original. All told this work has six sections, performed by twenty dancers, who worked from homes across the US, including Hawaii.
Nakagawa shared, "our organizations share values around being 'compassionate citizens who are committed to making responsible contributions within a community, a nation and the world.'"
---
The final product of this collaboration can be seen in a Facebook Live event, airing May 8th at 2PM eastern time, streaming from both the Shenandoah University, @shenandoahconservatory and Dance Works Chicago, @danceworkschicago Facebook pages. This project was pieced together and edited by dance filmmaker, Devon Donis.
---
The Dance Enthusiast's DAY IN THE LIFE covers the stories behind dance/performance and creates conversation. For more behind-the-scenes stories from NYC and beyond, click here.
---
The Dance Enthusiast - News, Reviews, Interviews and an Open Invitation for YOU to join the Dance Conversation.