Related Features
Contribute
Your support helps us cover dance in New York City and beyond! Donate now.
New York's Heidi Latsky Dance and California's AXIS Dance Company Perform Together
To Celebrate the 25th Anniversary of The American's With Disablities Act
Heidi Latsky Dance and AXIS Dance Company
Performing Together at NYU's Skirball Center for the Performing Arts
Sunday, November 15th, 7pm
Also "On Display" a living gallery, will take place in the lower lobby from 6-7pm
And Don't miss AXIS Dance Company's performance at the New Jersey Performing Arts Center on Tuesday 11/17 at 7:30pm
Tickets for the NYU Skirball show can be purchased here
Tickets for the NJ PAC show can be purchased here 
Pictured above: AXIS Dance Company Home Season 2015. Dancers Julie Crothers, Dwayne Scheuneman, and Sophie Stanley in Joe Goode's to go again
---
Oakland-based AXIS Dance Company and New York City-based Heidi Latsky Dance work on opposite coasts, using dance to revolutionize how society perceives disability. On Sunday November 15th at NYU's Skirball Center for the Performing Arts, the two companies will share the stage for the first time in celebration of the 25th anniversary of The Americans with Disabilities Act. The double bill promises to be a ground-breaking evening, challenging us to re-examine reactions to different bodies and reflect upon preconceived notions of beauty.
Smith, who has been with AXIS Dance Company for 18 years, was a champion equestrian prior to becoming disabled in a car accident at age 17. She discovered dance, specifically contact improv, in her search for new ways to celebrate her physicality. Latsky joined the dance world at the rather late age of 20. She had just graduated from Carleton University with a degree in psychology when her love for tearing up the disco floor inspired her to pursue dance as a career. Initially she envisioned herself a ballet dancer— a bold choice, considering most ballerinas must train from childhood— but her interest in psychology and passion for movement combined in an unexpected way when she joined the Bill T. Jones/Arnie Zane Dance Company in 1987. "I was in psychology to make a difference and dance for me was so not about making a difference—when I met Bill and Arnie, they rocked my world," Latsky reflects.  "I had this epiphany, realizing that dance can be political and provocative and evocative."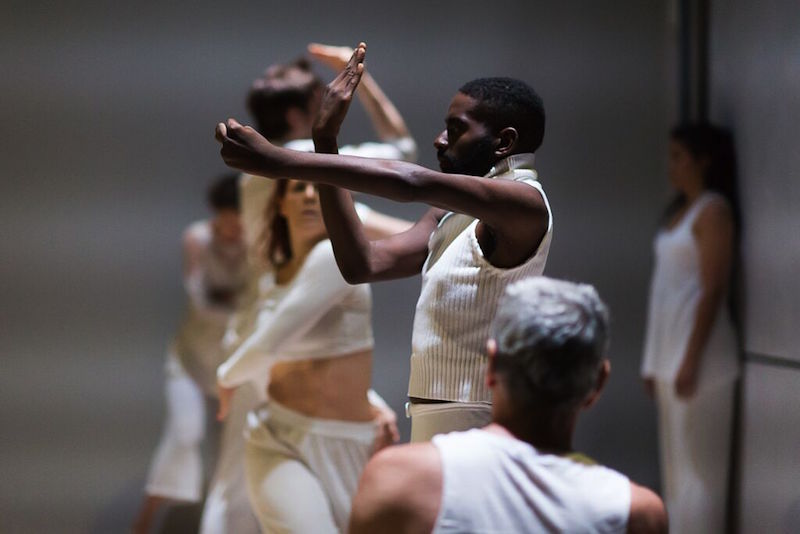 Heidi Latsky's Somewhere performed at the Whitney Museum;  Photo: Darial Sneed
In 2006, Latsky was introduced to Lisa Bufano, a bilateral amputee who lost both of her legs and all of her fingers at age 21, when staph infection shut off blood flow to her limbs. Inspired by Bufano's ferocity in spite of a what seemed a tremendous physical impairment, Latsky entered into a period of extensive collaboration with her. Together they created the solo work, Five Open Mouths, alluding to the fingers Bufano lost. The piece tells of Bufano's journey towards embracing her new body. This partnership spearheaded The GIMP Project, Latsky's body of work relating to disability. "I was interested in the work that you can make that's really poetic and poignant with different bodies," Latsky says. Bufano went on to be a member of AXIS Dance Company. Tragically, she committed suicide in San Francisco in 2013 for reasons unknown. She is remembered as an incredible artist and a major inspiration in the work of both Latsky and AXIS Dance Company. 
Latsky's work is a celebration of what we can do with the bodies that we have. "I started Solo 1 with the intention of making a dance about nothing," she explains. "It was just going to be movement. But I realized that the dance was actually about myself as an aging dancer." While a disabled person's vulnerability may be more aesthetically obvious, we all have our sensitivities and insecurities. Latsky is interested in dancers who can expose themselves onstage. "I find people with disabilities to be wonderfully vulnerable onstage. It's more challenging for trained dancers— I think that gets conditioned out of us."
Latsky challenges performers to push the boundaries of their physicality. "The people with disabilities that come into my company have to be physically dynamic— they're doing really athletic stuff." At the end of Somewhere, Jerran Herman, who has cerebral palsy, will perform a solo that is just as intense as Latsky's opener.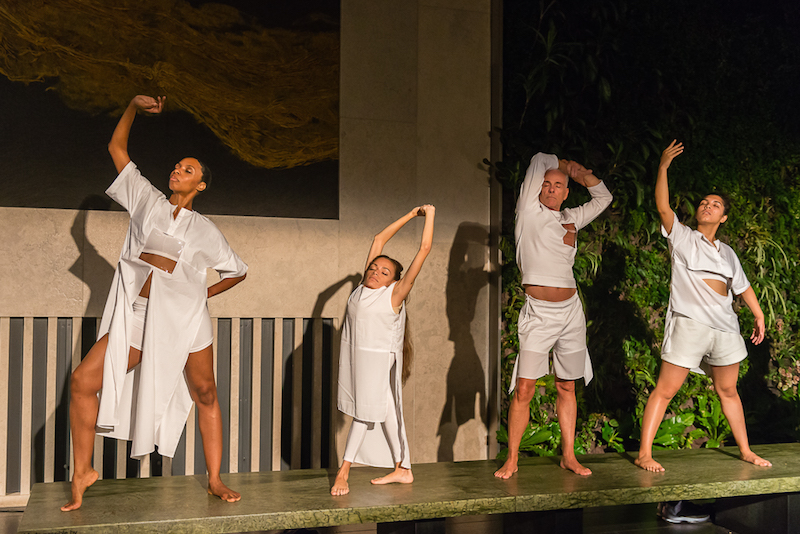 Heidi Latsky's On Display at the Lincoln Center Atrium;  Photo: Darial Sneed
As audience members enter the Skirball's lobby on November 15th, they will be greeted with On Display, a movement installation confronting society's obsession with the physical body. The piece includes a film by Janet Wong, text by Jerron Herman, a score by Stan Harrison and Ximena Borges, and outfits designed by Anna Kathleen Little. "On Display is my first movement installation and I am so excited by it: I believe it is a great vehicle to broaden our reach about so many of the issues I address in my work." says Latsky.
AXIS Dance Company's Judith Smith does not choreograph herself, but seeks choreographers with substance who she feels will confront the challenge of disability in her unique group. "It's an exciting task to have the opportunity to commission work because it means that I get to go out and see a lot of dance," Smith explains. "It's fascinating how each choreographer takes on the specific demands of working with such a diverse group."
AXIS Dance Company, founded in 1987, has truly revolutionized the world of disability and movement, making physically integrated dance into a recognized contemporary dance form. The company has been a tremendous resource for the disabled, bringing their work into schools, community and independent living centers. "Before  AXIS Dance Company, there really was no training for disabled dancers," says Smith.
AXIS Dance Company Home Season 2015. Photo by Dino Corti. Dancers: Dwayne Scheuneman and Keon Saghari in Maurya Kerr, Alex Ketley, and Bobbi Jeane Smith's In Defense of Regret
For this performance AXIS Dance Company will present Marc Brew's Divide. When Brew choreographed Divide in 2014, his process was quite collaborative; much of the material was created by the dancers to suit their specific physical capabilities. A dancer in a wheelchair describes space with his arms and torso while his wheelchair offers a change of level and the smooth quality of wheels on hard surface that adds texture to the piece. This work incorporates both disabled and non-disabled performers. Its clean lines and geometric spatial patterns draw inspiration from Carl Andre's minimalist design. San Francisco's beloved Joe Goode has choreographed a new piece for the evening. to go again explores issues facing veterans as they return to their homes greeted by severe life change.
Axis Dance in Divide ( an excerpt)
Latsky cites Smith as an inspiration and mentor in her work with The GIMP Project. " I have a lot of respect for her—she's been in this business a long time…I'm thrilled that we are sharing the stage."
"AXIS rarely has the opportunity to share a program with another company that is also performing physically-integrated dance.  We also don't perform in NY as much as we'd like so we're very excited," says Smith.
Both women share an interest in the particular qualities that someone with a disability can bring to the stage and hope to break down stereotypes of what a dancer can be. This important show not only celebrates ADA's 25th anniversary, but also raises awareness of the disabled's perpetual struggle for equality.