Related Features
Contribute
Your support helps us cover dance in New York City and beyond! Donate now.
The Dance Enthusiast Hits the Streets: Pam Tanowitz's Dance in a Day
A Dance Adrift in the Cosmos
Venue: Danspace
March 23, 2015
Choreographer: Pam Tanowitz
Dancers: Devin Alberda, Dylan Crossman, Jenelle Manzi, Russell Janzen, Gretchen Smith, Melissa Toogood
Composer: Dan Siegler
Danspace Project presents PLATFORM 2015: Dancers, Buildings and People in the Streets curated by Claudia La Rocco
(February 11 - March 28, 2015)
---
"What if..." is a repeated beginning to a series of questions on this afternoon at Danspace posed by choreographer Pam Tanowitz to six dancers, as she shaped and re-shaped a dance: a unison passage for two becomes a solo; a detail for the hands is eliminated. Three dancers are from New York City Ballet and three from Merce Cunningham company, as decided by Claudia La Rocco, guest curator who came up with the notion of acting as " connector, a matchmaker of sorts." Hints of background differences separate the uptown from the downtown company members; an expressly placed hand with a tilted chin reveals a ballerina, while the slouch defined a downtown girl; a pumping hip while in port-a-bras was equally foreign to all dancers, but quite effective.
Photo: Ian Douglas
Tanowitz indirectly engages those of us who seized on the opportunity to sit in on her open rehearsal, courtesy of a mouth mic. An occasionally self-deprecating remark slipped out, "I don't know what I am doing" met with an appreciative giggle from audience, or she'd say to a couple of dancers, "What are you doing now?" "No, you're good, you're good." These remarks came at the end of an intense seven hour creative stretch in which the dancers, brilliant and relaxed, did exactly as directed.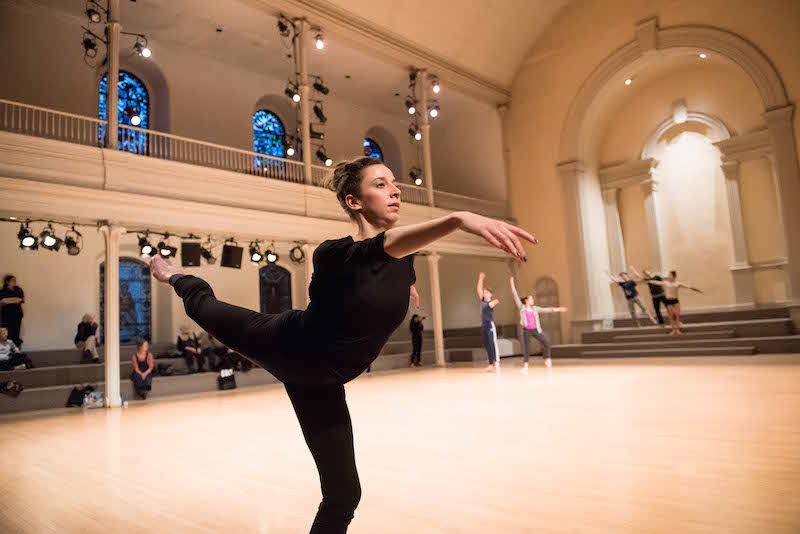 Photo: Ian Douglas
A handsome book was published by Danspace for this platform "Dancers, Buildings and People in the Street,"  also the title of a 1965 essay by Edwin Denby, who was "some kind of portal into all of the issues" Judy Hussie-Taylor, Danspace director, and platform curator LaRocco had been discussing.  "As long as you pay attention there is always something going on, either attractive or unattractive," wrote Denby, "but nobody can always pay attention, so sometimes there is nothing as far as you can see, because you have really had enough of seeing; and quite often there is very little, but anyway you are looking at people dancing, and you are seeing them while they dance."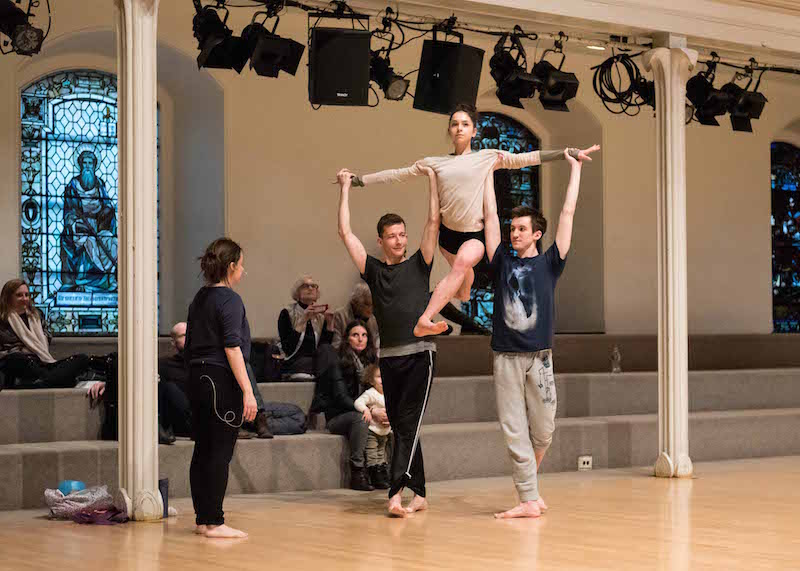 Photo: Ian Douglas
What an inspiration to witness a rehearsal with nothing at stake, no looming stage premiere, no patrons to impress, no expense, simply the pleasure of creating among friends in the quiet support of Danspace.