"Political Mother" arrives at BAM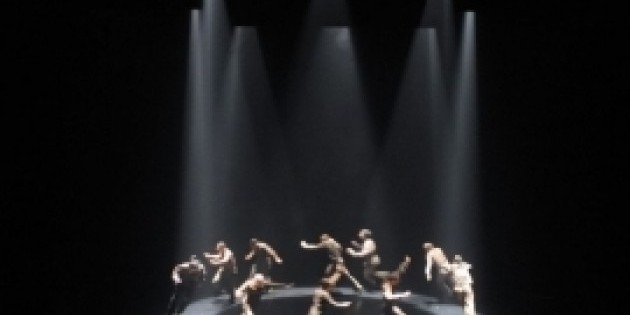 New York, Meet Hofesh Shechter
Hofesh Shechter Calls The Dance Enthusiast
October 11, 2012
---
Political Mother
Hofesh Shechter Company
Choreography by Hofesh Shechter
BAM Howard Gilman Opera House (30 Lafayette Ave)
Oct 11—13 at 7:30pm Tickets start at 0
click here for tickets..
---
Brittany Beyer for The Dance Enthusiast

As we end our phone call, I wish Hofesh Shechter a wonderful time at Brooklyn Academy of Music's Howard Gilman Opera House; it's such an amazing theater.

The choreographer replies,  "Oh really. That's great. I haven't been there yet. We are just about to leave the hotel."

That was at 11:25am yesterday morning - less than 36 hours before Shechter's New York premiere of the hotly anticipated Political Mother, part of BAM's 30th Next Wave Festival.

BAM is the first stop on a month long tour. After Brooklyn, the company travels to Toronto, Montreal, and Ottawa with a dip back into the states to finish off in Minneapolis. While the Hofesh Shechter Company has performed twice in the burgeoning dance town of Los Angeles, this will be the groups' first extensive North American tour of their first evening length work.
Political Mother ;Choreography by Hofesh Shechter ;Photo © GABRIELE ZUCCA

Shechter is a driven individual who is becoming widely recognized in Europe as a contemporary dance innovator. Known abroad for his gritty, emotional dances packed with raw physicality, he is a less familiar entity on our side of the pond. The Israeli-born, United Kingdom based, choreographer spent his early career dancing with Batsheva and Jasmin Vardimon. He was also once a drummer for a rock band. Now Shechter writes the music for all of his dance pieces. In Political Mother, a band of seven drummers and electric guitarists will play at full tilt on a raised platform above the stage for the entire show. (I reckon after this North American tour, we all will have "heard" of Shechter.)
Political Mother ;Choreography by Hofesh Shechter ;Photo © SIMONA BOCCEDI

Many interviews mention that despite his rock star reputation this artist is quiet and reserved, but as we speak over the phone, I sense the deep pool of knowledge and passion right below the surface. It emerges as we chat about the creation of Political Mother, and his choreographic process. "It starts in the depths of the brain, in the subconscious really." the choreographer explains. "I have all of these thoughts in my head, and I put them down in my notebook. I begin to shape it into text and imagery... and then move to sketches of music. The music becomes the driving force of the piece."

Political Mother stems from Shechter's contemplation of different realities, and what happens when those worlds are pressed ever closer together. In the work, he poses questions about what it means—and requires—to belong. Action and music play out the tensions that arise.  Billed as a "heart-stopping, explosive assault on the senses" Political Mother with its cast of highly charged dancers and live musicians, extrapolates and intensifies the unrest we feel in our society today.  We are guaranteed to be pinned to our seats.
Political Mother ;Choreography by Hofesh Shechter ;Photo © Ben Rudick
---
The Dance Enthusiast's DAY IN THE LIFE covers the stories behind dance/performance and creates conversation. For more behind-the-scenes stories from NYC and beyond, click here.
---
The Dance Enthusiast - News, Reviews, Interviews and an Open Invitation for YOU to join the Dance Conversation.