DAY IN THE LIFE OF DANCE: "So You Think You Can Dance" Champion Melanie Moore Realizes Her Dance Dreams in Musical Theatre by MOVING VISIONS Editor Lisa Jo Sagolla
I attended a preview performance of the new Off-Broadway show Cheek to Cheek: Irving Berlin in Hollywood intending to report on the work of its conceiver-director-choreographer Randy Skinner, the Tony-nominated choreographer of the 2001 Broadway revival of 42nd Street. And indeed, Skinner's dances for this charming six-person revue — comprising songs Berlin wrote for mid-20th century movie musicals — proved transporting in authentically recreating period tap and show-dance styles. But from the moment the lights went up on the opening ensemble tap number, my eye was drawn to cast member Melanie Moore. And her performance continued to intrigue me as the evening wore on.
Photo courtesy of the artist
Dance fans know Moore as "The Beast," the fierce competitor with the powerhouse technique who, in 2011, handily won Season 8 of the television dance-competition reality show So You Think You Can Dance. Yet here, transformed into a reed-thin beauty, she not only dances superbly, but also sings surprisingly well, and gets a gold-star in diction for her impressively-clear, rapid-fire delivery of the script's information-dense speeches. And her entire performance is permeated with an enticing humor. So how did Moore go from amazing judges as an athletic dancer to amusing audiences as the stand-out triple-threat performer in an elegant, old-fashioned musical? I spoke with her on the telephone, and here's some of what she told me.
"I would like to think that I'm funny. There are a couple of lines in this show that I'm thankful I have because they're funny, but I also think I make them funny," confessed Moore, when I explained that I was trying to figure out if the humor in her performance was written into the script or imbued by her. "It's helpful that the audience has been quite responsive to me," she continued. "I feel that, in certain moments, I can try different things to make people laugh. I'm lucky I have space to play in this show." In conversing with Moore, it becomes clear that she is quick to laugh and even quicker to appreciate the absurdities and ironies of her journey from the dance world into musical theatre. Treading what appears to be a charmed career path, Moore has discovered repeatedly how moving out of dance and into theatre work allowed her to realize unfulfilled dreams she'd had for herself as a dancer.
Melanie Moore and Kaitlyn Davidson in CHEEK TO CHEEK; Photo by Carol Rosegg
Born and raised in Atlanta, where she began studying dance at age three, Moore describes herself as "classically trained," referring not only to her ballet background but also to the "classic jazz" she learned as a youngster. While her childhood training also included tap and acrobatics, it wasn't until Moore was a teenager that she added contemporary and hip hop to her dance studies. By the time she moved to New York City to attend Fordham University on a visual art scholarship, she was already dancing professionally. "I was preparing to go on tour with the Jump Dance Convention, as their national winner, so I was working every weekend with these amazing choreographers," she recalled. Moore really moved to New York to pursue a dance career and was only going to college because her mother thought it wise that she study something else in the event her dance career didn't work out. Looking back, Moore sees the absurdity in that: "I don't know what I thought I was going to do with art. It's just as hard to get into the art world as it is to get into dance," she said, laughing.
Unhappy at Fordham, she left after one semester and, upon urging from her former dance teachers, auditioned for SYTYCD. "I took a leave of absence, but I never went back to finish up, so I guess, technically, I'm still 'on leave' at Fordham." After her spectacular SYTYCD win, Moore spent a year in Los Angeles doing commercial dance work because, despite her serious interest in becoming a member of a concert-dance company in New York or, perhaps, Europe, she had been told she was a "commercial type" and should pursue that avenue.
Melanie Moore in CHEEK TO CHEEK; Photo by Carol Rosegg
Not completely satisfied with the work she was doing in Los Angeles, Moore returned to New York with the goal of getting into her "dream" dance company, the now-defunct Cedar Lake Contemporary Ballet. Founded in 2003 and funded by Walmart heiress Nancy Laurie, the New York-based troupe was famous for presenting cutting-edge contemporary dance by European choreographers. Moore took class regularly with the company and showed up every time they held auditions, even if there wasn't actually an opening for a dancer and they were simply holding a required call. She felt it important to keep demonstrating her unflagging interest in joining the company. Moore was particularly drawn to the London-based Israeli choreographer Hofesh Shechter, whose work she was learning in classes at Cedar Lake, and desperately wanted to perform. After artistic director Benoit-Swan Pouffer resigned in 2013 (shortly before the company folded when Laurie withdrew her financial support in 2015), Moore was informed that she was never going to be invited to join the troupe.
But while she had been studying at Cedar Lake, Moore had also been working on her singing. "When I moved back to New York after living in LA for a year and some change, I didn't audition for any shows," Moore explained. "For a whole year, I just took voice lessons. Because I didn't want to walk into a casting room and have people say, 'oh, she's such a great dancer, but it's a shame she can't sing.'"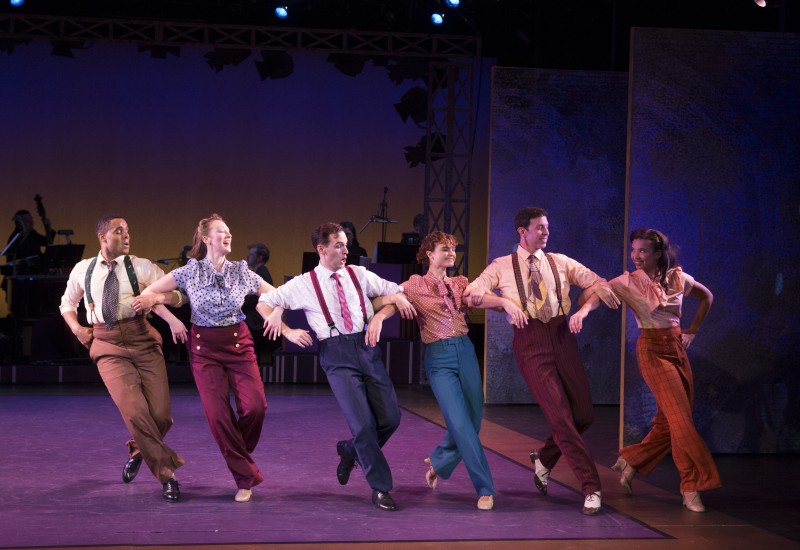 CHEEK TO CHEEK: (left to right) Phillip Attmore, Kaitlyn Davidson, Joseph Medeiros, Melanie Moore, Jeremy Benton, Victoria Byrd; Photo by Carol Rosegg
So with her concert-dance dreams dashed, and her singing chops now ready to go, Moore threw her hat into the musical theatre ring and got cast in a show that was to be produced in Chicago. Before leaving town, however, she heard about an audition for "an undisclosed show" to be directed by Diane Paulus. "I went to that audition because I wanted the chance to work with her, in whatever capacity. I knew that with her directing it, whatever this was had a chance to move to Broadway, whereas the show in Chicago was just going to be a one-off." When she showed up to audition, Moore discovered that the show's choreographer was Mia Michaels, whom she knew from her Jump Dance Convention days. Though well-known for her work as a SYTYCD choreographer, Michaels took a hiatus from SYTYCD the season Melanie competed, so they never actually worked together on that program. Moore turned down the Chicago job when this "undisclosed show" audition led to her getting cast in what turned out to be the 2015 Broadway musical Finding Neverland, in which she made her Main Stem musical-theatre debut in the featured dance role of Peter Pan.
"I was in Finding Neverland when the announcement came through to my agent that they were doing a dance workshop to reimagine Jerome Robbins's choreography for a Broadway revival of Fiddler on the Roof," said Moore. "And I knew I wanted to be part of that!" It is not uncommon — as part of the production process for a new Broadway musical — for the choreographer to assemble a group of dancers with which to "workshop" choreographic ideas prior to the show's official casting and rehearsal period. These workshops not only benefit the choreographer, but also provide short-term employment for dancers while giving them an "inside track" to getting cast in the show. Yet the reason Moore was wildly excited when she was chosen for this workshop was because the Fiddler revival was being choreographed by Shechter. In hindsight, she recognizes how ironic it was that she realized one of her great dance dreams only after she had seemingly left that world behind and moved into musicals.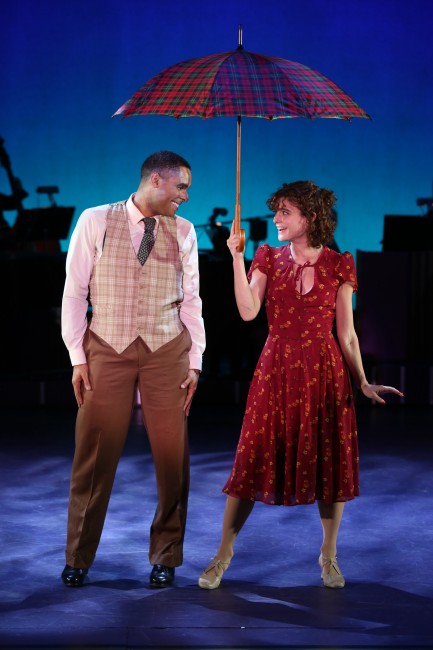 Phillip Attmore and Melanie Moore in CHEEK TO CHEEK; Photo by Carol Rosegg
And the Fiddler workshop proved to be an even more fortuitous step in the evolution of Moore's clearly destined theatre career. "At the dance workshop, they vocalized us, which basically means they had us sing," she explained. "Because we were mainly dancers, they needed to see which of us could sing well enough to be cast in the production." After Moore sang, the show's director, Bartlett Sher, approached her. "He asked me, 'Melanie, can you act'? And I just started laughing and said, 'your guess is as good as mine.' And within a week I had gotten the part of Chava. Bart took a great chance on me, and I will forever be grateful to him for that, for seeing that potential in me. I had said a few lines in Finding Neverland, but I had never really acted a role. And Chava is an important one."
Through its profoundly universal exploration of the power of tradition, Fiddler tells the story of dairyman Tevye's struggles with his daughters' attempts to challenge old ways. While he grows to accept his two eldest daughters' decisions to marry men of their choosing, in one of the show's most heartbreaking scenes, he forever shuns Chava when she marries outside the Jewish faith. "It's the breaking point for Tevye," Moore explained. "I learned I had to find a balance in how I did the role. She can't be too petulant, because you don't want to turn the audience off to what she's doing. They can't ever lose sympathy for Chava. It's important that they continue to like both her and Tevye." Though the original production includes an affecting "Chava Ballet Sequence," and the role of Chava is often played by a dancer, for the revival, Sher cut a large portion of the ballet. He didn't feel it was needed, dramatically. "So it wound up being not so much of a dance role, as an acting one," said Moore, reflecting on yet another ironic twist along her career path. "It was really in that show, and in that role, that I fell in love with acting."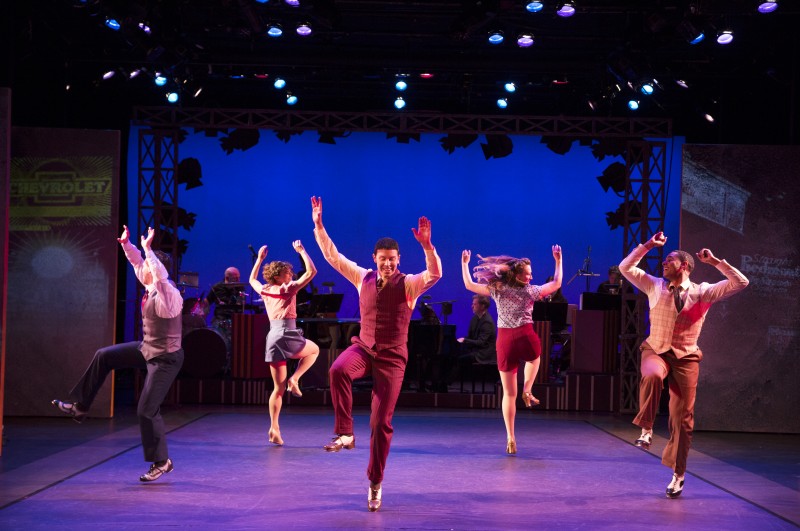 CHEEK TO CHEEK: (left to right) Joseph Medeiros, Melanie Moore, Jeremy Benton, Kaitlyn Davidson, Phillip Attmore; Photo by Carol Rosegg
Moore's next Broadway appearance was as Ermengarde in the 2017 revival of Hello, Dolly! "I auditioned for the show's dance workshop, because at that point, I had never worked with its choreographer, Warren Carlyle," said Moore. "I did a week of the workshop and then my audition came through for Ermengarde." A whiny, comic character, Ermengarde is featured in a boisterous polka contest near the end of the musical. "Though I had learned a lot of the show's choreography in the workshop, as Ermengarde, I only really got to do 'The Polka.' But I had a lot of fun. It's a real princess track. [After appearing early in the show] I get an hour off, then come back on wearing a gorgeous costume."
After Dolly closed, Moore danced in the ensemble of the 2018 City Center revival of A Chorus Line and appeared the following year in Freddie Falls in Love at the Joyce Theater. "That was an all-dance narrative, choreographed by Al Blackstone, who I think is one of the best storytellers in dance. And again," Moore notes, "it was an example of my dance dreams coming true in a different context. I had always dreamed of performing at the Joyce." Even during the shutdown, dance rewards continued to come her way. She was invited to dance in an episode of the 2021 television mini-series Halston. Because the eponymous fashion designer had created costumes for Martha Graham, Moore found herself performing choreography modeled after that of the modern dance genius whose influential technique she had never before had the opportunity to study.   
Melanie Moore and Jeremy Benton in CHEEK TO CHEEK; Photo by Carol Rosegg
Also during the shutdown, Moore performed in chekhovOS, an interactive play, presented via Zoom, with viewers voting on how various aspects of its Chekhov dramas unfold. But here's the really fun part: Starring in the role of Anton Chekhov was Mikhail Baryshnikov. Talk about a dancer's dream come true! "There was no dancing in the play," admitted Moore. Nonetheless, she can say that she has shared a stage, such that it was, with Baryshnikov.  
As theatres began to re-open, Moore was eager to perform in Cheek to Cheek, mainly because of the opportunity to work with Skinner. "I'm a big fan of Randy's movement," she said. "He's one of the only people left who is doing what he's doing. His choreography makes people look like they're floating – like Gene Kelly and Fred & Ginger in those Golden Age Hollywood musicals. Randy is such a magician in that way. But it takes a lot of work. When I get offstage, my quads are burning because of being in plié so much of the time. Yet being able to move like that, and to take up the space in a way that feels really beautiful and effortless every night, is thrilling."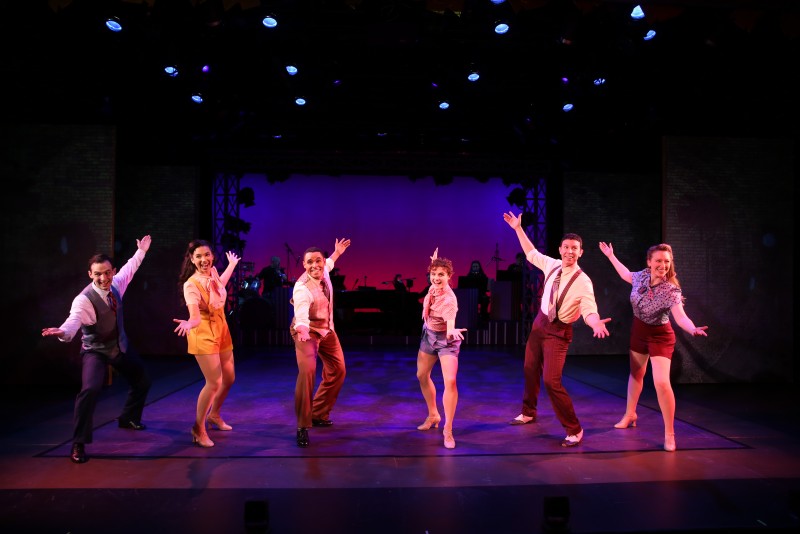 CHEEK TO CHEEK: (left to right) Joseph Medeiros, Victoria Byrd, Phillip Attmore, Melanie Moore, Jeremy Benton, Kaitlyn Davidson; Photo by Carol Rosegg
When I told her how impressed I was with the speaking aspects of her performance, she admitted, "I've been very focused on language lately. I've been more in acting land than in dance land. What I'm doing after this is a straight play." Because it is not yet officially announced, she cannot reveal the title. But in February 2022, in a tour of a show currently on Broadway, Moore will make her debut as an actor in a stage production of a straight play.  
"I feel dancers make the best actors," Moore opined. "Whenever you dance, you're always acting, you're always expressing something, and you have to do it all with your body. When you are given words to say, it becomes much easier."
---
The Dance Enthusiast's DAY IN THE LIFE covers the stories behind dance/performance and creates conversation. For more behind-the-scenes stories from NYC and beyond, click here.
---
The Dance Enthusiast - News, Reviews, Interviews and an Open Invitation for YOU to join the Dance Conversation.