IMPRESSIONS: Tere O'Connor "Rivulets" at Baryshnikov Arts Center
Co-comissioned by Baryshnikov Arts Center and Dance Space Project
Choreography: Tere O'Connor
Performers: Leslie Cuyjet, Tess Dworman, Wendell Gray II, Emma Judkins, Jordan Demetrius Lloyd, Jordan Morley, Mac Twining, Jessie Young
Musical Score: Tere O'Connor
Lighting Design: Michael O'Connor
Costumes: Reid Bartelme
Producer: Sean Donovan
The movement material for this work was created in collaboration with the dancers.
Baryshnikov Arts Center, Howard Gilman Performance Space, November 7-17, 2022
---
Eight dancers, 
each a distinct universe,
draped in a mosaic of lush, cool tones and vibrant sheers
faces and bodies generous, capacious, and
gloriously
alive.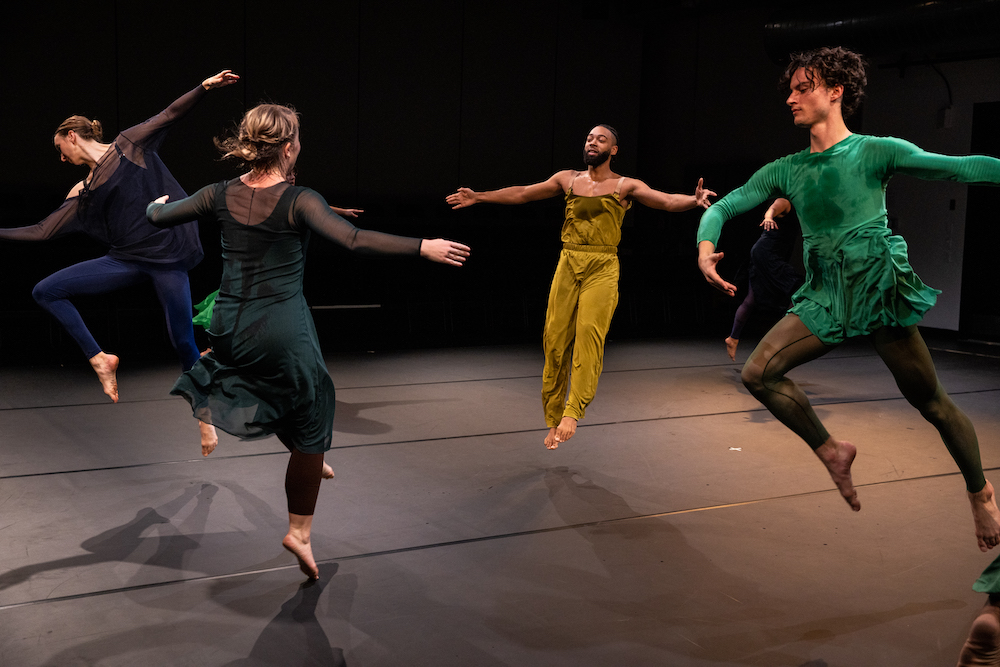 Tere OConnor's Rivulets  L-R_ Emma Judkins, Jessie Young, Wendell Gray II, Mac Twining; Photo: Maria Baranova
They create and inhabit a world
(a facsimile of our own)
where order and chaos are relative terms
of no consequence to the whims and commands of their noble forms.
From an intricate, rippling mass
small images arise in fleeting unisons 
bubbling up as if by coincidence—
suddenly 
a reflection,
a kaleidoscope,
a hieroglyph,
a vortex,
just as suddenly dissolves.
Limbs flung to hang graphically in midair,
hungrily tracing the farthest edges
and the tightest lines inside.
Brief conversations emerge,
to exchange pleasantries
or intimacies
or maybe secrets.
Everything (and nothing) is a feature;
everything (and nothing) is an interlude.
Tere OConnor 's Rivulets,  Foreground: Wendell Gray II; Background L-R: Mac Twining, Jessie Young, Jordan Morley, Jordan Demetrius Lloyd, Tess Dworman; Photo: Maria Baranova
No single sound, no single image prevails,
yet it is somehow pure and whole.
It is a soundscape—atonal, melodic, acoustic, electronic, dissonant and harmonious.
It is a dancescape—formal, gestural, symmetrical, jumbled, bounded and bounding.
It is a lifescape continually created and destroyed.
Each dancer knows they are alone
just as they know they are together,
just as they know they are free,
as sure as their rivulets flow.
---
The Dance Enthusiast Shares IMPRESSIONS/our brand of review, and creates conversation.
For more IMPRESSIONS, click here.
Share your #AudienceReview of performances. Write one today!
---
The Dance Enthusiast - News, Reviews, Interviews and an Open Invitation for YOU to join the Dance Conversation.