Impressions of Raja Feather Kelly and Tzveta Kassabova's "Super WE"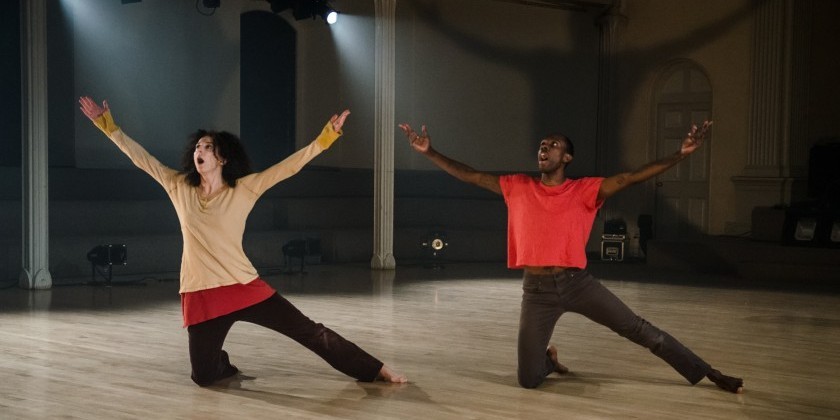 At Danspace Project
Live Music by Aleksei Stevens
Lighting by Tuce Yasak
For full program notes, click here.
---
When the usher hands you a program, it's a big hint as to what's to come. Creased into a paper airplane, it represents both the whimsy and craftsmanship in Raja Feather Kelly and Tzveta Kassabova's Super WE, in which two solos and two duets flaunt meteoric exuberance tempered with extreme control. In Kelly and Kassabova's hands, exhilaration and stillness are not opposites; instead, they are like breath, part of a process in which one follows the other.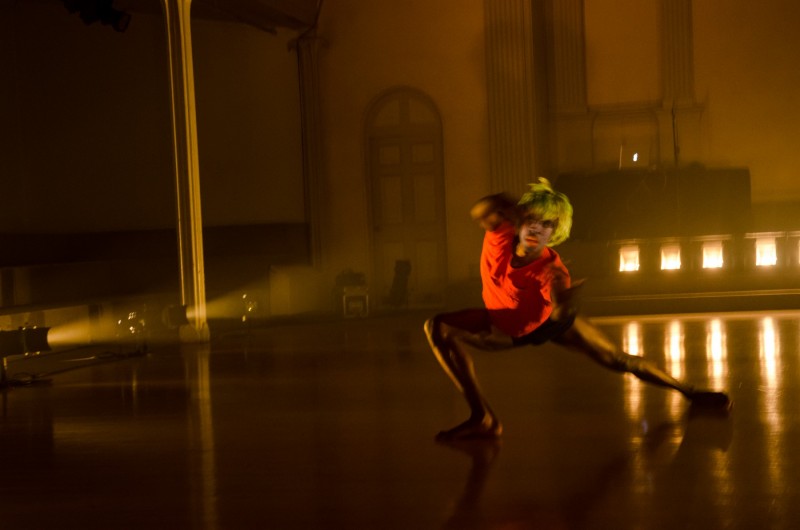 Raja Feather Kelly. Photo: Diego Britt
Kelly opens with a solo entitled 25 Cats Name SAM and one Blue Pussy, Basic Instructions Before Leaving Earth, or How Can You Dance When Every 7 Minutes Human Conversation Lapses Into Silence. Did you get that? If not, don't worry: The fanciful name evokes the art and philosophy of Andy Warhol, the inspiration of the piece. Kelly, clad in a green-tinted wig and hot shorts, uses his elastic limbs and hot pink lips to evoke the weirdness and brilliance intrinsic to the Warholian ethos. Scampering and posturing, he occasionally stomps off into a darkened corner before returning again. The solo, freeform and brimming with cheek, reads like a compelling version of dancing like no one's watching.
Tzveta Kassabova. Photo: Diego Britt
Letter (to Ed), Kassabova's solo, performed to the crystalline music of Arvo Pärt, is a study in sustained explosion. With her halo of curls streaming behind her, she heaves and flings her body: an angel trying to loose the demon inside. Her spastic volatility, riveting in its purity, finally exhausts itself as, in a smudge of hazy light, Kassabova pulses into an expansive split.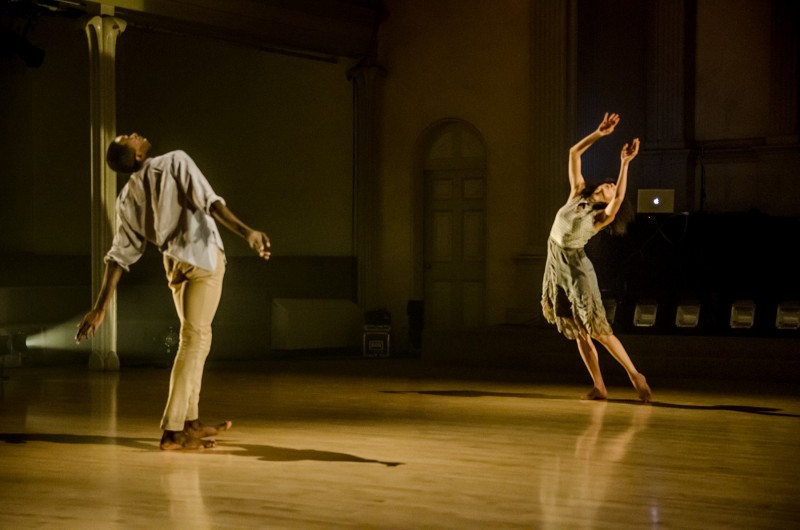 Raja Feather Kelly and Tzveta Kassabova. Photo: Diego Britt.
The two duets, a contrast between enchantment and wit, highlight the eruptive magnificence of Kelly and Kassabova. The first (Be Still, My Heart choreographed by Sara Pearson) conjures up a hazy, yearning dreamscape while the second (Super WE created by Kelly and Kassabova) thumps with cheery aerobic shenanigans. Less human beings and more magical creatures dropped in from a world infinitely gentler and wilder than ours, the two treat space like paper: With limbs functioning as scissors, they slice and dice air into origami, occasionally collapsing into each other's arms or flopping onto the floor, their energies exhausted, but only for that moment.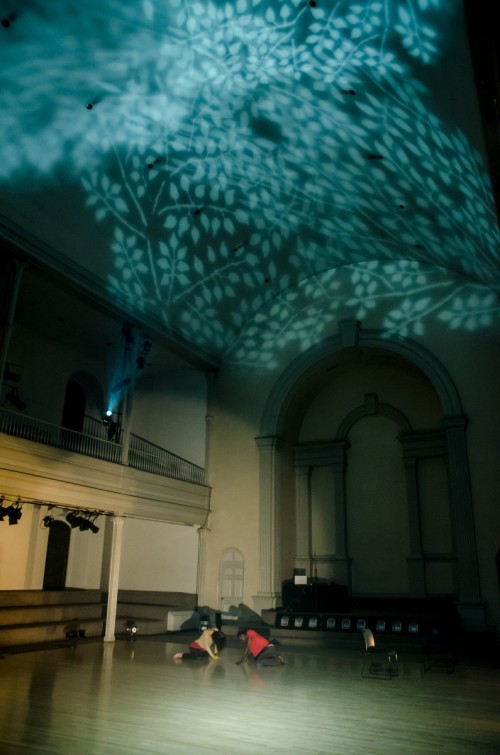 Raja Feather Kelly and Tzveta Kassabova. Photo: Diego Britt.
In between the four pieces, Aleksei Stevens mixes scratchy, screechy music as lights twist into geometric shapes. While noise and brightness fill St. Mark's Church in these interludes, what is most present is absence: Kelly and Kassabova's. Their ability to dance beyond their skin, becoming all visceral spirit, seduces us, and we miss them when, much like an odd but delightful dream, they fade into darkness, leaving us only the imprint of their uncurbed physical fervor.
Program Notes:
25 Cats Name SAM and one Blue Pussy, Basic Instructions Before Leaving Earth, or How Can You Dance When Every 7 Minutes Human Conversation Lapses Into Silence
Choreography and Performance by Raja Feather Kelly
Original Score by Tito Ramsey
Letter (to Ed)
Choreography and Performance by Tzveta Kassabova
Music by Arvo Pärt
Be Still, My Heart
Choreography by Sara Pearson
Performance by Raja Feather Kelly and Tzveta Kassabova
Original Music by Mike Wall
Super WE
Choreography and Performance by Raja Feather Kelly and Tzveta Kassabova
Music by Raja Feather Kelly (inspired by Laurie Anderson)