Impressions of Anne Teresa De Keersmaeker's "Elena's Aria"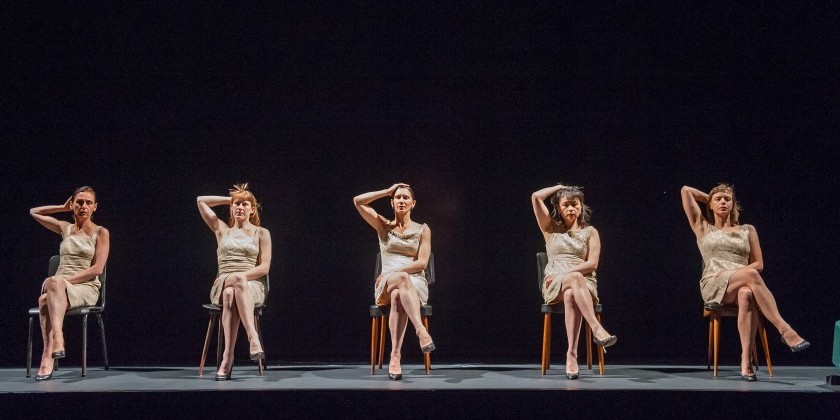 Women without Men
Anne Teresa De Keersmaeker's Rosas
Lincoln Center Festival
Gerald W. Lynch Theater
Elena's Aria
July 13 and 14
Dancers Anne Teresa De Keersmaeker, Fuyimo Ikeda, Cynthia Loemij, Samantha van Wissen, Tale Dolven, Sue-Yeon Youn
Music Thierry De Mey, Peter Vermeersch
---

Pondering Anne Teresa De Keersmaeker's virtuosic piece Elena's Aria, which her dance company, Rosas, revived last weekend at the Lincoln Center Festival, it feels tempting to add the subtitle "Women Without Men."

De Keersmaeker, one of today's leading choreographers, created this work in 1984, early in her career when her troupe included women only. And as part of the mise-en-scène, the five women in it take turns settling into a cozy corner near the proscenium where they read aloud from books. This dance cum library event is not an answer to "Papa" Hemingway's collection of stories "Men Without Women," however, nor is it strictly true that men are absent from this piece.

The authors of the selected passages are all men, for instance. They're empathetic guys who understand a woman's intolerable anxiety at being separated from her beloved (Tolstoy, "War and Peace"), or who can imagine a woman cheated and bullied yet remaining loyal to her abuser (Bertolt Brecht, in "Surabaya Johnny"). It never occurs to these male writers that they're flattering themselves.

Meanwhile, fading in and out of the background at the Gerald W. Lynch Theater at John Jay College is the voice of Enrico Caruso, his heart in his throat as he sings "O sole mio" and other Neapolitan songs. We never hear the female aria from "I vespri siciliani" from which this dance takes its name; but far along in the piece we hear another kind of aria -- a speech by sexy guerrillero Ernesto "Che" Guevara denouncing colonialism before the United Nations. This recording precedes the screening of a demolition film that shows buildings and bridges imploding.
Samantha van Wissen in Elena's Aria. Photo: Stephanie Berger.
In a world like this one, is it any wonder the women's bodies often appear limp with fatigue and despondency?

De Keersmaeker has divided her adult playground into zones. A line of chairs upstage suggests the edge of a ballroom where wall-flowers might perch, while a large chalk circle helps define the dance floor. In a bench-warming area to one side, the women who are not dancing sit removed from the action. They slouch in their chairs, observing their companions and perhaps waiting for the movie (any movie) to start. Because the form-fitting cocktail dresses and high heels they wear are limiting, much of their movement is circular. In a zany "chase" scene, a pair of women moving in tandem lean on the seats and make their hips roll over tumbling rapidly along the upstage line of chairs and frightening Fumiyo Ikeda, who tries to imitate the duo without getting in the way. Later De Keersmaeker will vary this image, as Cynthia Loemij, another "odd woman out," insinuates herself dangerously between a unison pair.

The audience laughs at these antics, but Elena's Aria is not all fun and games by any means. When Tale Dolven, who is standing, crosses her legs tautly and lifts her skirts she looks cramped and ill at ease. At various points the women turn their backs to us and bend toward the ground, knees together and heels splayed. Some observers might find this posture enticing, while others will see a person vomiting. When the women slump idly revealing their bare thighs, the image again seems double-edged: both alluring and filled with despair.  Later, when the strict arrangement of chairs starts to break up, Samantha van Wissen launches herself at one of the seats but overshoots and lands sprawling on the floor. The women share an ungainly pose collapsing in the chairs with one leg hooked backward and the other stretched in front, and with their heads thrown over the back-rest. In this position, they look drunk and defeated.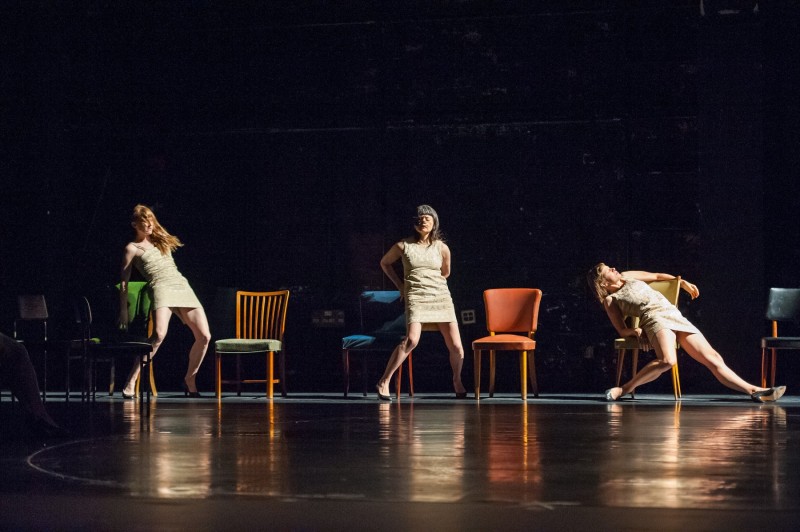 Tale Dolven, Fumiyo Ikeda and Samantha van Wissen in Elena's Aria. Photo: Stephanie Berger.

Meanwhile Caruso warbles sentimentally as if recalling happier times: a Neapolitan holiday or a spaghetti dinner with wine and candlelight that will not be repeated. De Keersmaeker has spoken of the absence of her usual partner, music, in Elena's Aria -- meaning that parts of the dance are performed in silence -- but this piece suggests other absences, too, and failures. Romantic heroes like "Che" Guevara never seem to be around when you need them, and literature offers women few models to teach them independence.

In a final section, the women seat themselves in a line at the front of the stage while a curtain descends to hide the scene behind them. Here they perform simple gestures like wiping their faces, scratching an arm or squeezing their hands beneath their legs. These gestures drawn from life reiterate their nervous self-preoccupation, which is not what Yvonne Rainer had in mind when she recommended pedestrian movement as a cleansing agent for dance. Still, almost no one gets through life without chastening Elena's Aria-type spells of loneliness and melancholy. And the dancers' emotional commitment and their brilliant technique make this dance poignant and wonderfully absorbing.
Follow Robert Johnsonn on Twitter @RobertJ26215165