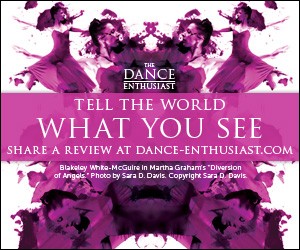 Related Features
IMPRESSIONS: BalletCollective's "The Fluidity of Time" at Trinity Commons
IMPRESSIONS: BalletCollective's "The Fluidity of Time" at Trinity Commons
Artistic Director: Troy Schumacher
Rehearsal Directors: Michael Breeden and Ashley Laracey
Choreography by: Bryn Cohn and Troy Schumacher
Composers: Augusta Read Thomas and Alex Somers
Inspired by the Artists: Douglas Fitch and Olafur Eliasson
Lighting designer: Ben Rawson
Costume designer: Lauren Storabin
Dancers: Graham Feeny, Jada German, Megan Lecrone, Zoe Liebold, Shelby Mann, Lorenzo Pagano, Leslie Andrea Williams, Haley Winegarden
Live Music Performed by Akropolis Reed Quintet
November 2-3, 2022 at the Trinity Commons, 89 Broadway in Lower Manhattan
---
Blue hair and pointe shoes are not a common combination in ballet,  nor is it common to see ballet presented inside Trinity Church Wall Street's community center. Yet BalletCollective's artistic director Troy Schumacher does both in his fall season which features two evening-length world premieres. 
Schumacher's creation process undeniably unites artistic voices through collaboration. He specifically emphasizes the value of acquiring dancers with varied movement styles. "Connecting great dancers from different backgrounds to create a broader spectrum of ability and movement types within a work…means I can include both complicated pointe work…and elements that contemporary trained dancers excel at, like floor work and internally based movement," says Schumacher in a program interview.
Bryn Cohn's The First and Last Light ( pictured L to R)  Dancers Maxwell Simoes, Megan LeCrone and unidentified dancer; Photo: Steven Pisano.
A theme shared in the program is the perception of time and how it changes. Although connected by this motif, the first and second act illustrate it in dramatically contrasting pictures. Bryn Cohn's "The First and Last Light" set to music by composer Alex Somers, is inspired by Olafur Elliason's 'the weather project', an immersive, site-specific art installation displayed at Tate Modern in 2003. The installation used approximately 200 mono-frequency lights to create the illusion of the sun. Cohn achieves this image through a single pool of dim yellow light. Six dancers emerge in metallic, reflective costumes designed by Lauren Starobin and move together mechanically, their articulate footwork complimenting their curious open gazes. The music, produced and mixed by Alex Somers, progresses from lighthearted strings to a soft electronic adagio. Dancer Jada German commands the space with a mix of vulnerability and speed. A trio featuring Megan Lecrone on pointe plays with intertwined, twisted partnering.
Bryn Cohn's The First and Last Light, Dancers (L to R)  Megan LeCrone, Jada German, Haley Winegarden, and Graham Feeny; Photo: Steven Pisano
Throughout Cohn's work, lighting designer Ben Rawson's eclectic choices shaped the stage with gleaming golden hour pools, narrow strips of bright royal blue light, and white boxes framing the ongoing motion in a complimentary style for 22 minutes. Cohn's vision plays with movement and time effortlessly, utilizing the dancers' limber bodies to create structures rippling into and out of connection. "I believe in the power of interpersonal relationships (and art) as a tool to unify and heal," says Cohn in a program interview. "I hope that someone may leave the theater and feel inclined to listen more, hug tighter, love fiercer, empathize with more sensitivity."
The second world premiere, "Forest of Shifting Time," choreographed by Troy Schumacher to music by Augusta Read Thomas, takes audiences on a whimsical narrative-based exploration. "Forest of Shifting Time" is the second collaboration between Schumacher and Thomas, following "The Auditions" for the Martha Graham Dance Company in 2019. The Akropolis Reed Quintet with musicians Kari Landry, Andrew Koeppe, Ryan Reynolds, Matt Landry, and Tim Gocklin harmoniously cue the dancers. In the rising stage light, all the audience sees is trees.
Troy Schumacher's Forest of Shifting Time, Central Dancer is  Shelby Mann ; Photo: Steven Pisano
Two outstanding details are the costumes and props by Doug Fitch, who created six-foot-high tree-like sculptures, colorful eccentric bird garments, and enticing insect costumes. Fitch dressed principal dancers Jada German and Shelby Mann in bright blue pigtail wigs, checkered dresses, blue stockings and golden pointe shoes. His attention to detail, color, and aesthetic turns Schumacher's balletic lines into visual art; all the more exciting up close as opposed to a proscenium theater perspective.
"The idea of my piece is that two explorers find themselves in a surreal, forest-like environment," says Schumacher in a program interview. "While rooting around, they slowly realize that the 'trees' in this forest are somewhat magical, sentient, and mobile." As German and Mann maneuver around the tree sculptures, their steps are unpredictable, until all trees comedically scurry off stage.
Troy Schumacher's Forest of Shifting Time Dancer Shelby Mann; Photo: Steven Pisano
A masked bird with yellow wings and shining sequins appears on stage, soaring on the shoulders of another dancer and three spritely insects inject staccato limbs into negative spaces, twisting their neck and thoracic spine to imitate animalistic interactions. Abstract, investigative, and somewhat hilarious, each character adds a surprising layer to Schumacher's narrative. "I was fascinated to explore how some of these 'trees' shed their bark to reveal some sort of spiritual essence within, which became, strangely, dancing dinosaurs," says Schumacher.
Bryn Cohn's The First and Last Lightm Dancer Haley Winegarden in Foreground;Photo: Steven Pisano
The fluidity of time is a concept that is timeless. The choreographic narrative displays a sense of vast wonder. United for one hour, the audience is taken away from the clock and into a world where time stops.  Coming out of a two-year span swallowed by the pandemic, time has sped up yet also slowed down. In program notes, Fitch reflects: "When we three got together for our initial brainstorm, we were each struck by how we had been similarly affected, all of us sharing a new empathy for different kinds of life-timelines- for the lives of different beings or souls."
---
The Dance Enthusiast Shares IMPRESSIONS/our brand of review, and creates conversation.
For more IMPRESSIONS, click here.
Share your #AudienceReview of performances. Write one today!
---
The Dance Enthusiast - News, Reviews, Interviews and an Open Invitation for YOU to join the Dance Conversation.