Related Features
Contribute
Your support helps us cover dance in New York City and beyond! Donate now.
IMPRESSIONS: Black Grace at the Joyce Theater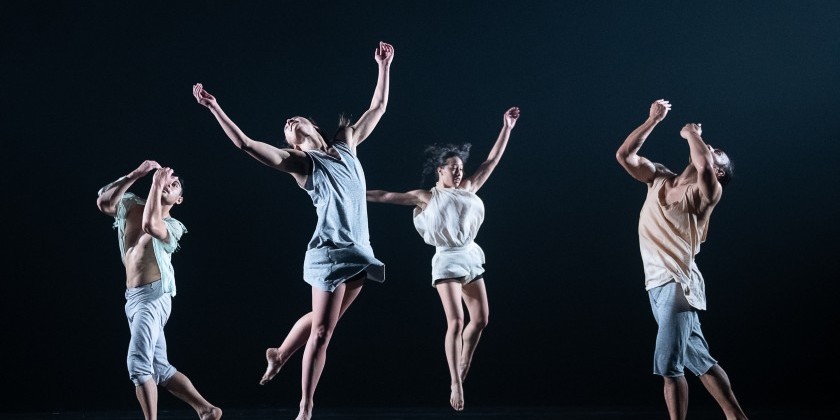 Choreographer and artistic director: Neil Ieremia // Producer and rehearsal director: Abby Ieremia
Musician: Isitolo Alesana
Performers: Sarah Baron, James Wasmer, Demi-Jo Manalo, Shane Tofaeono, Rodney Tyrell, Keana Ngaata, Sina-Lorelie Esera, Petesa Maea, Sione Fataua, Fenjay Sapon, Lealailepule Edward Cowley, Tuaine-Nurse Tamarua Robati
---
The company calls itself Black Grace, and watching these dancers from New Zealand tear across the stage the title of that old hymn "Amazing Grace" comes to mind. Black Grace, which opened in a program of works by director Neil Ieremia at the Joyce Theater on Tuesday, gives one of the gutsiest and most physical performances that New Yorkers are likely to see this fall.
Jet lag does not appear to be an issue.
 Black Grace in As Night Falls; Photo by Christopher Duggan
Other issues arise, however. The erosion of community, and the loss of cultural identity among people of Pacific Islander descent are two of them; and the whole weight of the world's violence appears concentrated in a dark section of a piece called As Night Falls, making a somber counterpoint to that work's exuberant opening. The program is carefully balanced between light and shadow. Still, Black Grace's vitality seems irrepressible, and viewers may come away with an overriding impression of athleticism, skill and bravery.
Art offers a salve for feelings of alienation in Kiona and the Little Bird Suite, the company's opening statement. Kiona is one of those ensemble pieces, built of shared gestures with deep cultural roots, that seem designed to promote solidarity and to combat social disintegration. This call to unity is seductive, suggesting that our differences can be set aside and divisions healed. Yet while such inventions are comforting, they can also frighten individualists.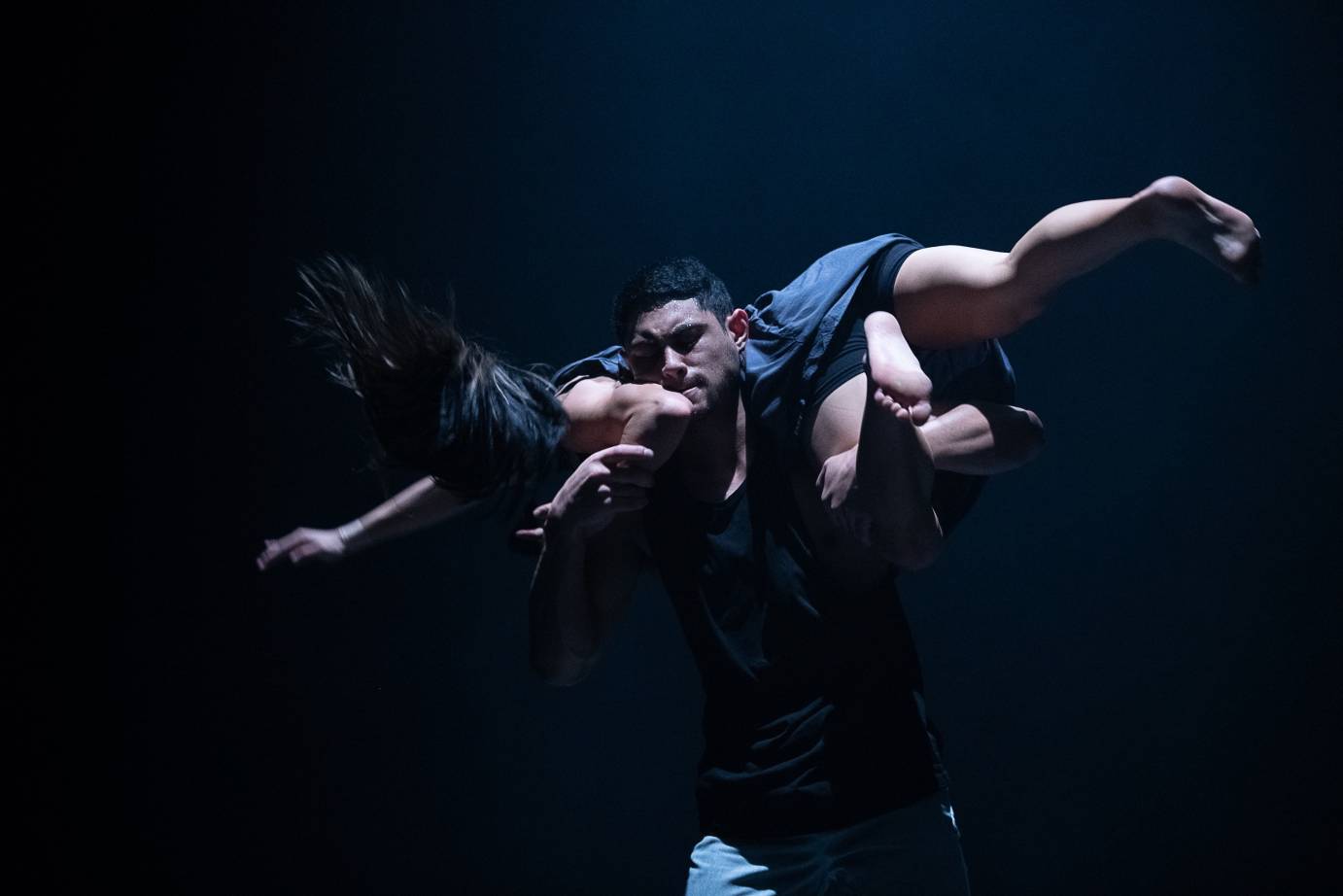 Shane Tofaeono and Demi-Jo Manalo (lifted) in Black Grace's Crying Men; Photo by Christopher Duggan
Stationed upstage drummer Isitolo Alesana drives Kiona with a hollow, wooden beat; while the dim, red lighting suggests a place like the heart's interior. Gathered in a circle, facing inward, the dancers take up various gestures that will become motifs. Pressing their palms together, they crouch and toss their joined hands over each shoulder. As the dance expands and begins to change direction, they squat with legs crossed, lift their knees, and rock backward.. Ieremia likes to arrange his cast in horizontal ranks that move independently, but despite their moving parts these formations retain a block-like shape. Coming straight at the audience, they are not to be trifled with.
As Night Falls, set to Vivaldi, opens with a go-for-broke energy that will prove characteristic. Darting, curling, and dashing themselves to the floor, the dancers set a hectic pace, the racing movement interspersed with gestures of startling softness. Those gestures become the focus of a solo silkily danced by Rodney Tyrell, which contrasts with a rough-and-tumble duet nearby. In the dark section, haunted by shadows, Keana Ngaata appears surrounded by sentinels; and the ensemble later morphs into a crowd of supplicants, holding their hands out beseechingly to a distant point of light, and then using their arms to shield their faces.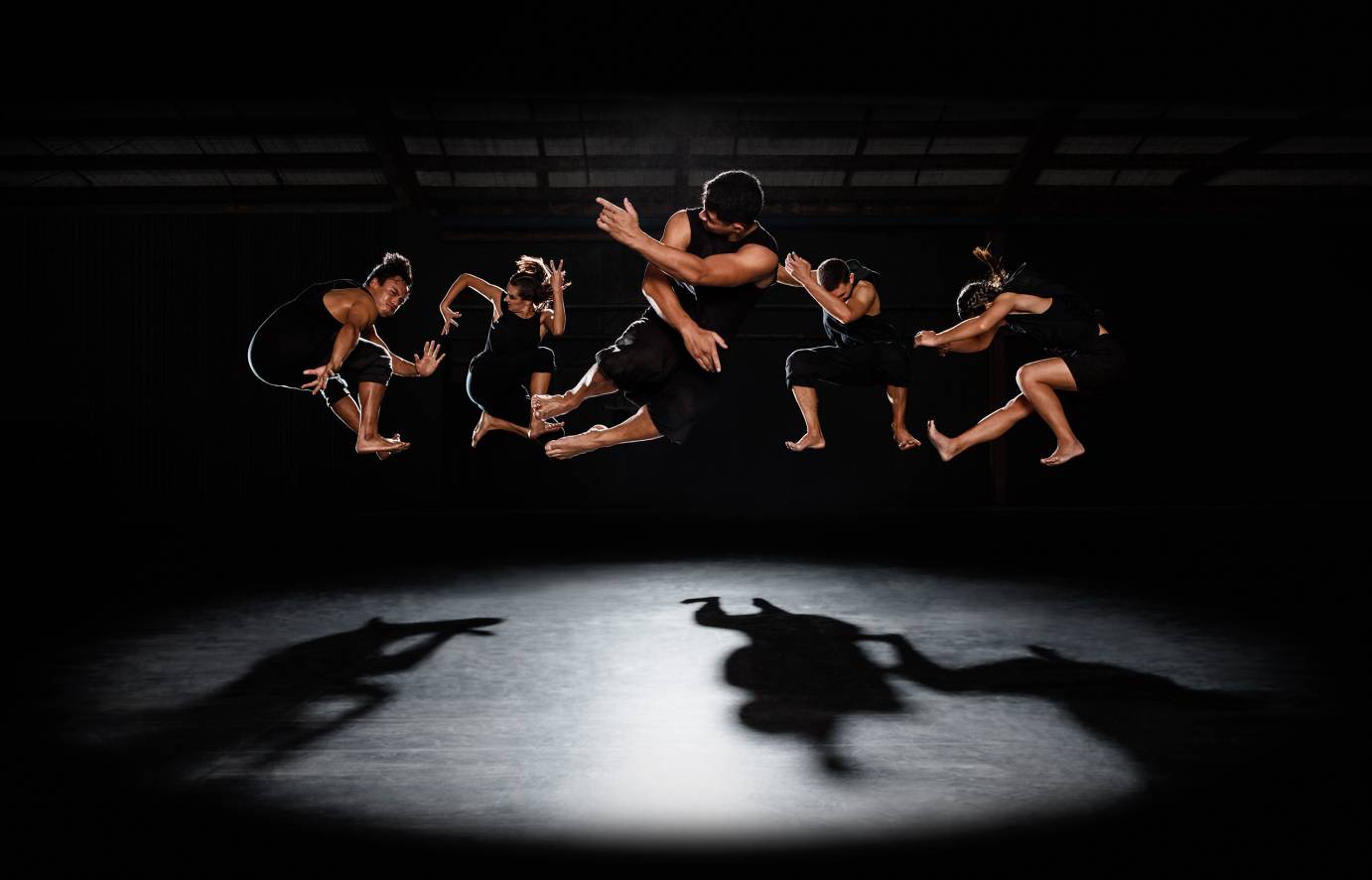 Pictured (L to R): Rodney Tyrell, Paige Shand, Shane Tofaeono, James Wasmer, and Demi-Jo Manalo; Photo by John McDermott
Crying Men is even bleaker. A collaboration between Ieremia and playwright Victor Rodger, the piece features a text in which an anonymous narrator describes his abuse as a child, and looks backward at his "broken" life. That word—"broken"—becomes a repeated lament.
Three figures in shamanistic costume sit on the floor, one dipping and pouring water in a wooden bowl, all generating a sinuous vocabulary for arms and hands that will be echoed by dancers in modern garb. This trio is the source to which Shane Tofaeono returns in a tender solo that suggests self-exploration. Little about Crying Men is tender, however; and relations between the sexes are fraught. In a memorable incident, Tofaeono attempts a crude hook up with Demi-Jo Manalo, becoming increasingly frenzied until Manolo discovers a roaring inner strength that scares this would-be Romeo away.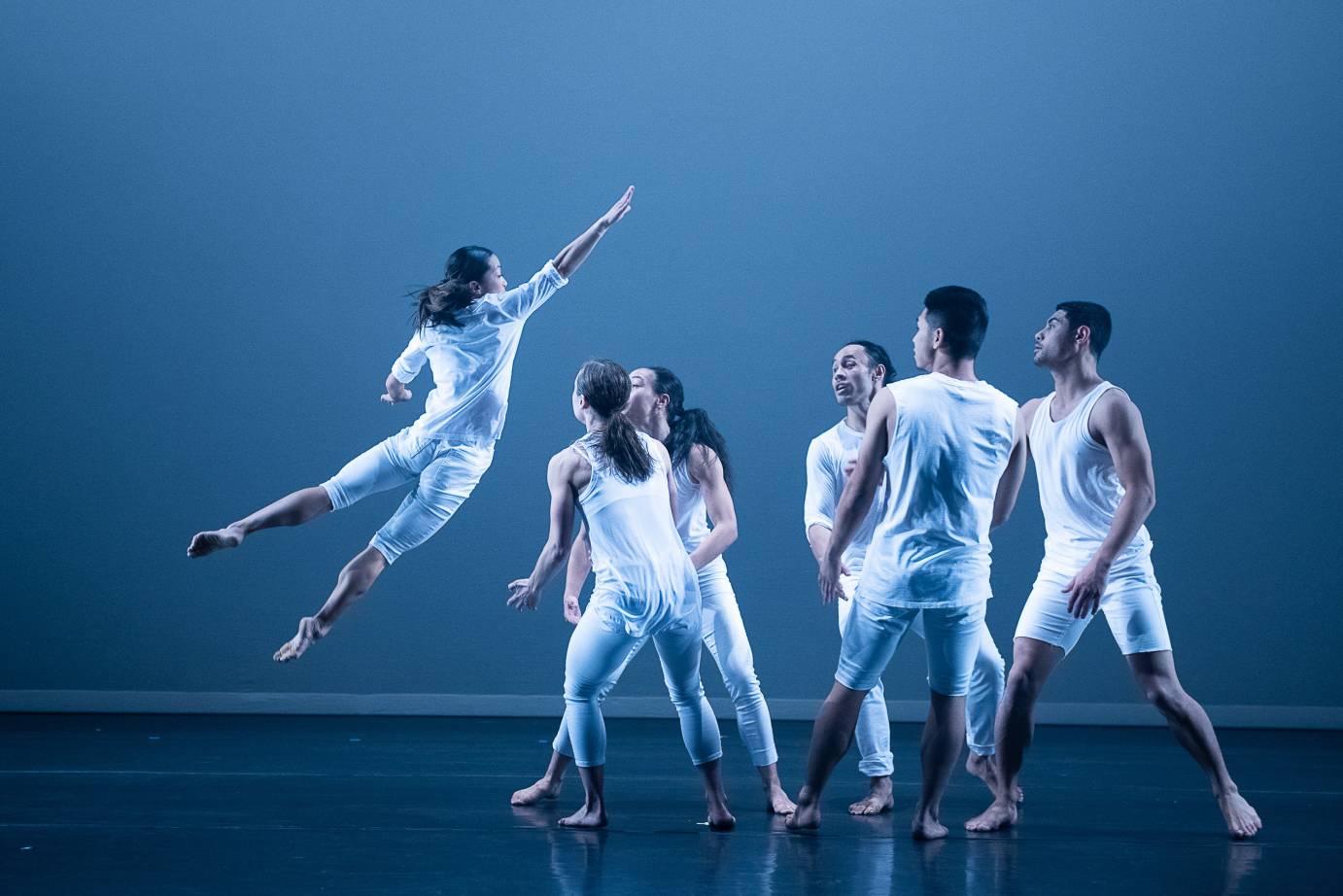 Black Grace in Method; Photo by Christopher Duggan  
This stormy mood does not last, however. The spirit of the late Paul Taylor is alive and well in Black Grace's program closer, Method, another breakneck romp set to—what else?—a Brandenburg Concerto. As the lights come down, the dancers are taking turns flinging themselves into the air and rolling out of the way, as happy-go-lucky as any you will find this side of the Antipodes.
---
The Dance Enthusiast Shares IMPRESSIONS/our brand of review, and creates conversation.
For more IMPRESSIONS, click here.
Share your #AudienceReview of performances. Write one today!
---
The Dance Enthusiast - News, Reviews, Interviews and an Open Invitation for YOU to join the Dance Conversation.