Impressions of: Cori Olinghouse's "Ghost lines" at Danspace Project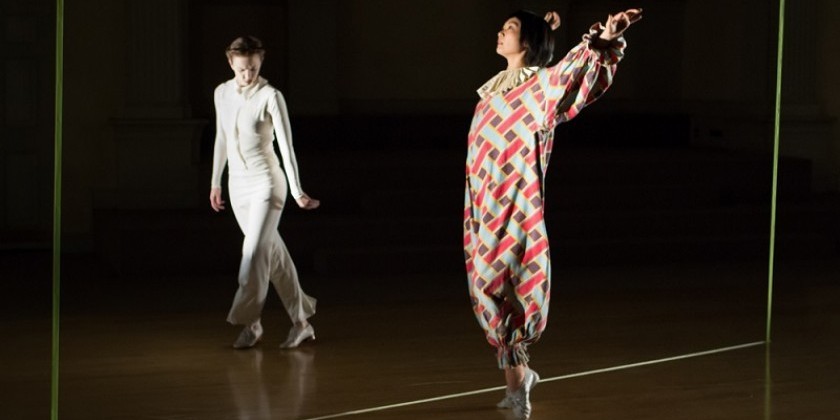 Film and Live Performance Collide
"Ghost line"
16mm film by Shona Masarin and Cori Olinghouse
Choreography and Performance by Cori Olinghouse
Sound Design by Andrew Hurst
Costume Design by Andrew Jordan
---
Ghost lines
Choreography by Cori Olinghouse in collaboration with the performers
Performed by Michelle Dorrance, Elizabeth Keen, Mina Nishimura, Cori Olinghouse, and Eva Schmidt
Dramaturgy by Colin Gee
Lighting by Kathy Kaufman
Costume Design by Andrew Jordan
Sound design by Ryan Ross Smith
Set Design by Cori Olinghouse with Colin Gee and Shona Masarin
---
Artists and entertainers demonstrated conflicting reactions to the brutalities of World War I. Entertainment dulled the dark memories with kicky Charleston moves, vaudevillian antics, and silent movies featuring eccentric, physical comedians like Buster Keaton and Charlie Chaplin. Art turned perverse, countering the trauma with the rambunctious Dadaists and their readymades, while Surrealists invented a deranged beauty. The superficial differences were vast, yet an absurdist undercurrent surged through both.
Cori Olinghouse's Ghost lines. Photo by Alex Escalante.
Cori Olinghouse explores this intersection in her two-piece program for Danspace. Opening with Ghost line, a 15-minute, 16mm film made by herself and Shona Masarin, she acts as a silent movie specter. Olinghouse attired in men's high-waisted pants with a sheaf of striking platinum blonde hair peeking out from under her hat, skates through a soft-shoe shuffle and leans on a cane, carelessly grasping a cigar. Just as talkies and the Great Depression swallowed the freewheeling spirit of the 1920s, chalky stripes and splotches splatter the footage, gradually blotting out Olinghouse. The twitching camerawork and Andrew Hurst's unnerving sound design conspire to create a standalone, high art phantasm.
The live portion, Ghost lines, adds several characters to Olinghouse's incandescent, boater-wearing ringleader. Elizabeth Keen pulls faces as an aging musical theater dame, while Mina Nishimura, big-eyed with blunt cut bangs, wafts like a marionette starring in an anime movie. A haunted hoofer, Michelle Dorrance briskly drills her feet into the floor in a show of tap-dancing pyrotechnics. Eva Schmidt, costumed like a Cubist silhouette, shifts shapes, leaving a current of unrest in her shadowy wake.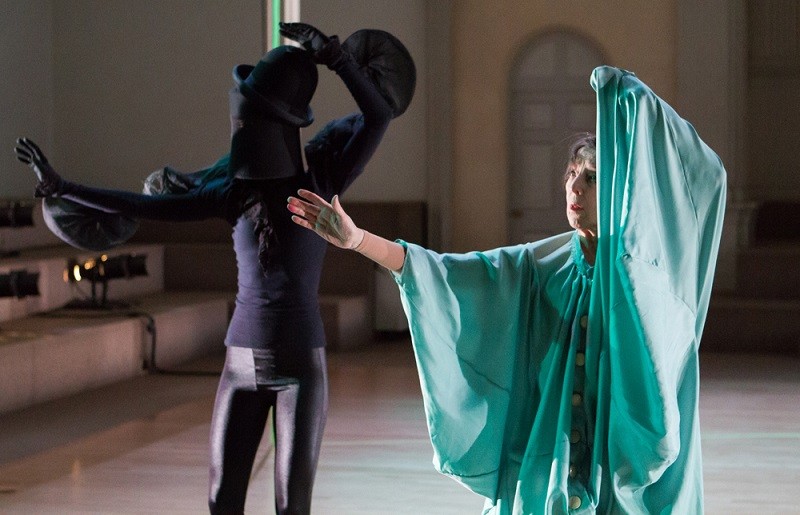 Cori Olinghouse's Ghost lines. Photo by Alex Escalante.
Ghost lines unfolds as if a band of Surrealist artists gummed together their favorite memories from vaudeville shows. Aided by Kathy Kaufman's eerie lighting design, slivers of scenarios materialize, plots hollowed out in favor of hazy sketches evoking showbiz ghosts. Each character follows a spatial and choreographic line, manifesting the private journey of a public performer. Occasionally these journeys overlap as when Olinghouse and Dorrance share a fuzzy spotlight before drifting away on opposing diagonals.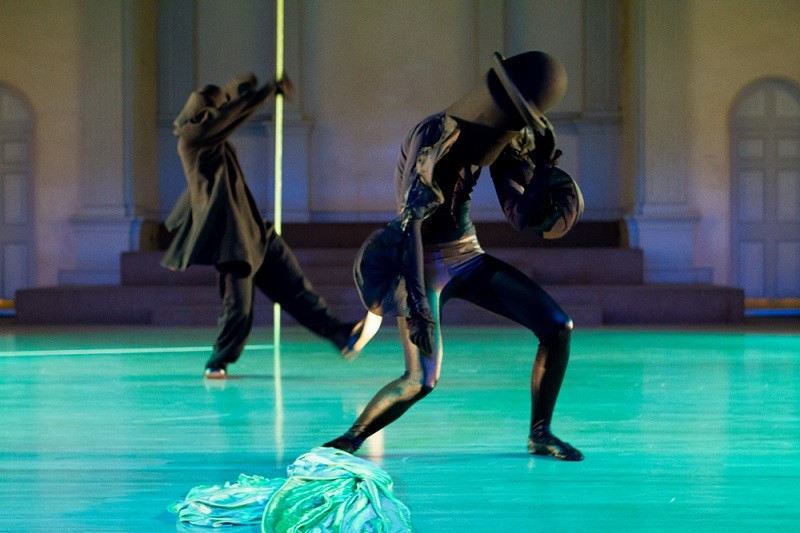 Cori Olinghouse's Ghost lines. Photo by Alex Escalante.
Four posts, tinted cobalt blue or chartreuse, loosely suggest the sacred space of the stage.  Performers amble and skim amongst them, highlighting how both art and entertainment conjure the ordinary into the extraordinary. Ryan Ross Smith's ominous, jangly score entangles us in a nightmare we don't want to wake up from.
Chilly and creepy, Ghost lines eschews obvious humor and pathos for something subtler and more insidious — a skulking, lingering, irresistible weirdness.