IMPRESSIONS: Cullberg at The Joyce Theater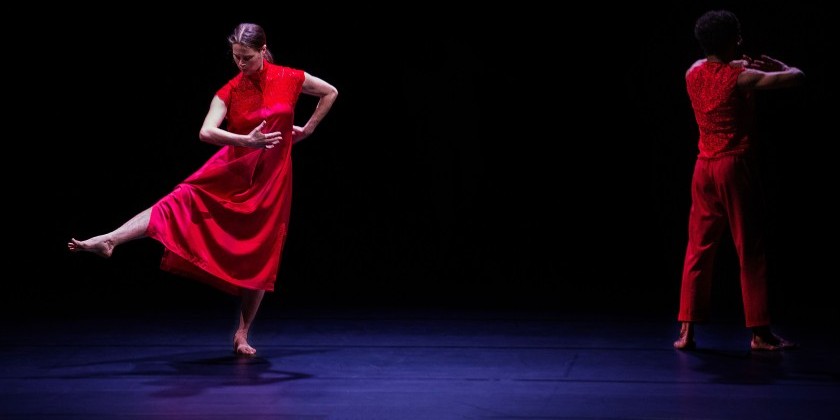 Choreography: Deborah Hay
Music: Graham Reynolds
Lighting Design: Minna Tiikkainen
Costume Design: Behnaz Aram
Rehearsal Director: Jeanine Durning
Dancers: Adam Schütt, Anand Bolder, Eliott Marmouset, Freddy Houndekindo, Johanna Tengan, Louise Dahl, Vincent Van Der Plas
---
What would life be like, if we were truly free? Choreographer Deborah Hay answers this question in Horse, The Solos, which Sweden's Cullberg company (formerly Cullberg Ballet) presented at the Joyce Theater on February 4. The essential fact of this sly and mesmerizing piece, which Hay created in 2021, is that the solos in question---all seven of them---are performed simultaneously. They unwind separately, but together, over the course of an hour, with the interpreters making only tenuous contact with one another.
Deborah Hay. Photo courtesy of Cullberg
Requiring soloists to share the stage is quite the trick. Not-so-subtly, it undercuts the "Look, Ma!" grandstanding typical of that special moment in the limelight. Yet this piece displays its own subtle virtuosity.
From the outset, when Johanna Tengan emerges and begins stalking through a dim and empty space on tiptoe, Horse, the Solos suggests an experiment in fragmentation. No sooner has Tengan settled in one place, than her joints begin to work. She leans over with one leg bent, and an arm raised. Bodily articulation will be Hay's most consistent formal device. Lesser choreographers exploit their dancers' flexibility by taking it to extremes, but Hay is not interested in cheap stunts. Instead, the choreographer becomes absorbed in small, finicky movements—a slight shimmy as Tengan leans back on one leg, or a soft rise and fall as she treads in place. Even the delicate twiddle of a dancer's fingers can be fascinating when it captures our attention.
Louise Dahl, Agnieszka, Sjokvist Dlugoszewska, Freddy Houndekindo. 
Photo by Sharon Chakraborty
The mise-en-scène is also fragmented. Graham Reynolds' music rumbles one minute and resounds the next, sometimes evoking a rainy day. Minna Tiikkainen's lighting brightens and dims erratically leaving parts of the stage in shadow, and interjecting an abrupt flash of light and sudden blackouts. Similarly, the dancers pause without warning, retarding but never halting the overall flow of movement. Only Behnaz Aram's crimson costumes (in individual cuts and styles, to be sure) hold things together. This intermittency keeps us alert for surprises. The uneven rhythms of Horse, the Solos are those of lived experience.
"Anarchy!" one can hear the fascists cry, but only bedazzlement ensues. It would be wrong, moreover, to assume that Hay is not shaping our perceptions and helping us to focus, if not exactly pulling levers behind a curtain. Who knows why we suddenly notice Vincent Van Der Plas standing upstage with his hands extended, gently twisting his arms? Why, at a particular moment, do we decide to watch Eliott Marmouset, his torso turned to face us; his rounded arms held low with fingertips that barely touch?
Katie Jacobson and Eliott Marmouset
Photo by Sharon Chakraborty
As the piece develops, the lightness of that touch will become both characteristic and significant. Connections between dancers, when eventually they occur, are flimsy and dissolve easily. When three figures cluster together upstage, all bending in the same direction but not quite spooning, the group appears weightless and disconnected. Tentatively, Adam Schütt wraps his arm around Marmouset's leg too loosely to ensnare him. Most commonly, a dancer lays a flattened hand on the person he touches, but when Freddy Houndekindo actually curls his fingers around another person's limb, his gesture lacks the power to grip and hold. And this is where the dance becomes political.
Some people will see in Horse, the Solos a reflection of the cruel and absurd social distancing rules foisted upon us in 2020. With the world still at a pitch of manufactured Covid hysteria the following year, Hay was unable to work with the Cullberg dancers in person; and she found it convenient to choreograph a collection of solos. Yet anyone who saw the Cullberg company perform Hay's group piece Figure a Sea, at Montclair State University, in 2016, understands that this choreographer has always been a champion of unruly personal freedoms. Now in her 80s, Hay is a veteran of the Judson avant-garde who remains a non-conformist, feisty and intractable in her old age. The solo form, that kernel of American modern dance, has always appealed to her.
Vincent Van der Plas
Photo by Sharon Chakraborty
What we see in Horse, the Solos, then, is not the fear and isolation of a tyrannical lockdown, but serene independence. Here, at last, is a society where individuals go about their business peacefully without grasping, lying, censoring, and manipulating. The dancers' gentle touch suggests the opposite of coercion. Hay's quiet vision is empowering and thrilling. Inevitably, we must ask why it takes a Swedish company to present dances that are so profoundly American in spirit.
---
The Dance Enthusiast Shares IMPRESSIONS/our brand of review, and creates conversation.
For more IMPRESSIONS, click here.
Share your #AudienceReview of performances. Write one today!
---
The Dance Enthusiast - News, Reviews, Interviews and an Open Invitation for YOU to join the Dance Conversation.