Related Features
Contribute
Your support helps us cover dance in New York City and beyond! Donate now.
IMPRESSIONS: Dorothée Munyaneza in "Mailles" at New York Live Arts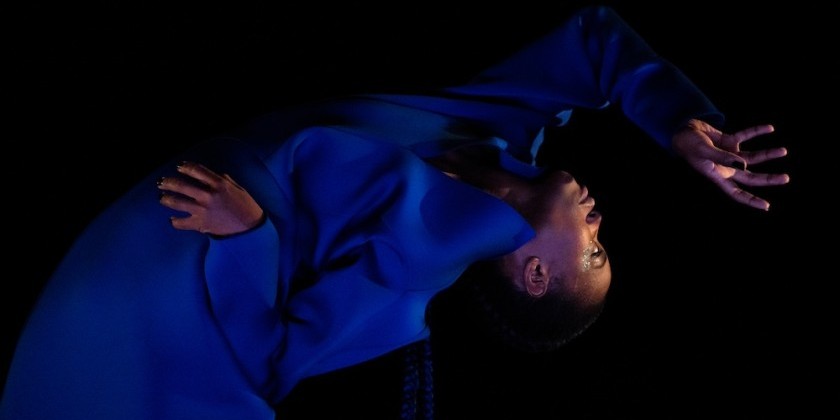 Presented by Dance Reflections Van Cleef & Arpels and New York Live Arts
Conception, choreography, & performance: Dorothée Munyaneza
Artistic and choreographic collaboration & performance: Ife Day, Yinka Esi Graves, Asmaa Jama, Nido Uwera  //  Artistic collaboration and "suspended" scenography: Stéphanie Coudert
Scenographic consultant: Vincent Gadras  //  Texts: Asmaa Jama, Yinka Esi Graves, Elsa Mulder, Nido Uwera, Dorothée Munyaneza
Music: Alain Mahé, Ben Lamar Gay, Dorothée Munyaneza  //  Sound creation: Alain Mahé
Light creation: Christian Dubet  // Acknowledgments: Hlengiwe Lushaba Madlala, Zora Santos, Keyierra Collins
Stage management: Anna Geneste  //  Sound management: Alice Le Moigne  // Light management: Julia Riggs  //Executive production & touring: Compagnie Kadidi — Virginie Dupray, Nouria Tirou
Production Virginie Dupray/Compagnie Kadidi, Emmanuel Magis/Mascaret Production
---
True to its name, Dorothée Munyaneza's "Mailles" crafts delicate yet resilient narrative and aesthetic "meshes" by interweaving disciplines, styles, stories, and emotions. The result is a testament to the depth of the artists' personal investment and exploration to strike a universal resonance. Munyaneza gathers five African and African-descended artists who tread across continents and creative practices to share their fragmented histories and irrepressible spirits through a collective conjuring and celebration of "beauty in rebelliousness." Their work is as intensely present as it is haunting, as finely wrought as it is wild—alive in multiple concurrent sensory and emotional registers.
Dorothée Munyaneza. Photo by Maria Baranova
The seed of "Mailles" begins with Munyaneza's own story of displacement as a child during the Rwandan genocide. While her work reckons with the disorientation and isolation of the dual traumas of violence and uprooting, here she and her collaborators expand beyond autobiography to shape a multivocal expressive space that unites them across difference. Each artist voices their unique personal history as part of a common relationship with the African diaspora and its broader histories of colonial violence, enslavement, forced migration, resistance, and survival. In an act of transformative reclamation, their ancestral memories transcend time and space to evoke a grounded futurism full of hope and possibility.
Yinka Esi Graves. Photo by Maria Baranova
The work opens with ringing bells, at first sounding singly, then in a call and response that amasses into a chorus of rounded, lingering sounds at once bright and solemn. As the artists enter the deep blue stage space, they activate handheld bells of various sizes that toll and tinkle as they are swung, shaken, circled, and tapped. The bells ring as a blessing and clearing for the physical and spiritual to merge and meld through dance, music, and poetry. The artists navigate this clearing in shared isolation with slow, heavy movements that simultaneously emphasize the weight of distress and the capacity for elastic strength as each is directed along conflicting vectors of memory, progress, and anxiety. British flamenco dancer Yinka Esi Graves's heels tremble with power as her arms encircle gestures of protection and defiance. Movement and dance emerge organically from the composition of the space, arising with finely-tuned spontaneity in a harmony of distinct embodied expressions.
Asmaa Jama and Ife Day. Photo by Maria Baranova
Likewise, a vibrating soundscape sparks to life with the power of voice. Multilingual texts, both spoken and sung, form the expressive core around which the multiple overlapping worlds of "Mailles" explode fully into being. Multidisciplinary Somali artist Asmaa Jama raises her powerful poetic voice to express the turmoil of rootlessness and a yearning for the softness and ease of belonging. Munyaneza sings in rich, deep tones of communal suffering, longing, and aid rooted in an ephemeral sense of home, both lost and found. Graves likens her lineage to a mangrove's ecology of adaptation to survive constant change on shifting ground. A pattern emerges among these layered narratives to reveal pain, hardship, abundance, and love in equal measure. Words dissolve into mumbled secrets, stuttering echoes, and monosyllabic bursts of sound and breath as voices drop in and out, though their presence never fades.
Ife Day. Photo by Maria Baranova
These riotous cacophonies rise to channel defiance and rage, only to ebb into sensitive harmonies and slow convergences danced quietly from open hearts. Expressive postures and gestures capture the spectrum of physical and emotional sensations that seep into and burst forth from personal experiences lived in the shifting light and shadow of compounding lifetimes and histories, known and unknown. Bodies are as pliable and vulnerable as they are suddenly sharp and wiry, balancing needs to be tenderly loved and ever at the ready to fight. Ife Day toggles between tense calm and writhing grief; Nido Uwera derives luscious amplitude from a visceral softening. Their movements express learned survival skills that are as necessary as they are exhausting, held together by a spiritual center capable of grounding nowhere, anywhere, and everywhere at once.
Nido Uwera (foreground) and Dorothée Munyaneza (background). Photo by Maria Baranova
"Mailles" is a many-voiced diasporic fabric "woven from uncertain thread" to create a stronger whole: a mesh that spans across oceans, languages, histories, and cultures to generate flourishing root systems that endure through challenges and changes. By sharing their stories of migration and displacement, these artists have found a sense of home and freedom together that rings clear as a bell in the still, charged air.
---
The Dance Enthusiast Shares IMPRESSIONS/our brand of review, and creates conversation.
For more IMPRESSIONS, click here.
Share your #AudienceReview of performances. Write one today!
---
The Dance Enthusiast - News, Reviews, Interviews and an Open Invitation for YOU to join the Dance Conversation.