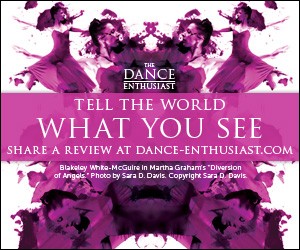 Related Features
IMPRESSIONS: Dancer Crush at New York Live Arts
Steven Reker and People Get Ready, Heather Olson, Leah Cox, David Neumann and others
Dancer Crush
At New York Live Arts , October 7th, 2011
Curated by Carla Peterson and Annie-B Parson
Steven Reker and People Get Ready, Heather Olson, Leah Cox, David Neumann and others 
---
©Trina Mannino for The Dance Enthusiast
 I am at a rock concert as Steven Reker and People Get Ready, a three man and one woman music and movement ensemble, take the stage. Instead of taking places at their instruments, they crouch upstage looking ready to pounce. 
Microphones' Dance – Shoe
is a Wild West showdown with microphones instead of
Steven and People Get Ready, Photo © Ian Douglass
pistols. Two mics and two amps distort sound while members drag, whip, and lasso the mics in perfectly choreographed style. Changes in position and level morph the mic's pitch which ranges from nails on a chalkboard to a helicopter coming in for a landing. As the group departs from experimental sound, they launch into an upbeat dance song that energizes the rest of the evening.
---
Heather Olson captures my rapt attention in
excerpts from four dances from 1998-2000
by Tere O'Connor. Not only is Olson a nuanced mover executing seamless transitions and covering NYLA's expansive stage as if she is eight feet tall;she is also a comedienne with impeccable timing. In a colorful girlish dress, Olson looks like Raggedy Ann, albeit with a few quirks such as a recurring habit of smoothing pieces of her hair down and repeating "aha yes, aha no". She could easily be the newest cast
Heather Olson, Photo © Ian Douglass
member of "Saturday Night Live".
---
Leah Cox describes every detail of her movement and reveals her every unfiltered thought in Bill T. Jones'
Floating the Tongue
. As she speeds up, Cox maintains her wit and never breaks concentration -no easy feat when you're trying to verbalize what each part of your body is doing in space in front of an entire audience,
and
you're improvising. I cheer her on during this marathon, hoping she doesn't stumble over her words and steps. As she makes it to the finish line, my jaw drops. 
---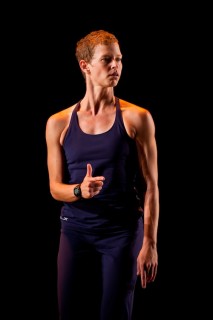 Leah Cox, Photo © Ian Douglass
David Neumann, known for his work with the multidisciplinary company The Advanced Beginner Group, concludes the evening in his self-choreographed
Tough, the Tough (Redux).
The sound score is man's voice evoking god— that is, if god is sarcastic. Identified as "Steve," Neumann represents humankind and our lack of stick-to-itiveness as we strive to make the world a better place. As the voice announces what "Steve" is doing – for example "mankind scratches" and "Steve takes two
David Neumann, Photo © Ian Douglass
steps"—Neumann demonstrates, changing postures with his body and eyes. His tiny, humanizing details speak to me.  "Steve" is a person I can relate to.
---

Dancer Crush celebrates the exceptional artistry of our field's rock stars, and leaves us wanting more.
---
---
The Dance Enthusiast Shares IMPRESSIONS/our brand of review, and creates conversation.
For more IMPRESSIONS, click here.
Share your #AudienceReview of performances. Write one today!
---
The Dance Enthusiast - News, Reviews, Interviews and an Open Invitation for YOU to join the Dance Conversation.