IMPRESSIONS: Jean Butler's "hurry"
IMPRESSIONS: hurry
Danspace Project, New York, NY
March 7, 2013
Choreography and performed by: Jean Butler
Director: Jon Kinzel
Lighting: Michael O'Connor
Composer: Jim Dawson
Additional music on uillean pipes by Ivan Goff
---
Trina Mannino for The Dance Enthusiast

Spritely, with a red mane of hair, Jean Butler entranced audiences around the world in the popular Irish Step Dance show, Riverdance. You may have seen her perform yourself. Last week, she returned to Danspace Project for a second time (she danced Tere O'Connor's Day in 2010) as a soloist - with her crimson coif but sans her Irish Step shoes. In her choreography, hurry, Butler demonstrated a sophisticated understanding of intersecting mediums and techniques barefoot.
Jean Butler; Photo Conor Horgan

Butler's mastery of rhythm is apparent, and she smartly shows her musical adeptness not only in her feet (where I expect an Irish Step Dancer to showcase her skill), but in her hands and arms. Her gestures, performed with care and clarity, are idiosyncratic down to her fingers. Her back shifts to varying vigorous degrees as if she is trying to shimmy off a shawl. Each movement takes a beat, and at times, they become progressively faster without being muddled.

The music marries Butler's Irish roots to her avant garde explorations. Composer Jim Dawson and Director Jon Kinzel designed the score to allow Butler's sounds to be heard in St. Mark's Church in-the-Bowery. The bottom of her foot slapping the floor and the swish of her pants create a beautiful musical component all their own. Simultaneously, the recorded sounds are immersed in the sanctuary. Butler maintains a raw sense of timing, it may not be a traditional sense of rhythm, but she is viscerally aware of how time, space and sound interplay.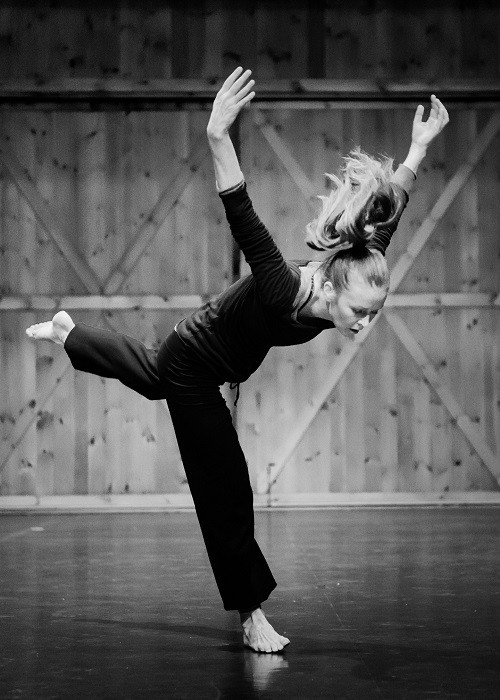 Jean Butler, Photo Ian Douglas

We have seen numerous artists crossover into contemporary fusion works. For example, tapper Michelle Dorrance integrated contemporary and hip hop in Two to One/The Twelve Eight; actor Juliette Binoche danced a solo choreographed by British contemporary and Indian classical choreographer, Akram Khan; and Radiohead front man, Thom Yorke, danced with Random Dance's Fukiko Takase choreographed by Wayne McGregor. The list goes on. Some may toss Butler in this list, but in hurry, she goes beyond dabbling in "downtown" contemporary dance. Her investigation of the less familiar is informed and strengthened by her deep knowledge and understanding of Irish Step Dance. We can't see where one tradition stops and where the other begins in hurry. The two techniques meld seamlessly.
---
The Dance Enthusiast Shares IMPRESSIONS/our brand of review, and creates conversation.
For more IMPRESSIONS, click here.
Share your #AudienceReview of performances. Write one today!
---
The Dance Enthusiast - News, Reviews, Interviews and an Open Invitation for YOU to join the Dance Conversation.