IMPRESSIONS: New York Theatre Ballet's "The Nutcracker" and The Bang Group's "Nut/Cracked," Presented by Arts on Site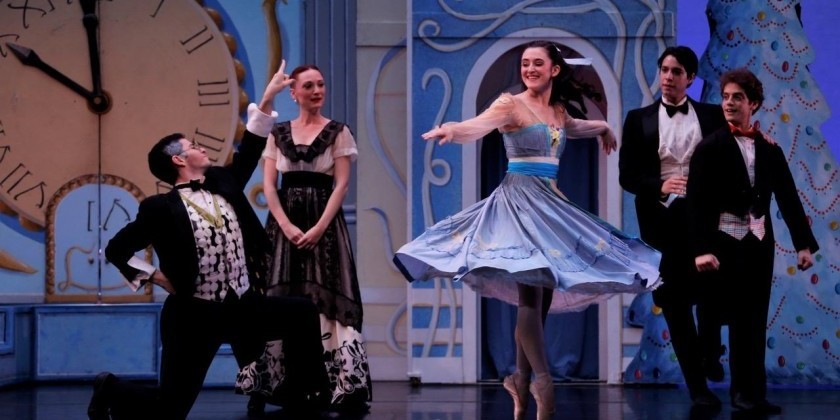 Nuts to Covid
December 18, 2020 at 6:30 p.m.
New York Theatre Ballet's The Nutcracker
Founder and Artistic Director: Diana Byer // Music: Pyotr Ilyich Tchaikovsky // Choreography by Keith Michael Godfather Drosselmeyer: Alonso Guzman // His Nephew, Nathaniel: Victor Abreu // Marie Stahlbaum: Alexis Branagan // Mother Stahlbaum: Amanda Treiber // Doctor Stahlbaum: Julian Donohue
The Bang Group's Nut/Cracked
Choreography: David Parker // Lighting Design: Kelly Martin // Tree and Flashlight: Marty Chafkin
Dancers: Chelsea Ainsworth, Dylan Baker, Louise Benkelman, Deborah Lohse, Daniel Morimoto, Nik Owns, Amber Sloan, and Tommy Seibold
---
Seventy-six years ago, this December, an American soldier fighting in the Second World War delivered a succinct message to the enemy. "Nuts!" General Anthony McAuliffe told the Nazi commander who had demanded he surrender at the outset of the Battle of the Bulge.
We are waging a different kind of war this year, but, thankfully, some Americans still have "Nuts!" These brave souls include the artists of the New York Theatre Ballet, and The Bang Group, who refuse to give in to Covid hysteria, and have found an ingenious way to present The Nutcracker. Live.
New York Theatre Ballet opens the evening with the Party Scene from choreographer Keith Michael's version of the ballet. Then, in place of the usual divertissement, The Bang Group performs excerpts from David Parker's Nut/Cracked, a loopy sendup of the original. This inspired pairing could not be more delightful, and, quite unexpectedly, what promised to be a gloomy holiday turns joyous. Kudos to presenter Arts on Site, for offering to share their third-floor studio on St. Mark's Place.
The Bang Group; photo by Sally Cohn
The setting feels austere, at first. After a temperature check, socially distanced audience members are seated facing a brick wall, the only spot of color in the studio being a single, brightly wrapped Christmas present that looks forlorn in the otherwise empty space. Well, we expected some belt-tightening this year.
Never fear. Inside that box lies a secret weapon. This gift is the Nutcracker himself, a homely wooden toy with mysterious powers. By the time he makes his appearance wearing a doll-sized face mask (because you just can't be too careful), the Nutcracker's influence has already been felt, and the bare studio has all but vanished. We have lost ourselves completely in the vivid performance, a spectacle filled with rambunctious human energy that carries us to a place outside time.
In New York Theatre Ballet's miniaturized version of the Party Scene, Godfather Drosselmeyer is more than ever a puppet-master. The Stahlbaum family — father, mother, and Marie — are all under his spell; and, with assistance from his Nephew "Nathaniel," Drosselmeyer winds them up like dolls. Once brought to life, the Stahlbaums behave naturally, unaware of their enchantment, though they seem especially eager to please their Godfather. Posing for a group photograph, they rearrange themselves until Drosselmeyer is satisfied. The result delights him, and he leaps exultantly.
New York Theatre Ballet; photo by Keith Michael
Alonso Guzman brings a zany energy to the role of Drosselmeyer, leading the Stahlbaums in a farandole, and making repeated attempts at matchmaking. When the Nephew takes Marie's hand, shyness overwhelms her. She scurries away, but circles around to peer at him from a safe distance. Bubbling over with childish excitement, this Marie scampers and bounds, pausing only long enough for dancer Alexis Branagan to present her satin-clad foot in a developpé.
The key moment of this First Act combines the spooky music that Tchaikovsky wrote for Drosselmeyer's entrance with a game of catch. The Nutcracker doll goes flying, and then, as everyone freezes, the toy suddenly reveals its power. Raised on high. the Nutcracker commands attention as a blue light magically bathes the scene. Later, when Clara falls asleep beside him, we know he will guide her dreams.   
In Nut/Cracked, now celebrating 18 years of hilarity, Parker has discovered low-budget alternatives to the typically overstuffed, if always delicious, Christmas smorgasbord.  A hothouse full of waltzing Flowers is not for the thrift-conscious, but bubble-wrap? Bubble-wrap is doable. Fresh, white T-shirts are also perfectly fine costumes for a Snowstorm that never has been flakier. There are ingenious ways to make a Christmas tree grow that do not involve millions of dollars-worth of hydraulic machinery. In fact, the do-it-yourself-for-less aesthetic of this production makes it perfect for a studio performance; in grander venues its cleverness may be lost.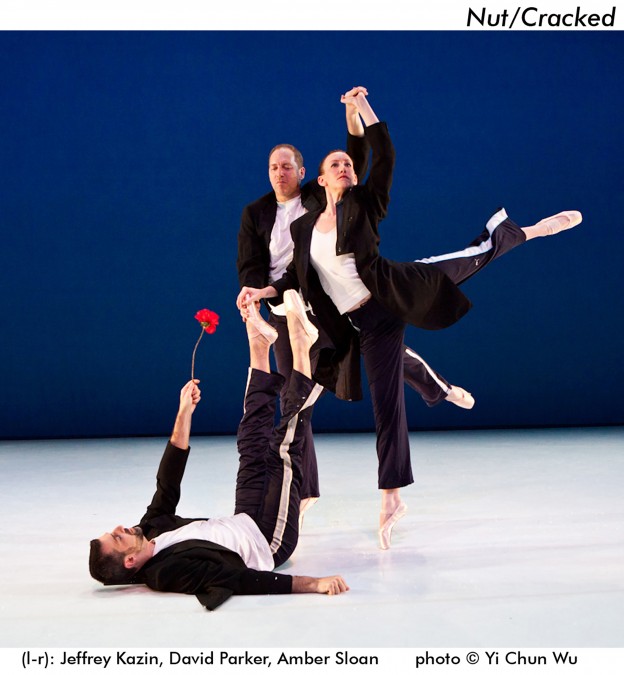 In Parker's wildly imaginative downscaling of The Nutcracker, even the lighting has been jury-rigged. A humble flashlight illumines Dylan Baker's feet, as he rises on pointes and begins to tap-dance. The "Waltz of the Snowflakes" displays a potpourri of styles. Show-offy ballet steps including barefoot fouettés alternate with base-stealing slides and hip rolls. The unwary are pelted with fistfuls of white confetti; and throughout this slippery ensemble dancers keep falling with a thud that makes the floor bounce under our seats.
Here the "Dance of the Sugar Plum Fairy" is a gestural trio for hipsters who wear sunglasses even in the shade. Flexing, lassoing, and pointing fingers in all directions, these three do their best to make themselves glamorous. Undercutting their efforts, however, is the music: Fred Waring's cartoonish arrangement of the Sugar Plum solo, with Glee Club lyrics added. Digging this 1947 recording out of the attic, Parker trowels on a layer of nostalgia, while we giggle at the thought of ballerinas "pointing their tiny little feet."
In the "Waltz of the Flowers," Amber Sloan lays down her sheet of bubble wrap like a yoga mat, and dives onto it with a smash. When Dylan Baker joins her with some wrap of his own, their duet sounds like fireworks. In "Chinese Tea," Deborah Lohse slowly inhales a long strand of Lo Mein, leaving us breathless. Louise Benkelman begins a dance called "Toe Shoes" with her legs spread wide apart, which may explain why Mother Ginger has sooo many children.  After this tilting, leggy solo, however, pairs of dancers fuse together to make four-legged creatures who scrabble around like crabs. Everyone is wearing pointe shoes; and Tommy Seibold, who doesn't have a partner, makes do by wearing extra pointe shoes on his hands.
At a time when evil technocrats are doing their best to suffocate the arts, such resourcefulness, and insouciance, are exactly what we need.
---
---
The Dance Enthusiast Shares IMPRESSIONS/our brand of review, and creates conversation.
For more IMPRESSIONS, click here.
Share your #AudienceReview of performances. Write one today!
---
The Dance Enthusiast - News, Reviews, Interviews and an Open Invitation for YOU to join the Dance Conversation.