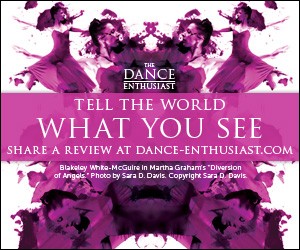 Related Features
IMPRESSIONS: Performa 2011
A Dance Enthusiast Reflects On Inspiration and Plastic Cows...Part 1 of a 3 Part Series
IMPRESSIONS: Performa 2011
L'encyclopedie de la Parol Chorale
(No information provided)
The Performa Hub Site, 233 Mott Street NYC -November 4th, 2011
                          and
Jonathan Burrows and Matteo Fargion in Cheap Lecture and Cow Piece
Created by Jonathan Burrows and Matteo Fargion
Danspace/ St Mark's Church, NYC -November 3rd, 2011
---
©Brittany Beyer for The Dance Enthusiast
The Why Cheap Art Manifesto
-Bread & Puppet Theater
People have been thinking too long that
Art is a Privilege of the Museums & the
Rich. Art is not Business!
It does not belong to banks & fancy investors
Art is food. You can't eat it but it feeds
you. Art has to be cheap & available to
Everybody. It needs to be Everywhere
because it is the Inside of the
World.
Art soothes pain!
Art wakes up sleepers!
Art fights against war & stupidity!
Art sings halleluja!
Art is for kitchens!
Art is like good bread!
Art is like green trees!
Art is like white clouds in the blue sky!
Art is cheap!
Hurrah!
The Bread & Puppet Theater's
Why Cheap Art
manifesto lives on my refrigerator for daily inspiration. Although I find it invigorating, I have a hard time accepting all of its assertions. It does not reflect our reality -- but our utopian ideals. Art should feed the soul, yes, but unfortunately, making a living is a necessary "evil" which can impede the creative process. I wrestle daily with this and wonder if it's worth the struggle. But, for every cloud there is a silver lining, and Performa 2011 was my silver lining this year. During the festival's November run, I flung my existential caution to the winds in search of inspiration.  
If you are not familiar with Performa, the three week long performance art biennial that takes New York by storm every other November, I suggest you spend some time on their
website
. Don't worry, you will not be the only person to find the design complicated and confusing. As with the artistic process, some of the most astounding things you will discover in the festival will be by accident.
---
Performa concentrates on becoming a reflection of society, feeding us and allowing art to display its possibilities, rather than entertaining us and making sure to profit off the artistic innovation. While there is disorder, and a great deal of room for personal interpretation, within the chaos one notices a curatorial eye so precise that every seemingly random corner displays another gem.
Performa's hub site is centrally located in a decommissioned schoolhouse at 233 Mott Street with satellite performances all over the city. You can see events in the likely spaces (St. Mark's Church or New York Live Arts) as well as the unlikely ones( including Justin Vivian Bond's soon to be demolished apartment.)
I was slated to attend a
class
located at the Performa hub site to kick off my experience; however, the schedule changed with very little warning (some international travel mishap) and the apologetic Performa personnel informed me that I could attend
L'enclyclopedie de la Parol
's performance instead. I accepted without hesitation. This kind of roll-with-the-punches attitude by both the audience and the presenters is sprinkled throughout Performa. If you are looking for rigid walls and concrete plans, you will not find them here.  
---
L'encyclopedie de la Parol Chorale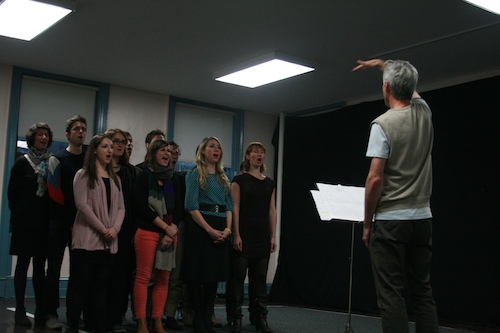 L'encyclopedia de la Parol -Photo © Elizabeth Proitsis Courtesy of Performa 
L'encyclopedie de la Parol
does not sing, but recites, word for word, YouTube viral sensations translated into contemporary music scores. They perform their choral selections, devoted to purely ridiculous topics, with refreshing precision. This was the premiere of the groups performing in English (native language French) after a two-week long workshop that prepared the New York based performers to expertly sing.
---
Jonathan Burrows and Matteo Fargion in Cheap Lecture and Cow Piece
Jonathan Burrows and Matteo Fargion's "Cheap Lecture" at St. Mark's Church begins with the phenomenally open statements that Burrows and Fargion "do not know what we are doing... we are out of practice..." and "we bet the audience feels lost."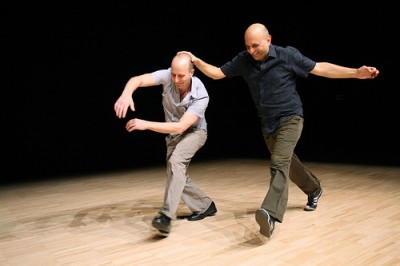 Jonathan Burrows and Matteo Fargion
Photo ©Alastair Muirt
In an homage to John Cage's
Lecture on Nothing
they lead the audience out of the dark forest of the creative process, using Cage's meter structure as a frame for a humorous and thought provoking score. Burrows and Fargion let the audience "in on the joke" so to speak, explaining the reference to Cage, the structure it will follow, and why they were doing the piece in the first place. More of a spoken score than a dance piece, the rigor is the performance, in true Cage-ian form.
During Cheap Lecture Burrows and Fargion assert that they are not good improvisers, and this might seem true as they do work within a rigorous score similar to musical notation. However, nothing says an exacting score cannot be comical, musical and engaging. Cow Piece was just that, a scored piece with two players moving from spoken word (in Italian and English) to intense play. Burrows and Fargion each had a personal collection of six plastic cows and instruments including: an accordion, mandolin, and harmonium. Grown men playing with plastic cows is funny enough, but bum-rushing plastic cows over the edge of the table while speaking in Italian put it over the top.  Even Burrows and Fargion could not help but laugh.
 
---
At the end of Performa's first week, I was on cloud nine. For a brief moment I could see the potential in believing what the Cheap Art Manifesto preaches. Honing one's craft can have "usefulness" beyond entertainment or paying the bills. Our work doesn't have to be over serious, commonplace, or safe. The labor, sweat and creativity we put into our "craft" has a real potential to feed the souls of others. In just this way, week one of Performa filled my soul.
---
The Dance Enthusiast Shares IMPRESSIONS/our brand of review, and creates conversation.
For more IMPRESSIONS, click here.
Share your #AudienceReview of performances. Write one today!
---
The Dance Enthusiast - News, Reviews, Interviews and an Open Invitation for YOU to join the Dance Conversation.