Related Features
Contribute
Your support helps us cover dance in New York City and beyond! Donate now.
IMPRESSIONS: Performa 2011- Part 2 (of 3)
Or, what do the New York City Marathon, a tall woman in a bear suit, and a young god with big, blue eyes have in common?
Performa 2011 - Part 2
---
(BIG GIRLS DO BIG THINGS)
Saturday, November 4 ,2011
New York Live Arts
Conceived and Performed by Eleanor Bauer
Costume by Ada Rajszys
Produced by Caravan Productions for Good Move vzw
Presented as part of Performa (curated by Lana Wilson)
And
Me, Michelle
Friday, November 11, 2011
Museum of Arts and Design
Written by Jack Ferver
Choreographed and Performed by Jack Ferver and Michelle Mola
Music by John Fireman
Costumes by Reid Bartleme
Dramaturgy by Joshua Lubin-Levy
Presented as part of Performa and Risk + Reward
---
©Brittany Beyer for The Dance Enthusiast
I told my husband that the ING New York City Marathon is my favorite New York holiday, and I really do mean it. We live on the marathon route, and for us marathon day begins with a car-free serenity that is matched only by the pristine quiet of a post-blizzard morning.
I love the image of humanity in all of its glory, attempting the emotionally and physically taxing feat of running more than any human should have to on any given day. For New Yorkers, there seems to be an undeniable force calling 2.5 million people to watch the race and cheer for the brave souls who show us that, indeed, we might have a touch more strength within.
Still, there is a need to be singled out while attempting this feat. Having friends stationed along the pathway to cheer a person on is crucial, even vital. The strategies employed by individual runners in order to be seen and recognized cannot be overlooked. Runners dress in a costume, or they tell their friends where to stand and then pray that they can hear their friends scream over the applauding crowds.
Running the marathon certainly calls to mind artistic pursuits where one is alone, yet flowing down a river of creativity with others. Like the marathon, it is undeniably more meaningful to know the artists whom you are watching. The work seems richer; the choices, more meaningful, and the processes, more revealing about who the artist really is.
This second week of Performa, in another marathon of sorts, I was able to cheer on two classmates while they performed their own personal creative endurance contest: Jack Ferver (Interlochen Arts Academy) and Eleanor Bauer (Tisch Dance Department.) Great artists in their own right, it was astonishing to reflect on knowing them through a long stretch of their careers.
---
The title of Eleanor Bauer's
(BIG GIRLS DO BIG THINGS)
is fraught with an issue that I deal with as well—size. We are tall women. By nature, we tall women take up more space than most, and that fact evokes its own special set of problems, assumptions and implications.
You think height is a blessing for a woman? Try being a head taller than most of your peers, and try dating when you are taller than the average person.
Bauer has always worn her heart on her sleeve, and height was certainly a topic that she worked through during college. On stage years later, she handles it with such skill that the events within her performance speak volumes about her sophistication and sense of place in the world.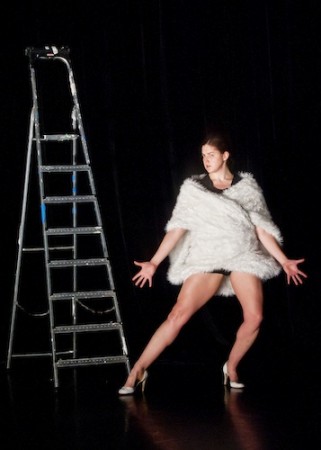 Central to the choreographic exploration is a full-body bear costume created by designer, Ada Rajszys. Bauer starts the evening by sliding inside the outfit: writhing, twisting, turning and undulating. Protected from the audience's gaze by the suit, which zips completely over her face, Bauer matures from an unformed 'thing' into curious bear, eventually breaking out of the inquisitive uncertainty to become not only human, but a woman, secure in her own skin. She then walks a runway of sorts; the bear costume becoming a fashionable fur.
Devastatingly intelligent, honest, funny and creative,
(BIG GIRLS …) is a vehicle of mastery. Bauer titillates and pushes the boundaries. As the youngest in our college class at NYU, she was and is still certainly one of the most mature choreographers. It is humbling to see her currently, and I know she will go on to do even bigger things in the future.

 
---
Jack Ferver
, who I first knew as the unforgettable JW Ferver, burst onto Interlochen Arts Academy's scene September of my (our) junior year. As a new student, he won the title role in the drama department's production of
The Bacchae.
The feat of winning the lead for the first production of the year -- just mere weeks after transferring to school -- was formidable, but we could all see why. JW (I still think of him as such)
was
Dionysus every moment of every day. Like his idol, Martha Graham, his complete commitment was manifest; and as Dionysus, he eloquently held the weight of a god with grace beyond his years.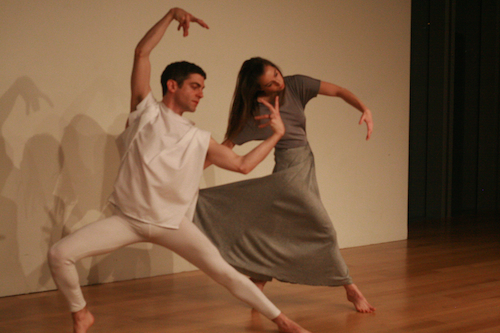 Jack Ferver and Michelle Mola, Photo by Elizabeth Proitsis
What Jack Ferver does in his performance pieces is use classical structure and pop culture reference to fully investigate the range of human emotion. In Me, Michelle, Ferver is Cleopatra in all her fury and Michelle Mola is the unwavering maidservant, excitedly dedicated to Cleopatra's every wish. Unafraid to highlight the good alongside the bad, JW can claw his way from the classical to "classic" American, highlighting the absurdity and shocking inconsistencies in the acceptable behavior of our society.
Visual images anchor the piece: shadow figures on the wall which look like Grecian reliefs repeat at the beginning and the end, revealing the progression from regal statue to sacrifice. The frantic dance of death calls to the Modern Dance giants, Graham and Duncan, highlighting their exultation of the ancient, exotic and royal. Although Mola is a trained dancer and exhibits the expected flexibility of movement expertise when necessary, Ferver is an actor who plays to his affinities (which exist where the movement world and the acting world collide.) Again, his Graham is as regal as she the real thing, dripping with the emotional intent necessary to channel Martha.
Ferver is a shock jock of art, and he clearly does not mean to sew up the tiny pieces to make a dirty little doll for you to hold. He means to stir the pot up, let it simmer, and then grin at you with his beautiful big, blue eyes as you stare in wonder. It is great to see him in action, finding depth in characters we can historically and personally relate to -- the darling of the performance art world.
---
Week two of Performa was a reflection on my time as an artist over the decades of training and performing. The ability to point to a few stellar individuals moving on this river of creativity is wonderful. I cheer them on, knowing how difficult it is to run this race because I am still working at it. Although the biennial is not making me as teary-eyed as the NY Marathon, I am thankful for a chance to see my friends on "the big stage" receiving the accolades that they deserve.
FOR BRITTANY BEYERS IMPRESSIONS OF
PERFORMA 2011 PART 1
---
The Dance Enthusiast Shares IMPRESSIONS/our brand of review, and creates conversation.
For more IMPRESSIONS, click here.
Share your #AudienceReview of performances. Write one today!
---
The Dance Enthusiast - News, Reviews, Interviews and an Open Invitation for YOU to join the Dance Conversation.