IMPRESSIONS: The Lucinda Childs Dance Company at The Joyce Theater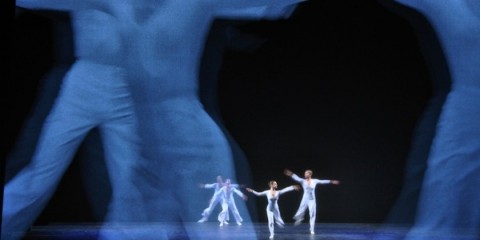 Choreography by Lucinda Childs
Performed by Katie Dorn, Katherine Helen Fisher, Sarah Hillmon, Anne Lewis, Vincent McCloskey, Sharon Milanese, Benny Olk, Patrick John O'Neill, Matt Pardo, Lonnie Poupard Jr., Caitlin Scranton, Shakirah Stewart
Pictured above: Lucinda Childs Dance Company in "Dance" (2009) by Lucinda Childs.
Performances run through Sunday, December 11. For tickets, go to: The Joyce Theater.
---
Minimalism. The word conjures up Scandinavian furniture, sans serif fonts, the lulling thrum of a Steve Reich score. At its best, minimalism allows for a striking point of view, the artful result of a few well-chosen elements. At its worst, it can be dull, uninspired, and overly simplistic.

Choreographer Lucinda Childs has maintained a fifty-year-plus career embracing and expounding upon minimalism. A few years shy of eighty, she remains spry, making work and showing it around the globe.

The Joyce Theater gave her eponymous company a two-week run in a career fête of sorts. The first week, entitled Lucinda Childs: A Portrait, featured an octet of pieces that spanned from the '60s to the present day. The second week showcased Dance, an instant classic when it premiered in 1979.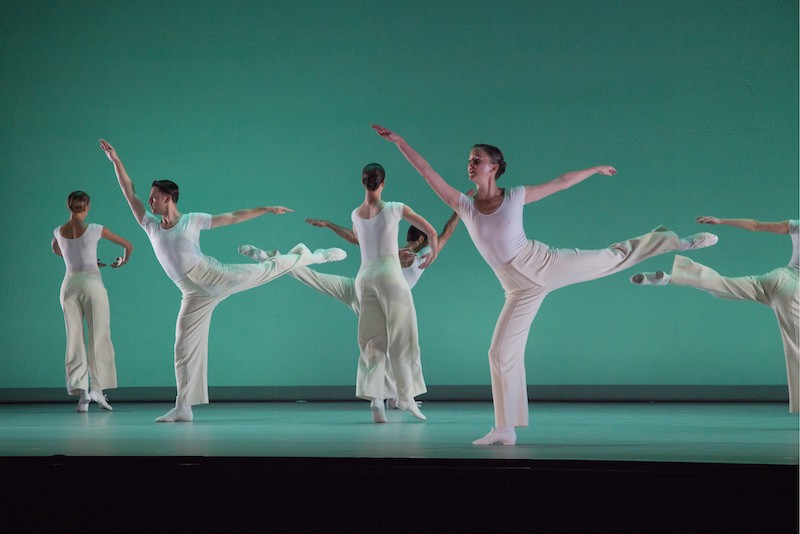 The Lucinda Childs Dance Company's Katie Dorn, Patrick John O'Neill, Matt Pardo, Caitlin Scranton, and Anne Lewis in Canto Ostinato. Photo by John Sisley.

Childs' movement tools are few, encompassing arms in second or third position, low jetés and swinging arabesques, pathways that slice across and curl around the stage. At the root of her vocabulary is walking. Often buoyant, occasionally sedate, the dancers pace in unison and in counterpoint. Their flurries of weight changes produce the look of a well-organized city sidewalk where people move purposefully and aggressively until everything ceases, the ending a welcome yet abrupt pause.

Childs takes a maximalist approach to her carefully curated actions. Like a mathematician, she adds, subtracts, multiplies, and divides both phrases and dancer groupings to create many, many, many, many variations on a theme.
Moving in silence and against the brick wall of the stage, the performers — clean and sleek like icicles in white scoop-necked tops and tailored trousers — briskly walk toward and away from center (Katema, 1978), canter counterclockwise and clockwise (Radial Courses, 1976), and punctuate their striding with chaînés (Interior Drama, 1977). Like intricately tatted lace, the beauty and wonder are in the details, if you can locate them through the unrelenting homogeny.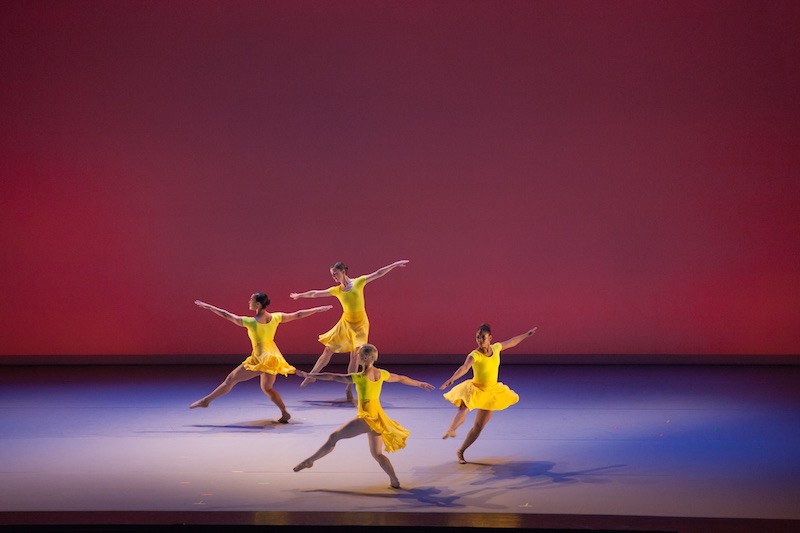 The Lucinda Childs Dance Company's Sarah Hillmon, Anne Lewis, Katherine Helen Fisher, and Shakirah Stewart in Lollapalooza. Photo by John Sisley.
Childs' later works show an expansion of but no less commitment to her aesthetic. The additions she makes, even the smallish ones, take on a heightened impact, yet the ethos remains identifiably hers.
In Concerto (1993) seven dancers dash, strike fourth position (the Balanchine kind), and coast through attitudes, all against a medicinal green cyclorama. There's light! The octet in Lollapalooza (2010) steps through pirouettes, shimmies like flappers, and executes a daisy chain. It's fun!  During Canto Ostinato (2015), two couples zip through pot stirrers and fouetté arabesques in front of a video of careening white lines. Technology, oh my! Throughout Into View (2016), swively feet and hips, balancés, and assisted tour jetés unspool pleasingly as a tiny gold square glows in the background. To new agey music, the dancers lift off, physically and emotionally. We have meaning!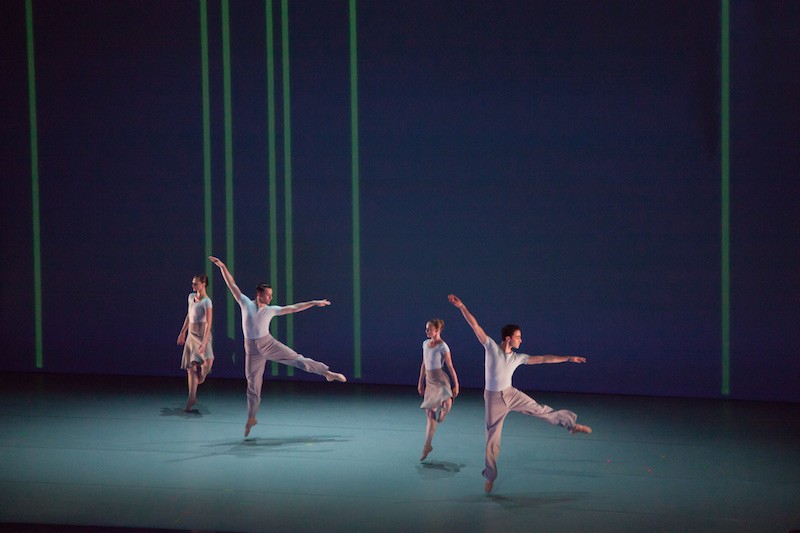 The Lucinda Childs Dance Company's Caitlin Scranton, Patrick John O'Neill, Sharon Milanese, and Matt Pardo in Canto Ostinato. Photo by John Sisley.
Many artists are known for one or two works that have caught the imagination of the public. Lucinda Childs has Dance, a three-part multimedia extravaganza created with composer Philip Glass and visual artist Sol LeWitt: a communion of minimalist greats. To Glass' turgid score that chugs like a late train, dancers — many in the first and last sections, one in the middle — dart like lasers in explosive glissades. Some perform on stage while others, sporting the shaggy hairstyles of the '70s, appear on screen in LeWitt's film like a ghostly flirtation between the real and the virtual, the present and the past. Watching Dance is akin to a religious experience, which is to say it's ecstatic and a little mind-numbing.   
The Lucinda Childs Dance Company is a prodigious enterprise. It brims with an energetic mix of dancers who maintain the integrity of Childs' choreography yet stamp it with individuality. It's not just their dancing that garners admiration. It's their brains. With barely a bobble, the dancers fly through endless and identical-seeming phrases.

This retrospective (not common enough in the dance world, so thanks to The Joyce Theater) offers an opportunity to take stock of then and now, not just of Childs' aesthetic, but also of us as an audience. As it was then, Childs' work is easy to appreciate. She's a brilliant, thoughtful philosopher of movement. As it is now, it's not always easy to watch: too cold, too formal, too uniform, an infinite exercise in logic that can bore the hyperactive 21st-century mind.
---
The Dance Enthusiast Shares IMPRESSIONS/ our brand of review and Creates Conversation.
Check out our other IMPRESSIONS here.
Share your #AudienceReview of this show or others for a chance to win a $75 giftcard to Trader Joe's.