IMPRESSIONS: Okwui Okpokwasili's "Poor People's TV Room" at New York Live Arts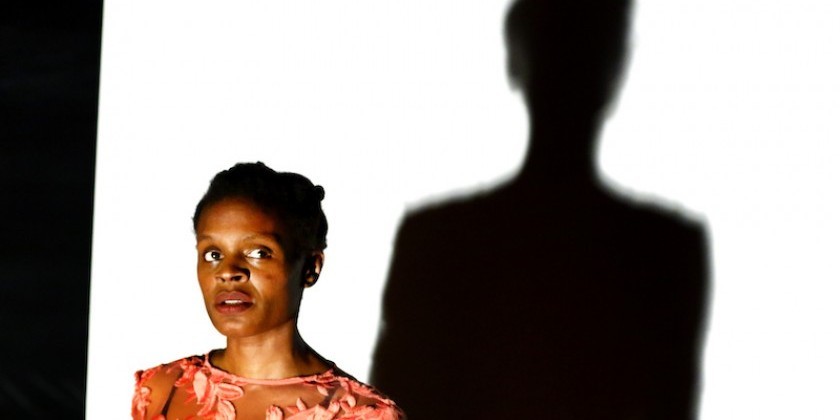 Presenter/Venue: New York Live Arts; New York, NY
Date: April 20, 2017; 7:30PM
Performers: Thuli Dumakude, Okwui Okpokwasili, Katrina Reid, and Nehemoyia Young
Co-Writers and Original Songs: Okwui Okpokwasili and Peter Born
Movement: Okwui Okpokwasili
Director: Peter Born
Scenery & Lighting: Peter Born
---
We walk into something that's long begun. I spend a few moments trying to take in the oddity overtaking the stage at New York Live Arts (NYLA). Ultimately, I give in to that wonderful feeling of unresolved curiosity.
The product of a two-year NYLA residency, Poor People's TV Room is multidimensional from start to finish. And I'd expect nothing less, given the creative team of writer-slash-performer-slash-choreographer Okwui Okpokwasili and director-slash-designer-slash-filmmaker Peter Born. It's not their first artistic rodeo.  
The initial intrigue is Born's doing. A sheet of hung plastic slices the space at an angle. Two performers move parallel, one in front and the other behind this sheer divider. The world before them is similarly severed. A cord drapes from above our heads, dangling a lantern center stage. A square scrap of plastic blankets the floor by a couple of chairs. To the other side sits the most compelling of Born's scenic design: an incognito table-like surface with a chair on its back. Other living room staples — a lamp, another chair, an old-school television — are strung sideways from the rafters. A widescreen monitor faces us, with purpose.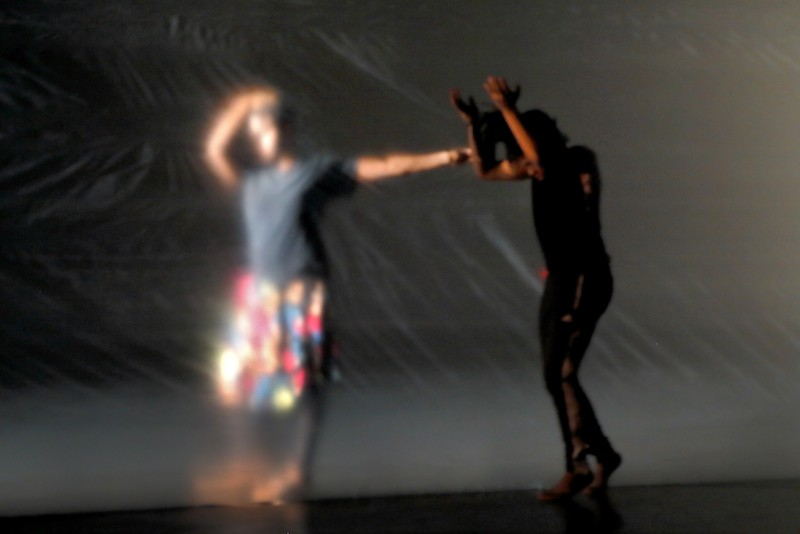 Katrina Reid and Nehemoyia Young in Okwui Okpokwasili's Poor People's TV Room; Photo: Paul B. Goode
Okpokwasili's presence quickly commands, as she steps out from behind the plastic curtain, topless and convulsing. She and one of her (three) fellow performers roll onto the table surface, sliding on their backs into the chair. Video from above live streams on the monitor, presenting them right-side up, as if simply sitting in your run-of-the-mill living room. The mundane made illusionary. 
This play on perception, thanks to the wonders of multimedia, is but one iteration brought to life in the work. Over the course of its 90-minute lifespan, music, spoken word, storytelling, vocals, movement, and theater also interplay. Sometimes it's for better — searing powerful, emotional images into our memories. Sometimes it's for worse — losing focus, due to the sheer variety of intricacies and context revealed. (It's the kind of performance you'd be smart to see more than once).
Though I encountered the work knowing its inspiration lies in the Nigerian Women's War of 1929 and Boko Haram kidnappings, it far transcends these specifics. Technology and occasional odes to Oprah ("There was a time, way, way back, when Oprah was a human being, just a woman. She felt pain and she suffered") help. In the end, Poor People's TV Room delivers an accessible picture of female vulnerability, hardship, and resilience.
Thuli Dumakude in Okwui Okpokwasili's Poor People's TV Room; Photo: Paul B. Goode
But, let's be clear, it's not a pretty picture. The work is dark, defeatist even. I'd boil the whole experience down to "haunting." We hear of death and oppression beneath Born's shadowy lighting. Two whisper incoherent conversation, echoing one another, seemingly in vain. I come to understand the four women on stage as mother-daughter duos, linked in their plight of womanhood. Okpokwasili says to her daughter figure: "What is less than shit, in value? Me. I am." Their disconnected journeys unfold in the disjointed space. 
All strung together, it feels like a prayer. Refrains color all parts of the performance. Spoken word and lyrics are repeated, sometimes relentlessly. The handful of times Okpokwasili sings, a drop of melancholy is added, a softness achieved; I wanted to hear more. The movement is sparse, often devolving to recurring gestural phrases accented with upward-facing palms and rhythmic feet shuffling. A memorable solo, lit in red, highlights Okpokwasili's long limbs grasping outwards, slapping in, her body twisting and bending. 
Amidst this complex world, there's no denying that Okpokwasili emerges as the force. She becomes that lasting image of woman that you just can't shake, even as you meander back outside to 19th Street. 
---
The Dance Enthusiast Shares IMPRESSIONS/ our brand of review and Creates Conversation.
Check out our other IMPRESSIONS here, including a 2015 review of Okwui Okpokwasili.
Share your #AudienceReview of this show or others for a chance to win a $75 giftcard to Trader Joe's.