Related Features
Contribute
Your support helps us cover dance in New York City and beyond! Donate now.
Impressions of: Sonya Tayeh's "you'll still call me by name" at New York Live Arts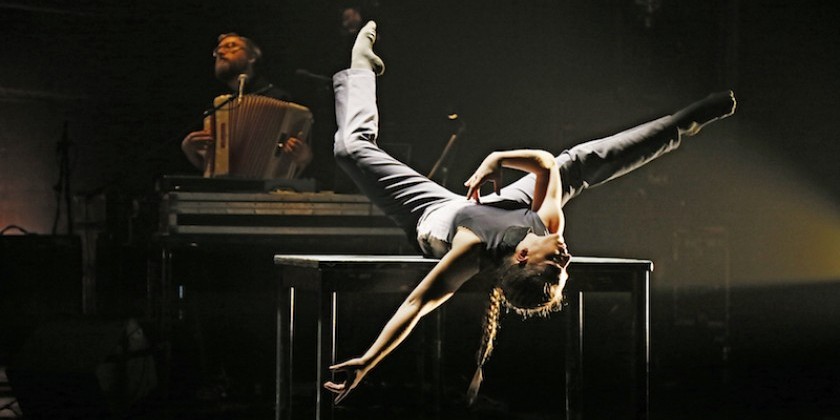 Choreography by Sonya Tayeh
Music by The Bengsons with additional cello compositions by Colette Alexander and percussion arrangements by Dani Markham and Geneva Harrison
Performed by Abigail Nesson Bengson, Alexis Evans-Kruegar, Chelsea Thedinga, Christopher Ralph, Colette Alexander, Dani Markham, Geneva Harrison, Jenn Freeman, Jennifer Florentino, Jo Lampert, Kevin Pajarillaga, Lenin Fernandez, Madeline Wright, Mia DeWeese, Rory Freeman, Shaun McClain Bengson
---
If fame and a little fortune are the criteria for making it in the dance world, then, by all accounts, Sonya Tayeh has made it. She's a popular contemporary choreographer who's been featured on reality show-juggernaut So You Think You Can Dance, which has garnered her two Emmy nominations. But Tayeh seems to want more: in particular, to create full-length works that stride, sometimes entrancingly and sometimes jarringly, the line between concert and commercial dance.

She blasts into New York Live Arts for a two-week run of you'll still call me by name, a heated frenzy of movement, music, and mythology. Featuring ten vigorous dancers and a score by The Bengsons, the hour-plus work is loud and proud.
Tayeh sharpened her choreographic chops in the high-definition medium of television where impact must be immediate and long lasting. She employs a similar ethos here, mostly with success. In sock-clad feet, dancers ripple through floor rolls and sail through grand rond de jambes as their upper backs bow and arch. Surprise freezes and jerky, tapping gestures punctuate the slipperiness, like silk studded with spikes.
Sonya Tayeh's you'll still call me by name. Photo: Paul B. Goode
What looks good on the screen, though, doesn't always work on stage. Tayeh's symmetrical and repetitive spatial configurations, readable and memorable in two-dimensions, appear flat and dull in live performance. A dog pile of dancers with writhing arms is great until it's reiterated a dozen feet rightward. A camera might catch a different angle, but an audience, tethered to their seats, just sees the same image again.

The operatic pop score bursts with an ardor that the choreography can struggle to meet. Tayeh embraces the potential volatility and lets the band take center stage more than once. There are only a handful of musicians, yet they produce a massive amount of sound in both dynamics and orchestration.

you'll still call me by name is unabashedly spiritual, almost like a revival. Gospel-tinged lyrics cite God, prayer, and coming home. Vocalists Abigail Nesson Bengson and Jo Lampert (a nascent star) deliver these words with the fervor of new converts. The dancers respond to these invocations by clasping their hands, slumping to the floor, and contorting their faces with angst, sinners seeking salvation.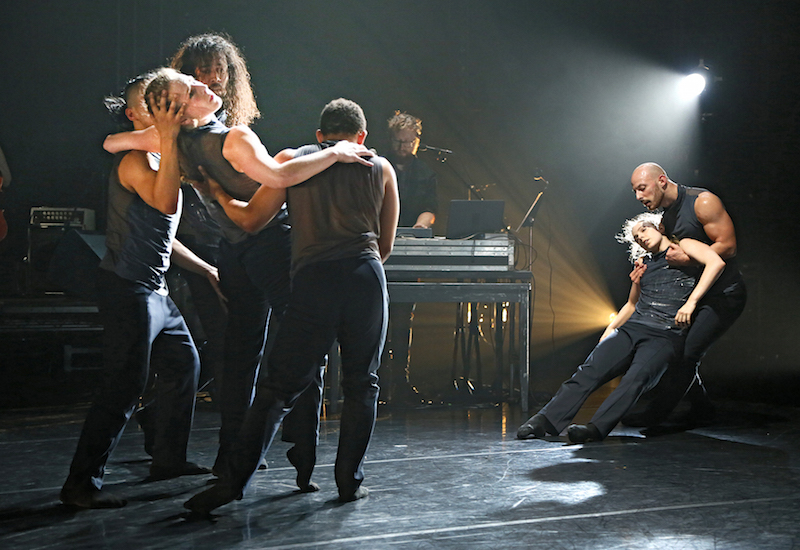 Sonya Tayeh's you'll still call me by name. Photo: Paul B. Goode

For all the coming-to-Jesus, the narrative is hard to follow. It suggests Joseph Campbell's hero's journey. A pair of blondes, indistinguishable save their hairstyles, appears to be one person spread over two bodies. They thrash through trials and lay crimped in the fetal position, overcome by tribulations. Four men and four women act as a Greek chorus, expounding upon the protagonists' arc from traumatized to transformed. The two heroines soldier through their turmoil to reconcile, hands clasped, before walking off stage in opposite directions.

you'll still call me by name swerves between busyness and calm, noisiness and silence, ecstasy and despair. It's bombastic, literal, and at least fifteen minutes too long. It's also hugely entertaining with no qualms about sucker punching you in the gut with its overt emotion. So succumb. Let your heart lead your head.
---
The Dance Enthusiast Shares IMPRESSIONS/ our brand of review and Creates Conversation.
Check out our other IMPRESSIONS here.
Share your #AudienceReview of this show or others for a chance to win a $75 giftcard to Trader Joe's.