Related Features
Contribute
Your support helps us cover dance in New York City and beyond! Donate now.
Impressions of "The View UpStairs": A new Off-Broadway musical by Max Vernon at Lynn Redgrave Theater at Culture Project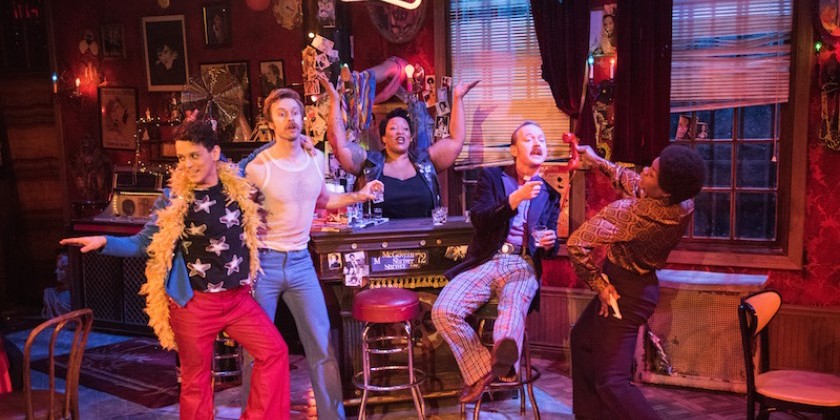 Presented by Invisible Wall Productions
Book, music, lyrics and vocal arrangements by Max Vernon
Choreography by Al Blackstone / Directed by Scott Ebersold
Lynn Redgrave Theater at Culture Project -45 Bleecker Street (at Lafayette), New York City- cultureproject.org
Preview February 15; Opened February 26; Limited Run through May 21
Performance reviewed: Tuesday March 7, 7pm
Pictured above: Michael Longoria, Ben Mayne, Frenchie Davis, Benjamin Howes, Nathan Lee Graham (L-R)
---
A colorful cabaret setting greets the crowd upon entry. The few tables at which a half dozen ticket buyers sit, naturally bridge any gap that would divide performers from their audience in a traditional theater. Thus one is part of a community and my eyes delightedly notice details in the imaginative scenic design (by Jason Sherwood). The piano leg closest to me has "Call Me" and a phone number scribbled on it, and the "Clockwork Orange"style chandelier above it is enhanced by the addition of different-colored dildos. If this seems inviting or at least intriguing to you, then you are in the right place. This piano bar, called The UpStairs Lounge, serves a gay clientele. We are in New Orleans on Sunday June 24, 1973.
Yet when the play starts the set is in darkness, we are in the now, and a young man walks in with a real estate agent and ends up buying the building in dire need of repair. In the moment he is left alone and tears down a curtain, he is transported back in time to that very gay bar and learns the history of the house he just purchased by spending an evening with its customers.
Wes, the young man (Jeremy Pope), is a budding fashion designer with a big following on social media. Through his interactions with the bar's patrons of the past, he slowly realizes that there was a time of direct interactions without a cell phone and the trappings of modern technology. Step by step he learns to appreciate the authentic version of himself.
Nathan Lee Graham; Photo by Kurt Sneddon
It is fascinating to witness the clash of different eras and attitudes not only through the always witty and often ingenious lyrics by the show's creator Max Vernon, but also to have the divide made visible in the choreography by Al Blackstone, who juxtaposes '70s groove and 2017 posing in hilarious ways. Although this is not a dance show, the movement present underscores and imaginatively illustrates the premise.
Frenchie Davis as the bartender adds vocal chops to a cast in which some of the performers are less clear in their diction and one or two do not have as strong a voice, but magically the unevenness adds to the neighborhood feel of the story. Taylor Frey as the gorgeous hustler Patrick, who falls in love with Wes, is a standout from all perspectives, front and back. Nathan Lee Graham as the aging androgynous beauty Willie, sports a big Afro and brings the house down with his meticulously timed facial expressions that accompany his acid remarks and his expert campy contributions. While moving the show along at a swift pace, director Scott Ebersold manages to make us truly care about its characters.

Jeremy Pope, Taylor Frey, Frenchie Davis, Nathan Lee Graham, Benjamin Howes, Nancy Ticotin, Michael Longoria, and Randy Redd (L-R); Photo by Kurt Sneddon
 
When Dale (Ben Mayne), an unfortunate homeless man and the show's Mr. Cellophane, sings his contemplative "Better Than Silence" about being invisible, it finally dawns on me that Max Vernon has been referencing other musicals in subtle ways, yet he has created a most original piece of musical theater that is not to be missed. I look forward to revisiting Vernon's inspired score as soon as a cast album comes out.
The show might get preachy for a moment toward the end, but I forgive it, because it is heartfelt. After all, the UpStairs Lounge was burned down that evening in 1973 and 32 of its patrons died. One learns that it was the most deadly attack on any LGBT establishment before the carnage in Orlando last year. You would leave the theater as if you just lost a group of dear friends were it not for the hopeful ensemble finale and the capricious bows.
---
The Dance Enthusiast Shares IMPRESSIONS/ our brand of review and Creates Conversation.
Check out our other IMPRESSIONS here.
Share your #AudienceReview of this show or others for a chance to win a $75 giftcard to Trader Joe's.