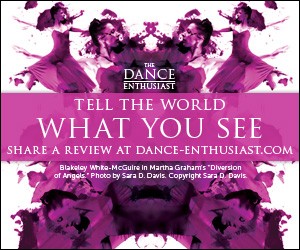 Related Features
IMPRESSIONS: Yvonne Meier's "Durch Dick und Duenn" and "Durch Nacht und Nebel" at The Invisible Dog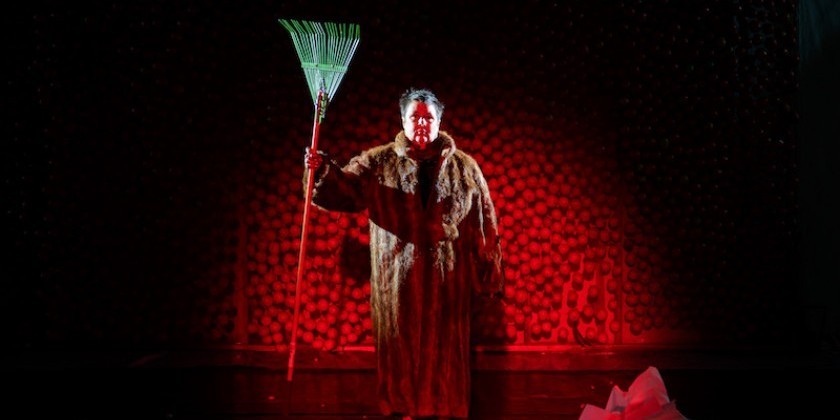 November 12, 2017
Venue: The Invisible Dog
A Co-Presentation with Danspace Project
Videos: Lisa Kusanagi, Michael Stiller, and Yvonne Meier
Durch Nacht und Nebel / Choreography and Performer: Yvonne Meier / Music: Chris Laye
Durch Dick und Duenn (Through Thick and Thin) / Choreography: Yvonne Meier / Performers: Yvonne Meier, Lorene Bouboushian, and Lisa Kusanagi
Set Design: Yvonne Meier / Lighting Designer: Michael Stiller
Dramaturges: Aki Sasamoto, Anne Iobst, and Ishmael Houston-Jones / Music: Chris Cochrane, Chris Laye, and Kevin Bud Jones
---
In her latest works at The Invisible Dog, Yvonne Meier and her collaborators paint — at one point, the choreographer literally smears black pigment on her body — a world where the perverse, mundane, and absurd coalesce. What continues to be refreshing about Meier, the Swiss artist who has been working in New York since 1979, is her lack of self-seriousness. What you see is what you get. No irony. No bullshit.
The solo Durch Nacht und Nebel (By Night and Fog) and the trio Durch Dick und Duenn (Through Thick and Thin) bleed together like stories in a Hans Christian Andersen fairytale anthology. We're transported to places that suggest a forlorn junkyard, a sinister forest, and a luscious tomato patch. Mortality, desire, and oblique sexuality permeate Andersen's tales. Meier, too, distills these themes in her own whacky way. Yet, unlike the author's infantilizing female characters, the artists here are in control of their own adventures. They explore, nosh food, and gesticulate freely. They inhabit zany characters, including a grave-digging wolf, a pestering fly, and a woman wearing a unitard covered in tiny plastic babies.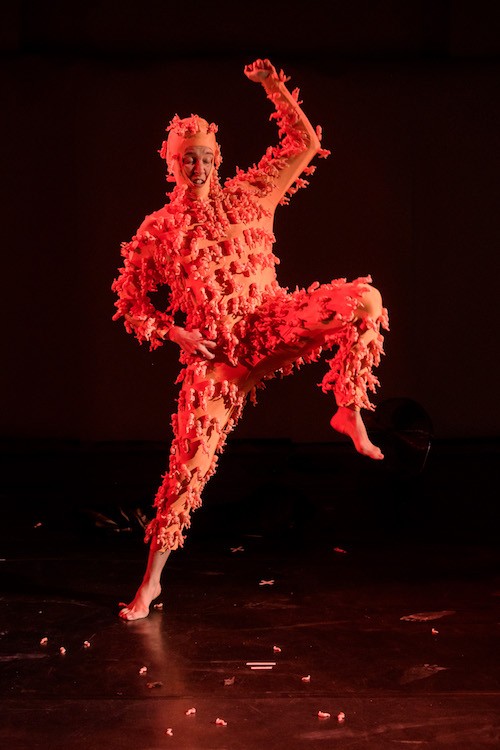 Lorene Bouboushian in Yvonne Meier's Durch Dick und Duenn; Photo: Ian Douglas
In the brief Durch Nacht und Nebel, Meier emanates power in a long fur coat and bare feet. While the coat makes her look like a wayward Siberian oligarch, it's her inscrutability that makes the artist so magnetic in her tasks. She hauls sacks of rocks and pours them into a pile. Using an electric razor, she shears her coat. She then takes it off to reveal her semi-naked body, which is striped with Band-Aids. Rather than a vulnerable moment, it's an affirming one as her breasts, thighs, and jowls unceremoniously jiggle. Crawling to the rock mound, Meier dons a scuba mask and searches among the rubble. When she finds what she's looking for — two whole egg shells — she bites into them with satisfaction.
Impulses and inventive costumes strike again in Durch Dick und Duenn. Lisa Kusanagi wears a bodysuit coated in peanuts, which she has trouble taking off. Frayed shells crunch beneath her feet as she tries to shimmy out of the constricting onesie. Eventually, the performer resorts to eating the nuts off her body. Later, Kusanagi and Lorene Bouboushian, wearing lumpy unitards, launch rocks at the hanging installation of tomatoes from baseball pitching machines.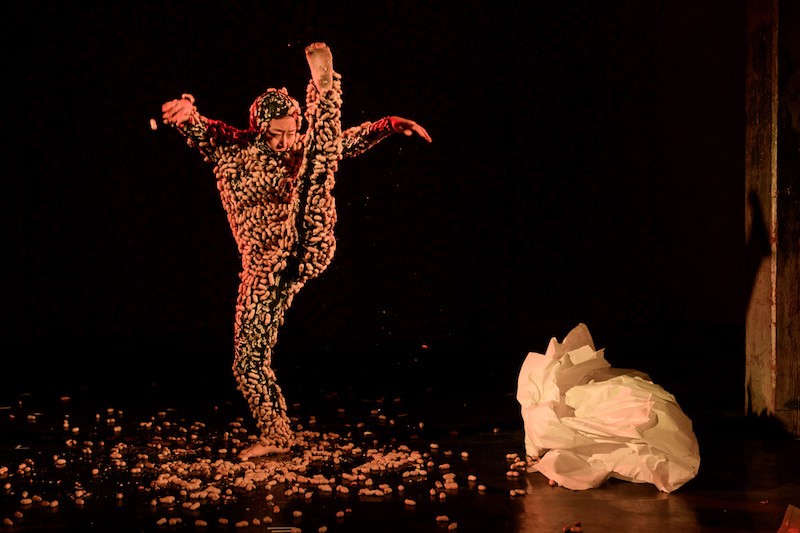 Lisa Kusanagi in Yvonne Meier's Durch Dick und Duenn; Photo: Ian Douglas
Stop motion films, which play between vignettes, feature plastic tiny baby dolls that frolic in I Can't Believe It's Not Butter!, copulate, and shit tomatoes stems. These moments remind me of catching a child eating gum off the floor or watching someone pick their nose on the subway. They simultaneously elicit laughter, fascination, and disbelief.
In these two companion works, Meier and her collaborators exhibit behavior that society deems as inappropriate or unseemly — especially for women. They eat impulsively, unabashedly display their bodies, and make juvenile movies. But through these absurd acts, Meier points to how silly and arbitrary certain cultural constructs are.  
Even after decades of art making, Meier continues to march to beat of her own drum. She doesn't need to be fêted or a red carpet rolled out — though certainly deserved. In fact, a floor covered in peanut shells will do more than just fine.
---
The Dance Enthusiast Shares IMPRESSIONS/ our brand of review and Creates Conversation.
For more IMPRESSIONS, click here. To read about a 2015 performance that included work by Meier, click here.
Share your #AudienceReview of this show or others for a chance to win a prize.