Impressions of: "Matthew Bourne's Sleeping Beauty": A Gothic Romance
Bourne's Beauty: This Goth Revamp Could be a Sleeper.
New York City Center
October 23 – November 3, 2013
---
Choreographer Matthew Bourne, who famously tackled an all-male version of Tchaikovsky's Swan Lake as well as his Nutcracker, was inspired to return to the composer's oeuvre after a visit to Tchaikovsky's country estate. The Sleeping Beauty was the obvious choice, but Bourne admits in a program note to not being a believer in love at first sight and thought the ending of the classic fairy tale a problem. He not only takes liberty with the libretto, but also with the composer's score.The recording is re-arranged in some places and layered with ambient sounds such as rain that threatens to drown the music.
Bourne also was concerned that the fairy Carabosse's anger over not being invited to Aurora's christening was blown out of proportion and needed further explication and a different motivation. The English translation of the Brothers Grimm source material begins with: A long time ago there were a King and Queen who said every day, "Ah, if only we had a child!" but they never had one. Bourne invents Carabosse as the one who produces the child for the Royal Couple and is not shown due gratitude.
Now the audience can question the origins of the child, but no matter how Carabosse obtained it, one thing is clear: this kid is adopted.
Tom Jackson Greaves in Matthew Bourne's Sleeping Beauty. Photo by Simon Annand.
---
Infant Aurora is a handful and does not sleep in her crib as in the other productions we are used to seeing. She makes noise and keeps the palace staff constantly on their toes. She crawls about and even – to the audience's delight – climbs curtains! Aurora's exploratory spirit shines through her nimble moves, which would be impossible to ask of a real child and therefore are portrayed by a puppet (puppeteer Sarah Wright).
We know we find ourselves toward the end of the Victorian era, because "1890" is projected onto the front curtain (note: it also happens to be the year of the ballet's St. Petersburg premiere) and the sumptuous costumes and sets by Lez Brotherston delight through their patina.
Aurora's huge open bedroom windows invite the fairies to bestow different needed virtues on her. The set's conveyer belts transport the fairies magically across the stage and the moving stillness of some is juxtaposed by the wild dancing of others. Here is an example of how the incorporation of technology can magnify and enhance choreography.
Carabosse spoils the outpouring of goodness with her two agile attendants and torments kid and hired help before the parents show up. A faceless masked dancer enacts Carabosse's vision of Aurora's death, but Count Lilac (yes, a male fairy) turns the death spell into a 100-year sleep while a masked boy shows how the wheels will eventually be put in motion again. Liam Mower as Count Lilac spins his high arabesques around for a supernaturally long time just to let Carabosse know who is boss. He then sends her into exile.
 
Hannah Vassallo in Matthew Bourne's Sleeping Beauty. Photo by Simon Annand.
At a 1911 Edwardian garden tennis party, which doubles as Aurora's coming of age celebration, it seems evident that Bourne must have secretly rooted for the underdog Hilarion in the ballet Giselle, for here in his Beauty, he invents a gameskeeper/gardener named Leo who becomes the object of Aurora's affection. While there are plenty of aristocrats to choose from --among them the creepy Caradoc, the son of the exiled and now dead Carabosse (Tom Jackson Greaves in both roles)-- she prefers to frolic with the working class chap. Caradoc takes revenge for his mother and leaves a black poisoned rose for Aurora (Ashley Shaw) to sniff. Poor Leo (Dominic North) is outwitted and initially accused of Aurora's demise. Count Lilac appears and – surprise, surprise - bites handsome Leo's lovely neck. How else would Leo be able to stick around for a hundred years to kiss his princess back to life?
But now it's time to sleep for the non-vampire crowd, and the audience is sent to enjoy intermission.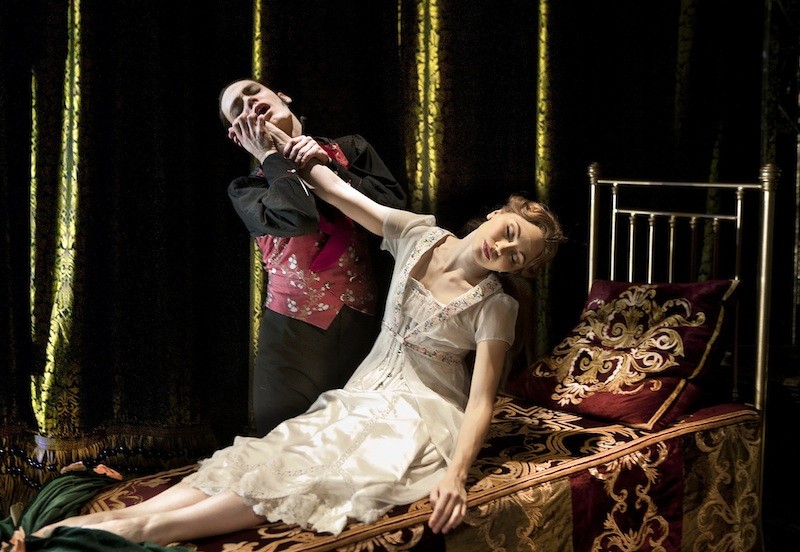 Adam Maskell and Hannah Vassallo in Matthew Bourne's Sleeping Beauty. Photo by Simon Annand.
---
When we return, we find Leo camping in front of the garden gate in a tent. It is the present time and "Occupy Beauty" seems to be his wish. He sports tiny fairy wings that remind us something odd went on in the last act.  Count Lilac checks in on him, signals the time has come, and hands him the key to the gate.  A superfluous vision scene is my only major qualm with this fun, clever and poignant production.
But nothing goes as planned. Caradoc, inside the castle, has been manhandling the sleeping princess. He waits for Leo to kiss her awake, then tosses him out. Now Caradoc can undisturbedly taunt and tease (and worse) her alive. Instead of wedding guests we get an orgy with Puss and Boots.
Lilac and Leo eventually infiltrate the party and (I'll spare you the truly gory details) because in the end – you guessed it – Boy gets Beauty and they live happily ever after (kid and fairy vampire wings included). And that is what counts.