Related Features
Contribute
Your support helps us cover dance in New York City and beyond! Donate now.
IMPRESSIONS: zoe | juniper's "Clear & Sweet" at New York Live Arts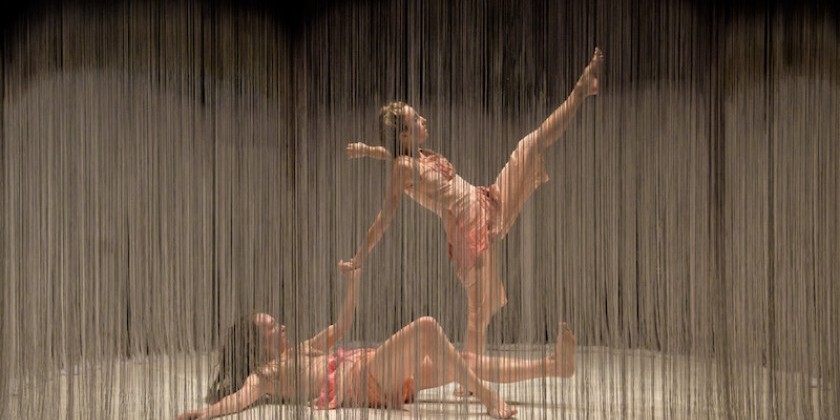 December 13, 2017 at 7:30pm
Concept/ Design/ Direction by Zoe Scofield and Juniper Shuey
Choreography: Zoe Scofield and dancers
Performers: Ana Maria Lucaciu, Navarra Novy-Williams, Troy Ogilvie, Dominic Santia, and Zoe Scofield
Set and Projection Design: Juniper Shuey / Lighting Design: Amiya Brown
Sound Design: Julian Martlew / Music Composition: Evan Anderson
Recording Musicians: Derek Blackstone and Evan Anderson
Costume Design: Christine Meyers / Singing Direction: Kevin Barrans
---
For thirteen years, Seattle-based choreographer Zoe Scofield and media artist Juniper Shuey have been creating multi-layered, immersive collaborations under the appellation zoe | juniper. Their latest, Clear & Sweet, comes to New York City this month as a commission from New York Live Arts' Live Feed creative residency program. At the backbone of the work is Scofield's fascination with the Protestant tradition of Sacred Harp Singing (also known as Shape-note Singing), a social practice that brings communities together to sing four-part hymns and anthems. Like the inclusive tradition on which it's based, Clear & Sweet offers an experience that belongs as much to the audience as to the performers.
zoe | juniper's attention to detail is apparent. A majestic chandelier, seemingly comprised of thousands of white silk strings, hangs from the ceiling. Shifting projections give life to the prop, causing it to flicker, dance, and change color. A circle of light with smudged beams of color radiating outward mimics the cover of the "Clear & Sweet Song Book," which offers both an explanation of Sacred Harp Singing and printed music. Sacred Harp Singing is traditionally performed in a "hollow square," and this structure is reflected in the spatial arrangement, with audience surrounding dancers on four sides.
Ana Maria Lucaciu in zoe | juniper's Clear & Sweet; Photo: Ian Douglas
Clear & Sweet begins with soloist Troy Ogilvie in a circle of light. As she lunges tantalizingly toward us, her body seemingly transforms among different constitutions; water, lead, mud, air . . . Four blindfolded dancers are led into the circle where they make their way through a series of tableaus reminiscent of biblical scenes.
Throughout Clear & Sweet, nods are given to a ballet vocabulary. Contained classical shapes are stretched and distorted, and simple waltz turns devolve into chaotic, animalistic spirals. Just as the inclusive Sacred Harp Singing practice is born from a highly structured religious tradition, the rigid structure of ballet gives life to something more liberated.
The chandelier descends from the ceiling, enclosing Ogilvie and Navarra Novy-Williams inside its porous container. In a duet that is both intimate and detached, Ogilvie, lying face up on the ground, uses her feet to rotate Novy-Williams' hips, initiating mesmerizing, pendulum-like arm motions. Like peering into a fishbowl, we are granted exclusive insight into another world.
Ogilvie speaks with her words and her body, telling us a story from Ana Maria Lucaciu's life, a traumatic performing experience that took place in 3rd grade. Lucaciu, blindfolded, moves in response, her string-like limbs winding and then unraveling hypnotically.
These interludes of storytelling seem intended to reconcile the pedestrian experiences of our life with the spiritual, revealing that these tiny heartbreaks and traumas, imperceptible on the outside, can feel like hurricanes in our experiences of them.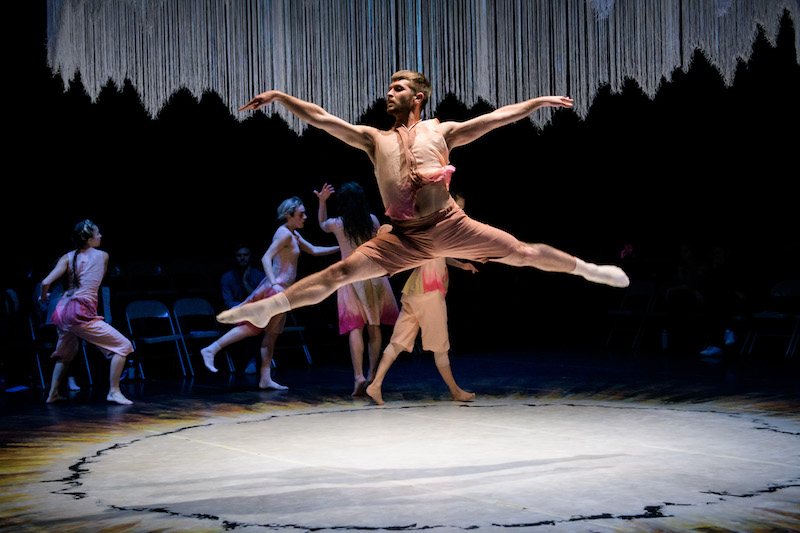 Dominic Santia in zoe | juniper's Clear & Sweet; Photo: Ian Douglas
Singers emerge from the audience to accompany the dancing. In these moments of song and dance, the whole room seems to vibrate with spirituality. Like the singers, Scofield and her collaborators join together to create something larger than the sum of its parts. 
The invitation to participate in the singing initially makes us uncomfortable. There isn't time before the performance to figure out how shape-note singing works, and singing among strangers can be, well, terrifying. However, this is a microcosm of the dancers' experience of performing blindfolded in front of a large audience.
Scofield performs her closing solo within the circle of light, which is now surrounded by chairs. Stretching her limbs into lines and then destroying them, she blends strong gestures like deep lunges with an exposed throat or a concave chest.  
Novy-Williams, lying face-up on the ground, props Scofield on her shins, where Scofield sits as though on a throne. Mimicking the harmonious conclusion of a song, Clear & Sweet finishes symmetrically, all dancers seated in a circle facing one another — like the majestic chandelier, welcoming all but not trapping nor dictating an experience.
---
The Dance Enthusiast Shares IMPRESSIONS/ our brand of review and Creates Conversation.
For more IMPRESSIONS, click here, including a 2014 review of zoe | juniper.
Share your #AudienceReview of performances for a chance to win a prize.