Related Features
Contribute
Your support helps us cover dance in New York City and beyond! Donate now.
IMPRESSIONS: Jasmine Hearn's "Salt and Spirit" at the Out-FRONT 
Festival Curated by Pioneers Go East Collective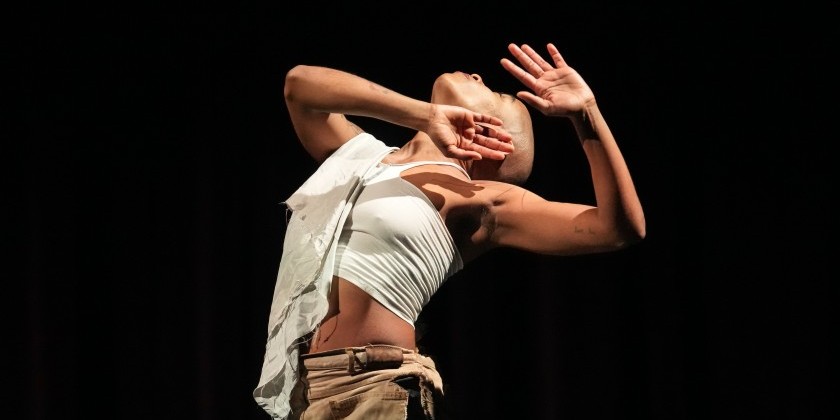 Concept and Direction: Jasmine Hearn   //   Producers: Nora Alami with Marýa Wethers
In collaboration with Out-FRONT! Fest Organizers, Pioneers Go East Collective, and The Center
Choreography: Jasmine Hearn with Nora Alami, Dominica Greene, jhon r. stronks, Kendra Portier, Charmaine Warren, and Marýa Wethers
Performers: Jasmine Hearn, Dominica Greene, Kendra Portier, Charmaine Warren, Marýa Wethers, Lily Gelfand
Sound Design: Jasmine Hearn  //  Sound: Jasmine Hearn with Coline Creuzot, Lily Gelfand, Angie Pittman, Becky Selles, and Jo Stewart  //  Sound Samples: Dionne Brand and "My Journey to the Sky" by Sister Rosetta Tharpe and Marie Knight
Garment Design: Jasmine Hearn and Athena Kokoronis of Domestic Performance Agency
Additional Production Support: Nora Alami, Jasmine Hearn, and Myssi Robinson
LGBT Community Center, New York
January 17, 2023
---
"How y'all doing?" calls Jasmine Hearn (they/theirs) to their audience, pacing the perimeter of the performance square in a worn-out, thrown-out, backwards pair of men's pants, at the opening of Salt and Spirit.  They ask what colors we're feeling.  The individual answers, as you might expect, are on the uptight side.  (Nobody will say "white.")  Hearn ends the performance with the same "How y'all doing?" but the answer then sounds like a big happy sigh from all around.  Something happens in the intervening hour.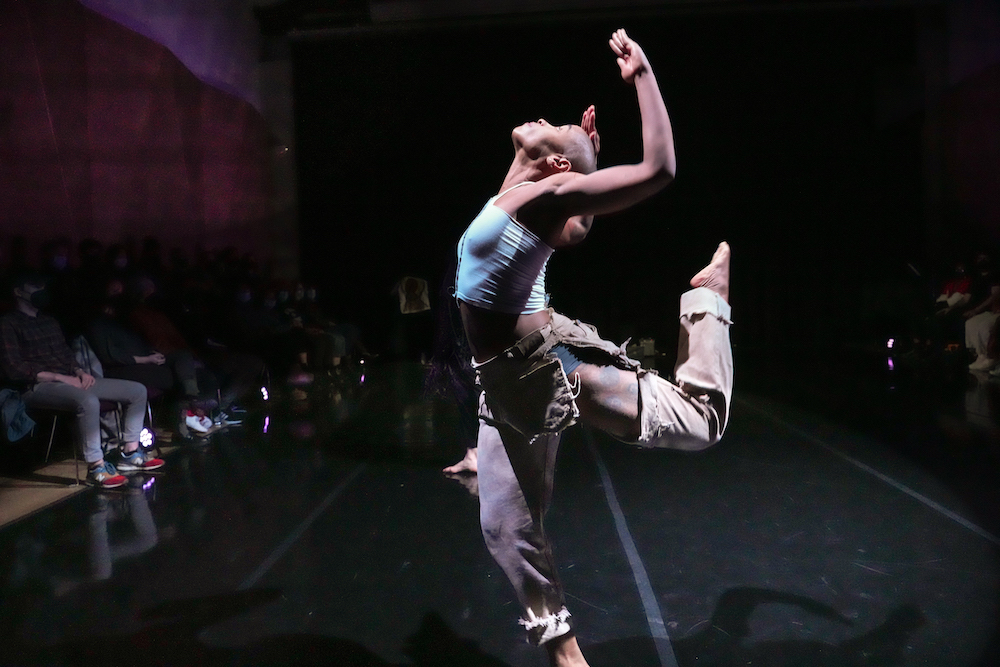 Jasmine Hearn; photo by Steven Pisano
It starts off like a yoga class, then morphs in and out of group therapy, a modern dance workshop, a cello recital, a rock concert, a poetry reading, a jazz sing, an LSD trip, a dumpster fashion show, an orgy, a revival meeting, and a rehearsal for a revolution.  Snatches of songs, fragments of dance appear and disappear.  Hearn hangs out in the rear of the space, microphone in hand, emerges and fades back from the dance floor.
It's about salt and spirit — i.e. earth and heaven, but from a specific point of view that is Hearn's – queer, poor, brown, south Texan, and in command.  They command with their voice and lyrics — "it's been so long" they croon, "since I found me."  But mostly they do it with powerful, spacious dancing, hunkering in a deep plié as they whirl, arms flying out beyond the fingertips, encompassing the entire space in a few turns.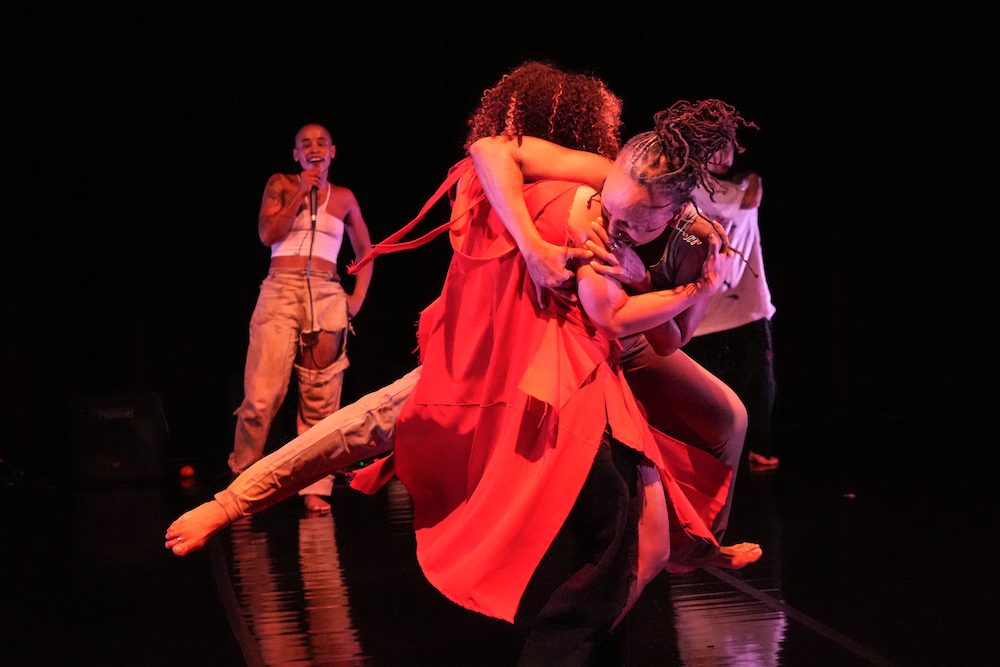 Foreground: Dominica Greeneand (facing backwards) and Charmaine Warren (facing forward). Background: Jasmine Hearn; photo by Steven Pisano
They do it with a diverse company, with different talents but seemingly one mind. The hour builds to a climax with an erotic duet between a wise elderwoman and a dazzling young protégée.  Dr. Charmaine Warren and Dominica Greene turned each other every way but loose — at one point, back to belly, walking with feet on top of feet, a single organism.  When the lights came up, Hearn was prostrate before a laughing Warren.  Sisterhood never looked so powerful, or so much fun.  
Among the elements that appeared and disappeared — without explanation of comment — was a ripe orange.  Hearn casually picked it up and placed it in the center of the space for a few minutes.  Juicy, sweet and sensual, yet equipped with a tough skin fit for hard traveling — it could be an emblem of Hearn and the road ahead.  Watch for them.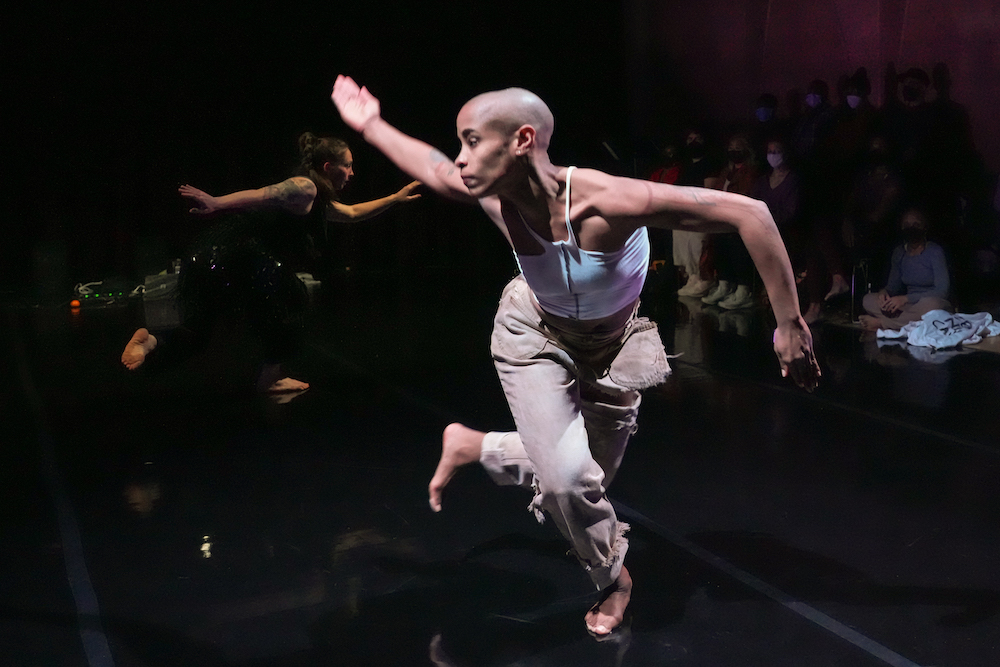 Kendra Portier (background) and Jasmine Hearn (foreground); photo by Steven Pisano
Salt and Spirit is part of the annual out-FRONT festival put on by the LGBTQ Community Center in Greenwich Village.  This Radical Queer Dance + Film fest is curated by Pioneers Go East Collective, an ensemble of artists and activists in residence at Judson Church and La MaMa.  Worth your while.  
---
The Dance Enthusiast Shares IMPRESSIONS/our brand of review, and creates conversation.
For more IMPRESSIONS, click here.
Share your #AudienceReview of performances. Write one today!
---
The Dance Enthusiast - News, Reviews, Interviews and an Open Invitation for YOU to join the Dance Conversation.