Related Features
Contribute
Your support helps us cover dance in New York City and beyond! Donate now.
IMPRESSIONS: "Jerome Robbins' Broadway" 30th Anniversary Celebration at Guggenheim Works & Process and "A Feast of Cunningham" at 92Y Harkness Dance Festival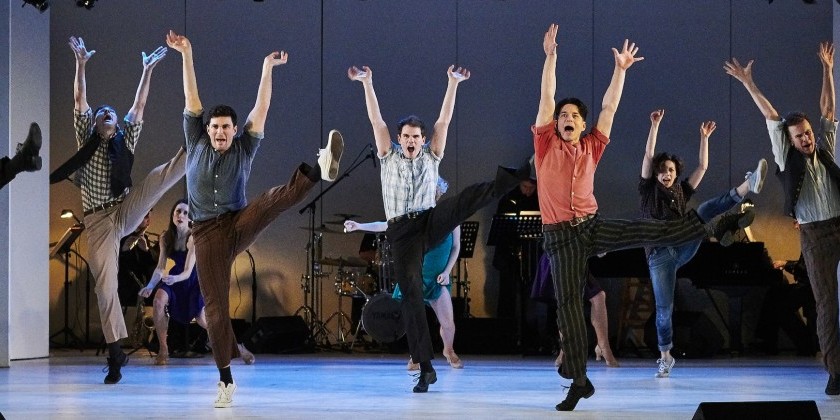 Jerome Robbins' Broadway 30th Anniversary Celebration
Guggenheim Works & Process
Sunday, February 24 at 7:30 p.m.
A Feast of Cunningham
92Y Harkness Dance Festival
Friday, March 1 at 8 p.m.
---
The Guggenheim Works & Process series celebrated the 30th anniversary of Jerome Robbins' Broadway with three performances. Staged by Robert La Fosse, a charming emcee, who introduced excerpts and fellow performers, and recalled anecdotes from his time as an original cast member for which he received a Tony nomination, the evening proved a nostalgic event. Pretty much exactly 30 years to the day after the show opened on February 26, 1989, a great number of people affiliated with it assembled at the Guggenheim both onstage and in the audience.
"New York, New York" from On the Town, Choreography by Jerome Robbins. Courtesy of Robert Altman/Works & Process at the Guggenheim, February 2019.
The pastiche of various shows directed and/or choreographed by Robbins had been a labor of unprecedented research, love, and an overlong rehearsal period of 22 weeks for a cast of 60 dancers. Two short panel discussions between numbers (moderated by Steven Suskin) shed light on the painstaking process. Film clips of Robbins demonstrating sequences and coaching his dancers delighted the show's family and fans.  
Just as the collage opened thirty years ago, three sailors strolled through Leonard Bernstein's "New York, New York" from On the Town, and I was transported back in time when I marveled at La Fosse, Michael Kubala, and Christophe Caballero at the Imperial Theater. And here they were on the small stage of the Guggenheim strutting their stuff, but once the dancing got into high gear, dancers from the more recent revival of On the Town replaced them.
"Mr. Monotony," Choreography by Jerome Robbins with Ryan Steele, Skye Mattox, and Ahmad Simmons. Courtesy of Robert Altman/Works & Process at the Guggenheim, February 2019.
Irving Berlin's "Mr. Monotony" featured the show's Tony Award-winning Debbie Gravitte with dancer Skye Mattox who gets to have her fun with Ahmad Simmons and Ryan Steele. I loved the rendition of West Side Story's "Cool." Tension and thirst, syncopation over a pulsing beat — the young performers did the piece proud. My laugh muscles got plenty of exercise enjoying "You Gotta Have a Gimmick" from Jule Styne's Gypsy. Gravitte "bumped it with a trumpet" and hilariously so, while fellow veteran stage treasures Susann Fletcher lit up the stage not only with her costume but also her fabulous singing voice, and Faith Prince proved that she has not lost any of her unique comic timing.
"You Gotta Have A Gimmick" from Gypsy, Choreography by Jerome Robbins with Faith Prince, Susann Fletcher, and Debbie Gravitte. Courtesy of Robert Altman/Works & Process at the Guggenheim, February 2019.
After excerpts from Fiddler on the Roof and more West Side Story, the evening closed with "Some Other Time" from On the Town. Alumni sitting in the audience joined the performers on stage to sing to a film clip honoring departed cast members. It indeed was a special reunion and a fitting finale to Robbins' centennial celebrations.
Another centenary is just getting started. Only a couple blocks east at the 92Y, A Feast of Cunningham served up works by the late master of abstractionism performed by a bunch of different companies as part of the Harkness Dance Festival 25th season. Throughout the month disciples of Cunningham get to inhabit the beautiful dance space that is Buttenwieser Hall.
Melissa Toogood and Calvin Royal III in
A Feast of Cunningham
; Photo
©Julie Lemberger 
The opening act of the festival combined forces of New York Theatre Ballet, Miami's New World School of the Arts, American Ballet Theatre's Calvin Royal III, and Cunningham performer and stager Melissa Toogood.
Short works from 1953 to 1984 showed that Cunningham stayed true to movement exploration. Known for precarious off-center balances and the juxtaposition of seemingly impossible sustained movement sequences and sudden bursts of technical wizardry at lightning speed, Cunningham is always interesting to observe.
Toogood, a former company member, possesses the body to look at how to do this technique, but Royal's surefooted lightness and natural sunniness reveals — in this otherwise sincere work — occasionally a gentle humor. After the two danced an excerpt from Scenario and more excerpts from Landrover and Trails, I must admit that I was hoping for a gimmick with a trumpet; alas a Cunningham evening does not aim for the variety of Robbins.
Pianists Adam Marks and Michael Scales played music by Erik Satie to Cunningham's early Septet, staged by Carol Teitelbaum for New York Theatre Ballet. I wonder if the poetic quality of the work transpired due to its musical accompaniment alone. All the performers invested their skill and concentration admirably, but the young cast of the New World School stole the show in a MinEvent arranged and staged by Toogood, who combined movement material from eight works. Music by John King and costumes by Hilda Morales and Elaine Flores amplified the steps so enthusiastically executed by Maya Billig, Alexander Campbell, Amanda Davis, Sara Franco, Isaiah Gonzalez, Elkey Love, Jade McCartney, Cheina Ramos, Natalie Rocamonde, Rafael Ruiz-Del-Vizo, Alexandra Skibinski, and Enrique Villacreses.
Catch more Cunningham throughout this year all over town. It is yet another 100th birthday well worth celebrating.
---
The Dance Enthusiast Shares IMPRESSIONS/our brand of review and Creates Conversation.
For more IMPRESSIONS, click here.
Share your #AudienceReview of performances. Write one today!