Impressions of: Jodi Melnick's "Moment Marigold" at BAM
Presented by: Next Wave Festival, BAM Fisher
October 11, 2014.
7:30 p.m.


Dancers: Jodi Melnick, EmmaGrace Skove-Epes, Maggie Thom
Choreography: Jodi Melnick
Recorded Score: Steven Reker
Costume Design: Reid Bartleme & Harriet Jung
Lighting Design: Joe Levasseur
---
Lithe slip-slider, lean as a Flapper, with a piercingly focused gaze -- her classical features framed by a cloud of red hair and her costumes outstanding for their elegance of outline and vivacity of color -- Jodi Melnick can stand still in a crowd of dancers half her age and you probably wouldn't be able to take your eyes off her. In Moment Marigold, her recent, 53' trio for herself and two young colleagues (native New Yorkers EmmaGrace Skove-Epes and Maggie Thom), Melnick doesn't do a lot of standing still (and those moments when she does have a dramatic charge). Even so, most of her movement is comparatively plain: walking, a bit of skipping, lying down and rising from the floor, braiding or interlacing her arms with the other dancers and otherwise physically connecting with them in unemphatic ways. Many passages emphasize arms and hands while the legs and feet are rooted. When, towards the end, in reduced light, Melnick turns around and is holding an unsheathed kitchen knife with which she calmly and coolly dances, it takes a moment for an audience member to feel the hairs on one's neck jump to attention.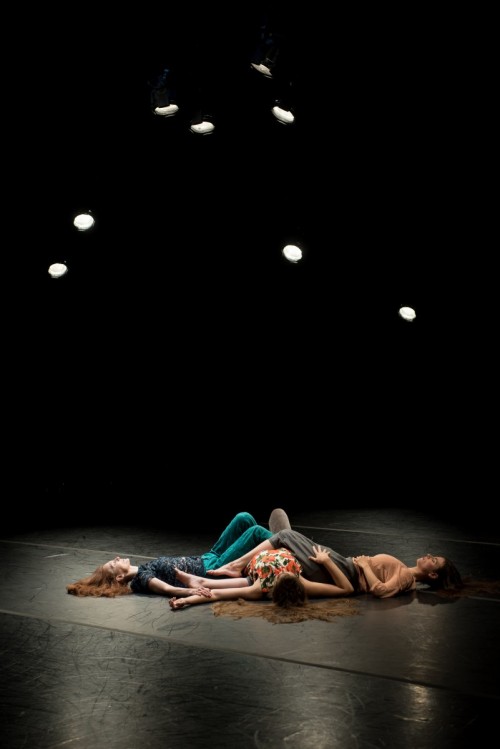 Jodi Melnick, EmmaGrace Skove-Epes and Maggie Thom in Moment Marigold. Photo: Ian Douglas
This is how danger often erupts in life, without announcement, part of the flow. At the Fisher, where the audience sits close to and on the same level as the performers, the uneasiness one may feel isn't entirely virtual. Melnick eventually puts the knife away, and Moment Marigold ends with a luminous tableau of the three dancers lying like petals under golden light, their masses of shining long hair extending around them in an aureole. But the haunting point has been made: dancing is to be taken seriously, not only because it evolves organically, or encourages communion, or delights the eye, but also because it has the potential to do damage. That it doesn't is a choice.

The look of casual and spontaneous, un-dancey dancing -- Melnick's art -- is also a choice, of course. It practically constitutes a moral statement about style in performance, and Melnick has been refining it over a career where she has danced for and/or with innovators of this special kind of grace on proscenium stages, in art galleries, and, as here at the Fisher, in black-box theaters: Twyla Tharp, Trisha Brown, Sara Rudner, Vicky Schick, John Jasperse, Irene Hultman, Donna Uchizono, even, in his postmodern reinvention of himself as a dancer, Mikhail Baryshnikov, who performed in a 2006 trio that Melnick devised for him, her, and Hristoula Harakas.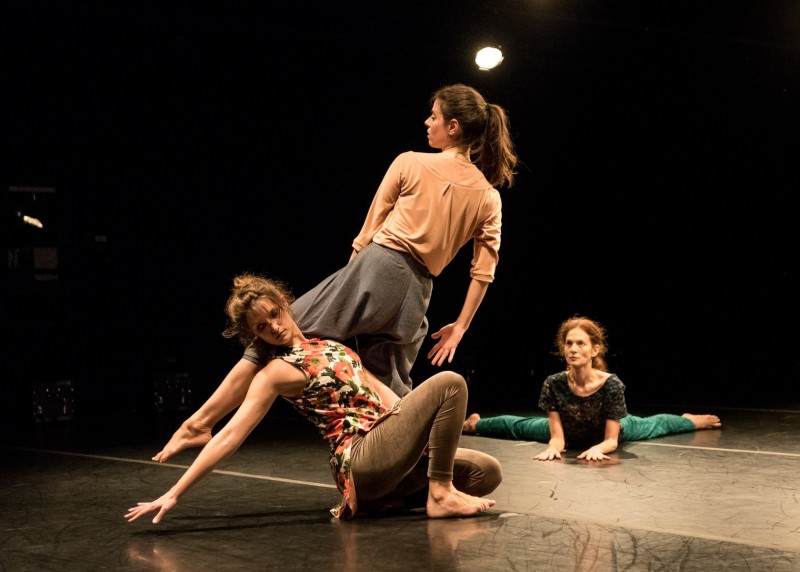 EmmaGrace Skove-Epes (sitting) and Maggie Thom (standing) and Jodi Melnick (in back) in Moment Marigold. Photo: Ian Douglas

As a legacy of the Judson Church iconoclasts of the 1960s -- and, ultimately, of the game-changing ideas about music and dance developed and practiced by John Cage and Merce Cunningham -- Melnick's choreography follows no obvious narrative, symbolic, or emotional arc. And, although it does include electronic soundscapes that may offer music (as, here, Steven Reker's aural contribution offers an eerie song with lyrics that go "It was you in my dream"), the movement is independent of guidance from any musical procedures. However, when the words about dreaming are sung as Thom lies down and arches her back while Melnick and Skove-Epes connect with vine-like gestures, it is difficult not to see a physical image of a dreamer and her dream. I have no idea if we're "supposed" to see this image, and although Melnick and I are colleagues at Barnard and often run into one another there, I haven't asked her anything about this dance.

Choreographers generally think less about storytelling than their audiences. In a program note, Melnick writes: "I was working with ideas of the constant unfolding/unraveling of movement, of gnarled knots and images, motionless movement, pulled from a never-ending desire to create new physical sequences and sensations in the body." If one isn't used to choreography made from such impulses, watching it and trying to connect with it can be tough going. In keeping her works for groups and her solos under an hour (sometimes well under), Melnick recognizes that she may be addressing audiences with many different dance backgrounds. She uncompromisingly mines a narrow vein of dance aesthetics, yet she offers it to be sampled by a wide cross-section of the dance going public -- which, I think, is an important reason why so many love her.