IMPRESSIONS OF: Louise Lecavalier in "So Blue"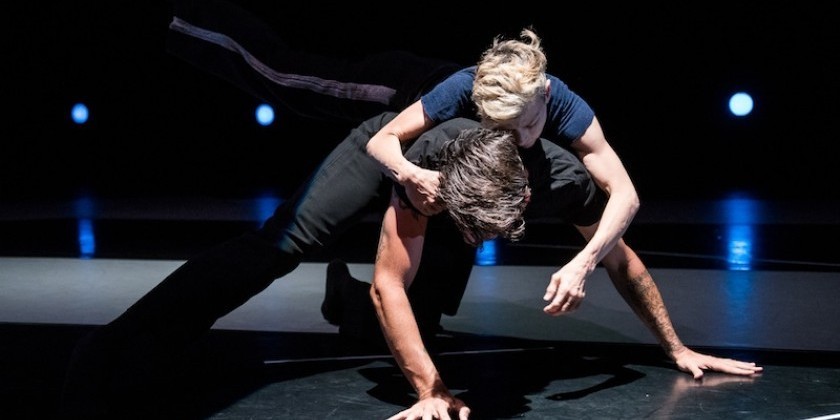 at NEW YORK LIVE ARTS
Conceived of and choreographed by Louise Lecavalier
Created and performed by Louise Lecavalier and Frédéric Tavernini
Lighting Design by Alain Lortie
Music by Mercan Dede
Additional music by Normand-Pierre Bilodeau, Daft Punk, Meiko Kaji
Costume Design by Yso
"So Blue" premiered December 7, 2012 at tanzhaus nrw, Düsseldorf
---
If you've seen Louise Lecavalier dance, you wouldn't — you couldn't – forget. She burst onto the scene in the '80s, charging through Édouard Lock's sexy, thrashing choreography. Lock, artistic director of the recently shuttered La La La Human Steps, pioneered the horizontal barrel roll in which a dancer (often, and most memorably, Lecavalier) hurtled his or her body through the air in a position parallel to the floor. With her bleached hair, etched physique, and daredevil antics, Lecavalier evoked another '80s icon — Madonna. Unlike the pop star whose rough edges were sanded away, Lecavalier stayed raw, the dirt only enhancing the luster of a star whose energy couldn't be tamed by time and space.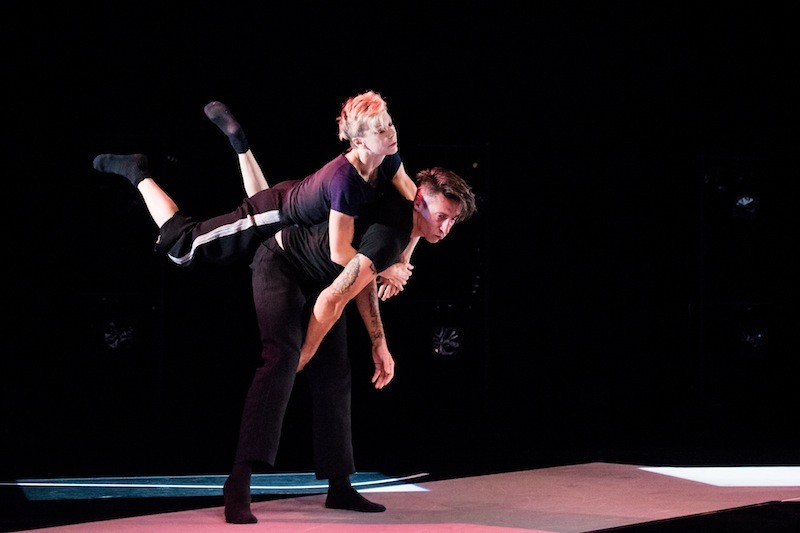 Photo: Ian Douglas
Not much has changed in the 16 years since she's left La La La Human Steps. The horizontal barrel roll has been seemingly abandoned, but her movement signature remains brash and feverish. Impossibly tiny at 56, she rivets during So Blue at New York Live Arts with a gutsy, guttural performance. Like a bullet, she shoots across the stage, always unbreakable, only braking when she smacks against something or somebody.
The something is the floor, which displays a hodgepodge of white rectangles and streaks of tape with the three sides of the performing space holding freestanding light banks, their output programmed blue. The someone is Frédéric Tavernini who joins halfway though. A wise, gracious performer, he doesn't even try to match the explosive Lecavalier. He slips while she sparks, the frost to her flames.
Set to a soundtrack of thumping club beats, So Blue mostly consists of meditations on perambulation: flouncing, striding, marching, dashing, which are embellished by frenetic, wheeling arms. Occasional bouts of performative indifference pause the rabid locomotion. When the exertions become too much, Lecavalier stops for a pull of water or cools herself in front of a fan while Tavernini frequently pushes his floppy locks out of his face. The fourth wall isn't broken, but it is disregarded.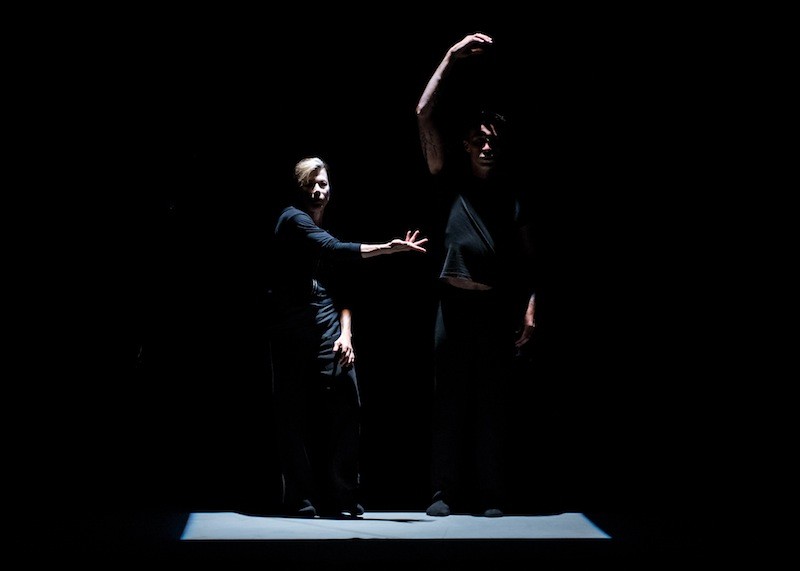 Photo: Ian Douglas
So Blue is Lecavalier's first foray into dance-making after spending decades performing other people's works. While the piece holds some impressive motifs – like when Lecavalier blindly pitches backwards into Tavernini's arms – she bolts from idea to idea without any measured development. It's id manifested physically, a series of electrocuted instincts that can't be ignored nor harnessed. It all makes you wonder if it's possible to separate the art from the artist. In this instance — yes. So Blue is a minor work, too monochromatic and too meandering to be notable. Lecavalier, though, remains astonishing: ferocious, fearless, completely inimitable. If you've seen her dance, you won't — you can't — forget.