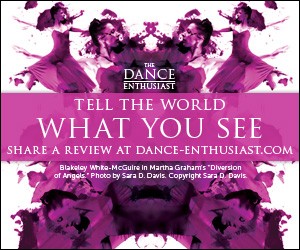 Related Features
IMPRESSIONS: Maria Bauman-Morales' MBDDance in "(re)Source" presented by The Chocolate Factory Theater and BAAD in the Bronx
part of the BLAKTINX Performance Series 2019 at BAAD.
September 28, 2019
Conceived of and Danced by: Maria Bauman-Morales lI Spoken Text by: Maria Bauman-Morales
Costume Design: Maria Bauman-Morales ll Costume Construction: Jefferion
Dramaturgy: Melanie George
Soundscape: Shea Rose, Maria Bauman-Morales with assistance from James Lo and samples from Mrs. Emma Wells, TaShawnta Wells, Jay Z, Kanye West, Janelle Monae, Donald Trump, Billy Bush (with different soundscape each night engineered by James Lo) ll  Lighting Design by: Tuçe Yasak
Installation Stewardship: Alicia Bauman-Morales, David Sierra, Bree Breeden, Día Bùí and Adrienne Wagner
Production Mgmt: Roxy Gordon
---
Taken over by a maze of yarn, the black interior of the 19th-century chapel that is BAAD! in the Bronx resembles a voluminous, confetti-colored spider's web — one in which we are invited to meander.
Ducking to avoid getting tangled, I follow a young and earnestly cheerful guide who seems willing to hold my chair like-almost-forever until I determine where to put it. Tonight we create our own vantage points — our places from which to settle and listen.
Where is your place?
I choose to sit alone, in the middle of the room, enveloped more by string than people. Others have decided differently. There are clusters (poised for conversation); lines (we can look at the action, but not at one another); and then, a solo chair smack against a wall near the exit (I truly may not want to be here or get involved in this—oh god).
Maria Bauman-Morales sneaks up on us from a back corner, looking at once mythic and familiar. She winds her way through the fibers of her installation, trying not to get hooked or hurt. One audience member lifts a string to ease her journey.
Do we have permission to be involved?  Do we need permission to be involved?
Maria Bauman-Morales in (re)Source; Photo by Brian Rogers 
Bauman-Morales falls into her threads, pulls at them, leans into them for support, struggles with them and prevails. All the while, she recounts tales of lineage — her white family who are recorded in the archives of standing libraries and her black family who are not.
Because of this injustice, she memorizes her history: books — the first chapter of her mother's favorite book, Ellen Foster by Kaye Gibbons, for example — and recipes, her grandma's biscuits, and family trees, lines, and letters. She becomes a living, dancing archive. Her web, a conglomeration of all the kindness and cruelty  in her genealogy, is precious. No matter how forcefully Bauman attempts to get in, under, around, and through this mess of historical lines, she never breaks one string. Every filament, even the ones that hold pain, and maybe especially those, are necessary to her record.
"Shall we talk about the difficult parts? The hate? " Bauman-Morales asks.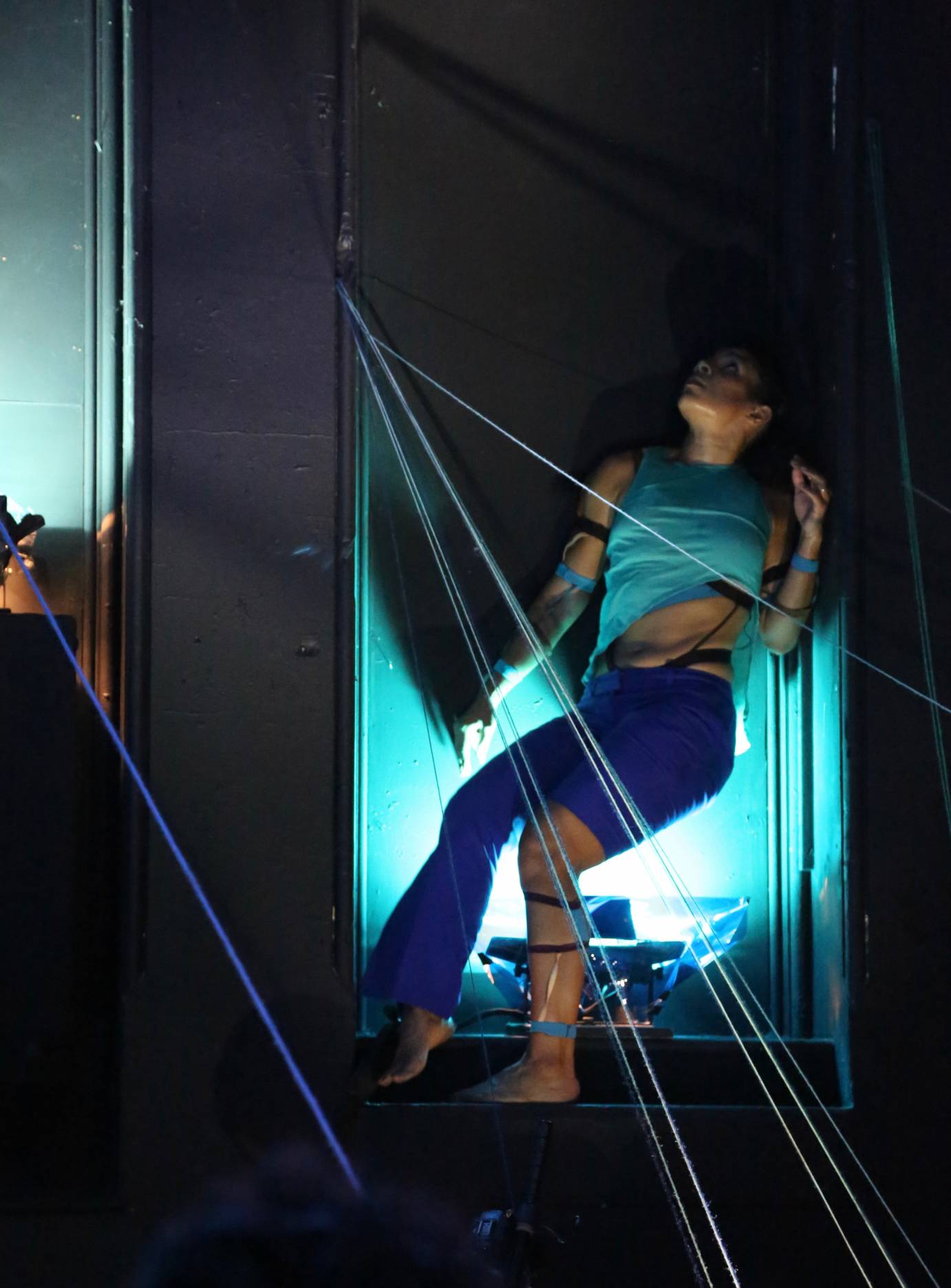 Maria Bauman-Morales in (re)Source; Photo by Brian Rogers 
Twisted in the labyrinth is the famously demeaning Donald Trump and Billy Bush Access Hollywood conversation. Bauman-Morales' reaction to it — furious exercise. She throws herself into spurts of running, pushups, and jumps. "We need to be strong," she reminds us. The crassness of the words and tone, juxtaposed with the untainted honesty of her movement, jolts us. The comments become all the more repulsive, as if that could be possible.
This artist  moves potently, exquisitely. I can't sit still in my seat as she shifts. Whether she's radiating energy perched on the interior sill of a closed window or grooving on the floor possesed by a memory, I follow.
I confess that some of the text is more difficult to grasp — so much information. The Trump bits are timely. They so easily exemplify hate, and we can all rally around mutual disgust.
What about that impeachment?
Yet I'm more interested in the woman before me than the dude with the orange hair. I would rather rally around another story.
Maria Bauman-Morales in (re)Source; Photo by Brian Rogers 
And there's something else…above the web live wonderfully crafted mobiles of shells. I can't help but look up at them shimmering in the bluish light. They hold some sort of magic. I'm certain of it. At times, when Bauman-Morales  tugs at her strings, I can hear the shells shake. It is a lovely sound, reminding me of the open peacefulness of the natural world, and of grace, a power beyond the malice and brutality that define so many human acts.
She asks if we know what the term Maroon means, and someone in a corner says, "red, brown." Of course Bauman is not talking about a color; she's referring to the enslaved people who bravely escaped plantations by running into nature and creating their own free communities. They are part of her story too, exemplifying courage, the fight to live in freedom, and to stay free. I wanted to get inside that story a bit more deeply,
But that's just me, from my quiet vantage point in the middle of the room, enveloped more by strings than people. I long for more tales of  human bravery to get me in, under, around, and through my web.
Is hate what we need to talk about now?
Hate is all around with its simplistic battle lines drawn quite clearly for easy, loud reaction. Conversation, thought, and deep listening have become the enemy as hate emerges as "the star of the show." 
Give me more dancing,  more courage, more understanding, more ocean, more shells...
I wonder what a seashell must have represented to a person escaping a dreadful life of enforced servitude.
Hope?
---
The Dance Enthusiast Shares IMPRESSIONS/our brand of review, and creates conversation.
For more IMPRESSIONS, click here.
Share your #AudienceReview of performances. Write one today!
---
The Dance Enthusiast - News, Reviews, Interviews and an Open Invitation for YOU to join the Dance Conversation.