Impressions of: New York City Ballet's Spring Gala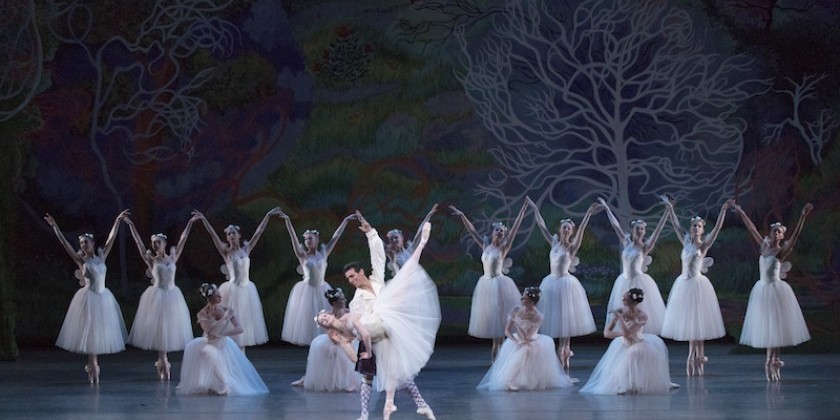 "Bournonville Divertissements" and the Company's Premiere of "La Sylphide"
Lincoln Center, New York City
THURSDAY EVENING, MAY 7, 7:00 PM SPRING GALA
BOURNONVILLE DIVERTISSEMENTS
Dancers : *Pereira, *Peiffer, *Mearns, *T. Angle, *Krohn, *LeCrone, *Lovette, *King, *Danchig-Waring, *Ramasar, *Huxley
LA SYLPHIDE (NYCB PREMIERE):
Dancers: *Hyltin, *De Luz, *Pollack, *Ulbricht, *Pazcoguin, *Anderson
Guest Conductor: Henrik Vagn Christensen
---
The much-anticipated New York City Ballet premiere of the Romantic masterpiece La Sylphide by Danish ballet master August Bournonville took place as part of the company's SPRING GALA on May 7. The dresses worn by audience members added to the colorful set (by Susan Tammany) on the other side of the curtain. It was a joyous occasion.
Inspired by having watched Marie Taglioni as "Sylphide" in an 1834 performance (two years after it premiered) in Paris, Bournonville created his own version in 1836 for the Royal Danish Ballet with music by Herman Løvenskjold. His is the one that most productions since are based on. NYCB's Peter Martins, who staged the work, kept Bournonville's choreography intact, but eliminated the work's intermission.
There is much to applaud in this Sylphide and I will be sure to catch other casts in upcoming seasons. It is undoubtedly the company's most successful rendition of a 19th century story ballet since its Sleeping Beauty, and that dates from 1991.
Sterling Hyltin and Joaquin De Luz in La Sylphide. Photo: Paul Kolnik.
If the bright purple outfit for James, the male protagonist enchanted by the Sylph, might not be historically correct, it is nevertheless fetching. The brown kilt for his rival Gurn is less successful and accentuates its dancer's short stature.
Joaquin De Luz, at age 39, is not a conventional choice for James, who is often portrayed as a young romantic soul unable to commit to his upcoming marriage. Instead James wanders off into the woods to follow a supernatural sylph. De Luz interprets James as a confident man in the prime of his life who does not want to be tied down. I sympathize with him, since this particular Effie (Brittany Pollack), his bride-to-be, is much too eager to tie the knot and comes across as annoying.
Sterling Hyltin's sylph doesn't even need to be supernatural to attract James' attention. Rather than a fairy tale creature, attractive because of her very unattainability, Hyltin exhibits the aura of the girl-next -door. Under the circumstances, James falls easy and the story becomes a bit less complex than one would hope. But there is stellar dancing.
De Luz is brilliant in his footwork and his jumps sparkle and bounce. Hyltin is lovely and musical, but not always crisp in her batterie (beats of the legs). While Hyltin's characterization works within the frame of City Ballet's production, she is too earthbound to be a magical creature. I have faith that she will grow into the role as the style becomes more familiar to her, because Hyltin does have natural ballon (ability to jump high, light and hover) — that was just not always evident in this first performance.
Sterling Hyltin and Joaquin De Luz in La Sylphide. Photo: Paul Kolnik.
The group dances for the corps de ballet are communal and celebratory. One wants to jump in and be part of it. There is no bowing to a king. Bournonville's ballet world is as democratic as it is inspired.
Madge, an old woman with witch's powers, is incensed by the unkind treatment she suffers from James' haughtiness. Her revenge is relentless. Georgina Pazcoguin as Madge does not quite make clear why James' disrespectful behavior towards her warrants the death of the Sylph. Pazcoguin seems to have watched too many evil Disney characters, for her Madge comes across as a cartoon.
Hell-bent on being a bride, Effie simply wants to marry (if James hides in the woods, she is fine with Gurn). Daniel Ulbricht' s Gurn is transparent and irritating in his dogged admiration for her. Gurn, who never struck me as an unlikable character before, ends up with the dopey Effie. Somehow they deserve each other, both being so limited in their outlook on life. I remember being happy for Gurn and Effie in other productions, since their upright union forms a positive counterpoint to the doomed relationship of James and the Sylph.
The Sylph's death, caused when James captures her with a scarf that has – unbeknownst to him – been poisoned by Madge, remains heartbreaking. James' despair is palpable. The fascinating modern set for the second act is a wondrous and colorful forest in stark contrast to the traditional set of the Scottish Manor-House of the first half. We are transported to a beautiful place far from the Scottish highlands and thankfully even farther from Disneyland to which the secondary characters of this great ballet almost exiled this production.
Tyler Angle in Flower Festival; Photo: Paul Kolnik.
This Sylphide is a major achievement and the study of the Bournonville style adds a new vocabulary to the movement language of City Ballet's marvelous dancers. They adapt admiringly as could be seen in the dazzling Bournonville Divertissements that opened this gala program. Originally staged by Stanley Williams, Martins' son Nilas is responsible for the re-staging. Tyler Angle in the pas de deux from Flower Festival was a particular standout.
On other programs the company has seldom looked better. It is as if the involvement with the Bournonville technique leads the dancers to re-examine their Balanchine trained bodies. Alertness and new vigor abound. My esteemed colleague Nicole Dekle will report on other casts as well as on the rest of the season.