Related Features
Contribute
Your support helps us cover dance in New York City and beyond! Donate now.
Impressions of New York City Ballet's Tchaikovsky/Balanchine Evening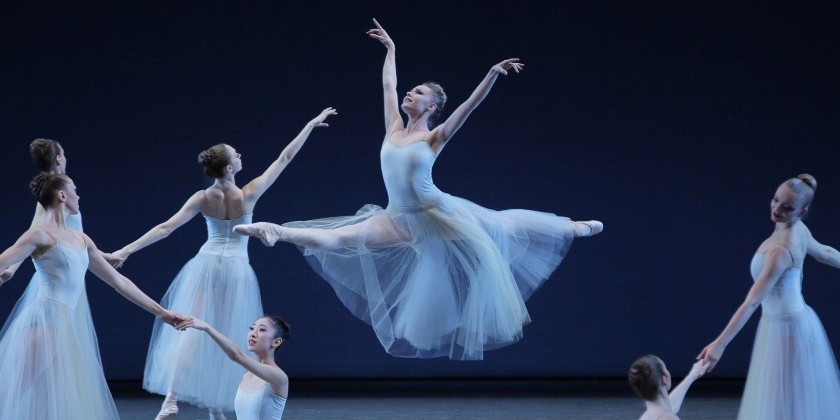 Wednesday, September 24, 7:30pm
Lincoln Center, New York City
Fall season: September 23 – October 19, 2014
Pictured above: Sara Mearns and Company in Balanchine's Serenade. Photo credit: Paul Kolnik.
---
New York City Ballet welcomed its second night audience last Wednesday with a program of familiar dances by George Balanchine. A bow to the Russian traditions of the art form, all dances featured music by ballet's musical godfather, Peter Ilyich Tchaikovsky. Tchaikovsky's Suite No. 4, Op. 61,  he subtitled ''Mozartiana'' because this homage is based on musical themes by guess who?
It is interesting to note that the composition provided fertile ground for Balanchine, who tinkered with several versions and created different ballets to this music since 1933. The Mozartiana that the company currently performs, served as a vehicle for Suzanne Farrell in 1981 and is most notable for its juxtaposition of somber and sprightly moods.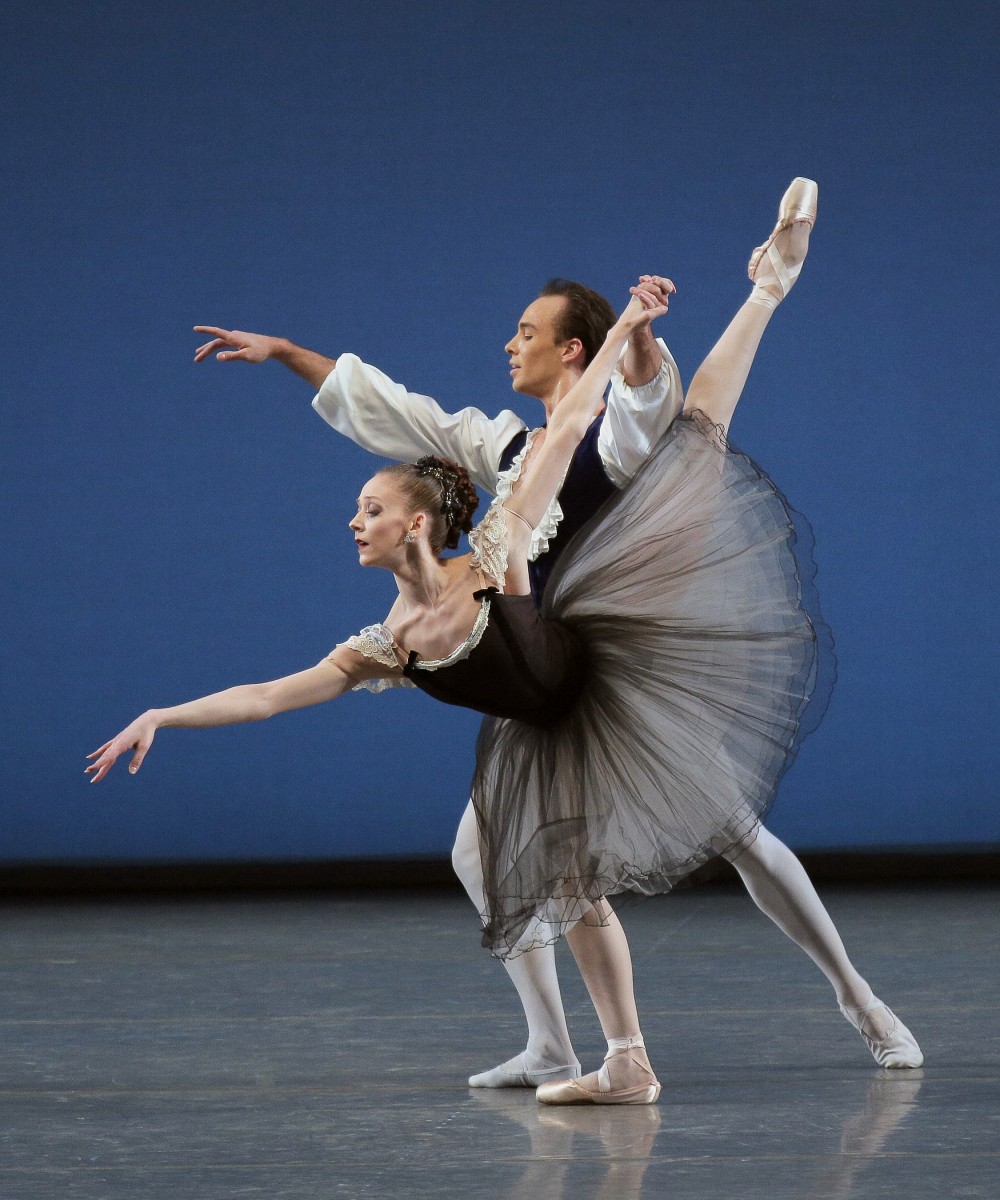 Maria Kowroski and Tyler Angle in Balanchine's Mozartiana. Photo credit: Paul Kolnik.
Small in scale, Mozartiana features a ballerina, a danseur noble, a male demi-caractère soloist, four female corps members and four very young girl students. In the opening "Preghiera" (Prayer), Maria Kowroski is poised in front of a black cloth curtain framing a blue background, suggesting mourning. Her movement and demeanor infuse hope and let us think that her invocation concerns the future which the girls that surround her represent. The following "Gigue" with its fancy footwork is a showcase for the impressive technique of Daniel Ulbricht. Sudden airborne direction changes delight. A "Menuet" features Marika Anderson, Megan Johnson, Emily Kikta, and Gwyneth Muller. Tyler Angle joins Kowroski for the work's "Theme et Variations" section, which features a lovely physical question and answer conversation between the two danced to the sounds of a glockenspiel.
While Mozartiana is admittedly a mostly sentimental work and the music does not quite capture Mozart's (there, I gave it away) genius, it is nevertheless an affirming opus. Its "Finale," brings together a cast of varied generations and levels of experience in a welcome state of grace.
Just after Balanchine's first attempt at Mozartiana, he set sail for America and in 1934 premiered Serenade for the newly founded School of American Ballet. It has grown to be the company's signature work. For the uninitiated on Wednesday evening, however, the piece might as well have been called "Blonde Ambition." Sara Mearns', Teresa Reichlen's, and Sterling Hyltin's manes added light and luscious lustre to an inspired performance aptly supported by Jared Angle and Adrian Danchig-Waring. It is always breathtaking to see the opening image when the women – arranged to stand like trees in an orange grove (as Balanchine liked to say) - raise their arms in poetic salute to then frame their faces before the dancing commences.
Although the corps dancing was highly uneven in this particular performance, the ballet itself has become so iconic that when I recently heard the original sequence of Tchaikovsky's Serenade for Strings in C, op. 48 on the radio, it simply felt wrong. Balanchine switched the third and fourth movements of Tchaikovsky's composition around to end on an elegiac note. This evening that note found Mearns held aloft and opening her arms as if to be received by a higher sphere. The New York City Ballet orchestra under the baton of Clotilde Otranto helped here and throughout the evening to raise the spirit.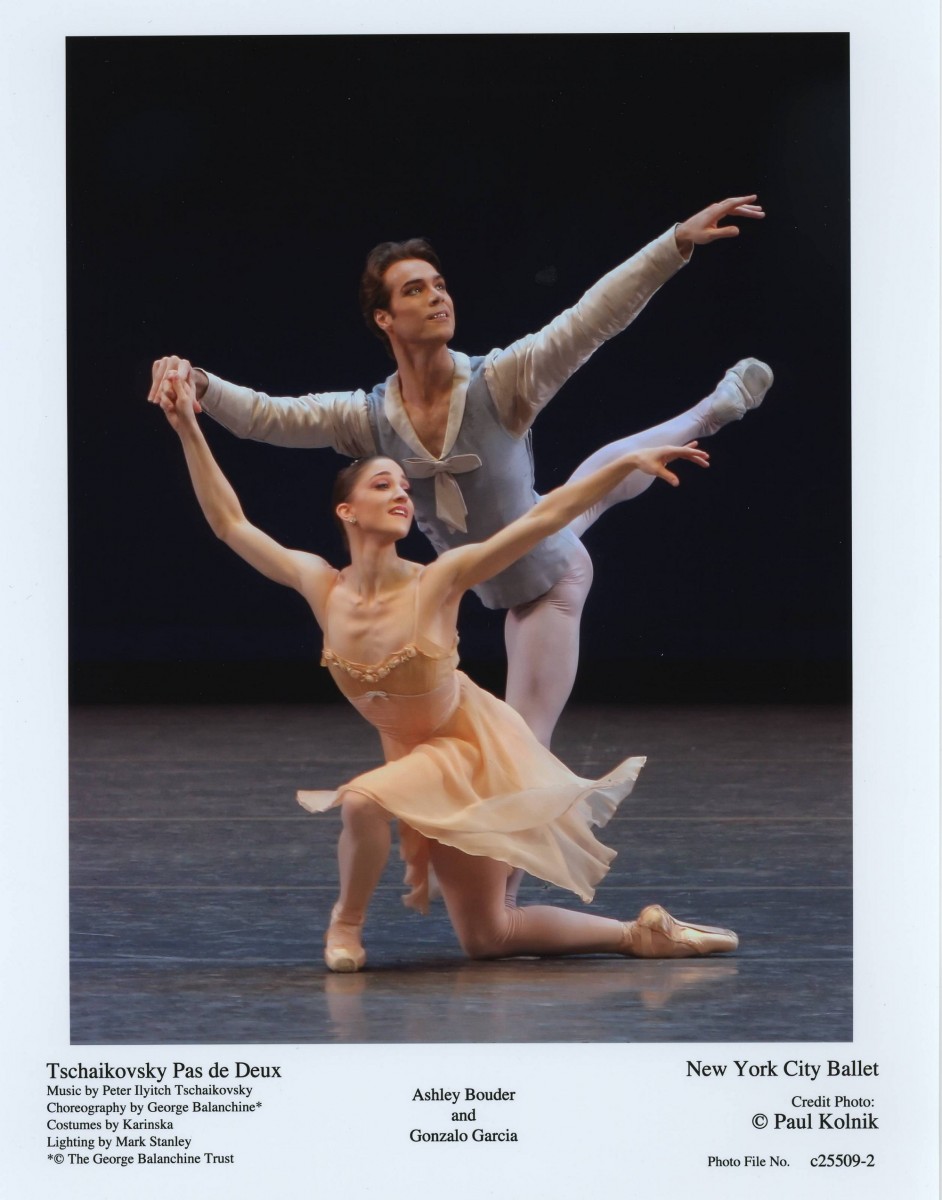 Ashley Bouder and Gonzalo Garcia dance, strut, vamp and mug in Tchaikovsky Pas de Deux, the showpiece of the evening. Bouder's jumps are magnificent, her speed and precise footwork dazzle. Yet, she tends to oversell. Rather than to let physicality and technique make the statement, her dancing constantly asks  the audience "Did you see what I just did?"
I would love to see Bouder swept up by joy and I would hope to see the reflection of that blissful state on her face. To see Bouder's spirit simultaneously reflect  the vibrance of her body would be an event to celebrate. In the meantime her crisp and articulate execution of the material makes it worthwhile waiting for that moment to occur.
Garcia delivers a spitfire first variation. His clarity and timing are spectacular. His 'double tours en l'air' (jumps that rotate twice around his central axis) are as stylish as they are exciting. He finishes his variation with panache on one knee to well deserved cheers. Bravo! The coda is infused with risk and danced with brio. This evening Garcia gave us a moment to remember.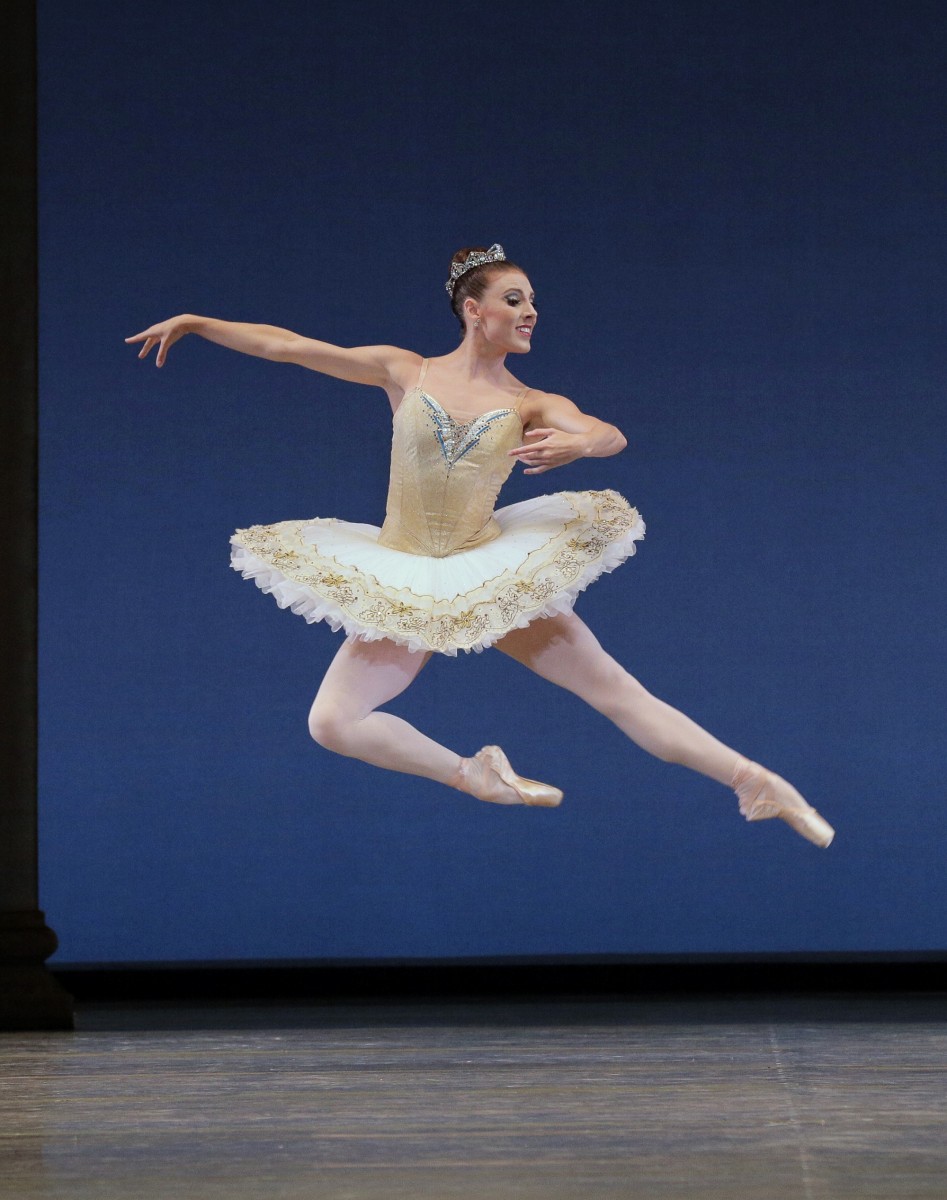 Tiler Peck in Balanchine's Tchaikovsky Suite No. 3. Photo credit: Paul Kolnik

Another such moment was created by Tiler Peck in her rendition of "Theme and Variations" (Tema con Variazioni) performed here as the last movement of Tchaikovsky Suite No.3. Peck was radiant and – pardon the pun – imPECKable as she finished each turn in precise position. Within her chaînés (series of turns that travel through space from one foot to the other like a linked chain) she accelerated and conducted the music. She reigned supreme as she decided against hitting showy deep six o'clock arabesque lines (which appear like splits, perpendicular to the floor) and instead, pointed her back foot in exact angle needed to make a visible connection to the high corners of the stage space. This beautiful choice, a lesson of architecture in motion, seemed to have been made by divine intervention. An absolutely astounding feat!
Her partner Joaquin de Luz, a fine dancer in his own right, was attentive and shined in his solo passages. The other sections seemed a long-winded build-up to the final movement that was originally presented as a work on its own in 1947 before Balanchine decided to choreograph the whole suite in 1970. Perhaps I was just getting tired of the evening's endless marriage between Tchaikovsky and Balanchine? (After all, Mr. B had many wives….)
As happy as I was about the fine dancing in most principal roles, I kept wondering about the possibilities if the ballerinas had taller and stronger men to partner them. I do not mean to criticize the fine partnering by the aforementioned male dancers, but I long for the ease, freedom and trust that Rebecca Krohn displayed when she let herself fall in tall Ask LaCour's arms in the opening "Élégie" movement of Tchaikovsky's suite. Is it a matter of re-matching partners? Is it time to foster some tall men in the company to celebrate the abundant female talent in proper fashion?
The New York City Ballet will perform at Lincoln Center through October 19 and will feature a special farewell gala for its beloved principal dancer Wendy Whelan on October 18. The annual Nutcracker season is scheduled to open on November 28.