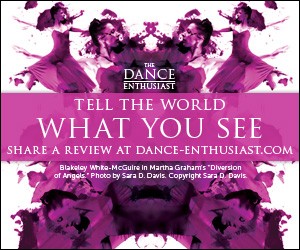 Related Features
Impressions of: Natalia Osipova & Artists with Sergei Polunin at New York City Center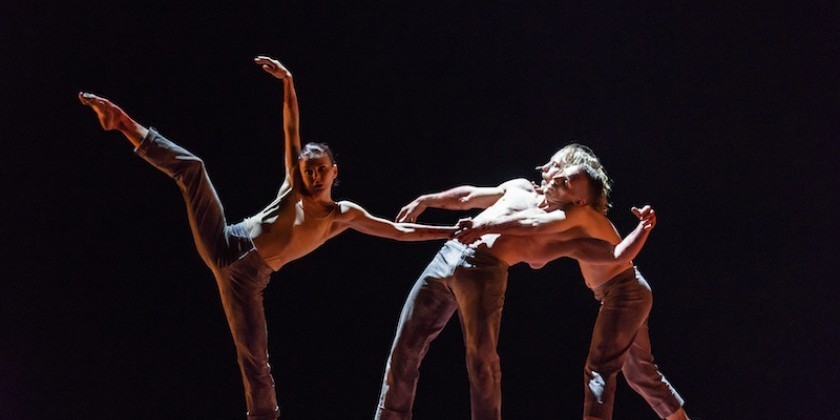 New York City Center
Thursday, November 10, 2016 -
8:00pm
Pictured above: Natalia Osipova, Jason Kittelberger and James O'Hara in QUTB by Sidi Larbi Cherkaoui.
---
Natalia Osipova
, the sprightly Bolshoi-trained ballerina who is currently a principal dancer with the Royal Ballet, paired up with internet sensation and boyfriend 
Sergei Polunin
in two of the three works presented at New York's City Center
on Thursday
.
A full house was held for ten minutes before the curtain opened on choreographer Arthur Pita's Run Mary Run with sets and costumes by Luis F. Carvalho. A 1960's melodrama with music by THE SHANGRI-LAS and others, the work started with two hands sticking out of a dirt heap. After the two hands performed a dance, Osipova got up from the grave wearing rags that she quickly shed to reveal a bright henna beehive and a shiny green dress. Polunin, dressed in jeans and a T-shirt, eventually got up as well and the two performed clever shenanigans with a cigarette, a vodka bottle and cup (in this delightful stunt these Russians proved to be masters), and shooting up (presumably) heroin with a needle in the arm. Oh, there was a swing. The novelty was that he pushed her on it  not back and forth, but side to side. They danced a bit and I almost forgot to mention that their characters were named Mary and Jimmy. Then they died. My friend liked it. I liked that they died.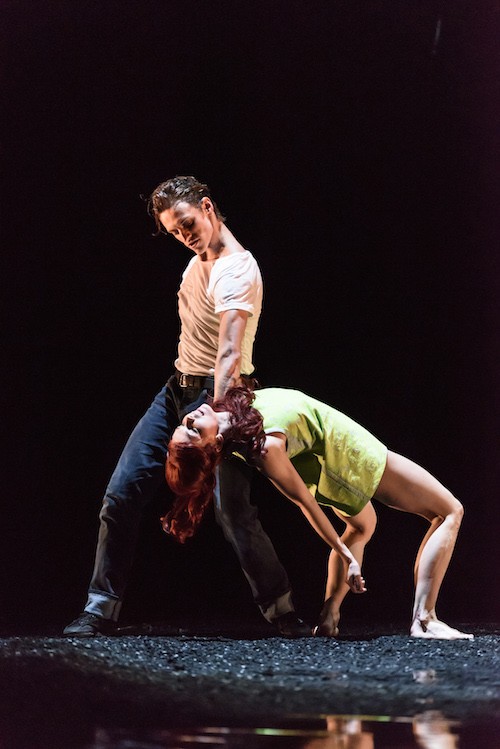 Sergei Polunin and Natalia Osipova in Arthur Pita's Run Mary Run. Photo: Bill Cooper.
Osipova was resurrected after intermission for a ménage a trois with muscular Jason Kittelberger and sinewy James O'Hara. QUTB by Sidi Larbi Cherkaoui came with a long program note by the choreographer, but the magic of this creation unfolded in constantly changing patterns on stage. Dressed in light blue acid-washed jeans and bare upper bodies (she wore a nude colored leotard), the alabaster skin tone of the dancers' arms gave the illusion of creating imaginary calligraphy on Arabic tiles. Fluidly the dancers slipped and slithered through openings they created for one another.
Tactile sensuality never became tacky but instead evolved into a spiritual realm. The hypnotic Sufi chants accompanying the movement transfixed, yet invigorated, and the three fantastic dancers made one believe that trinity is indeed the perfect union.  I was startled when the trio broke up and O'Hara, whom I had admired as a Faun in a
past Fall For Dance performance,
was left alone on stage. He reflected his circular movement paths in ongoing circles of body parts. His glorious long hair accentuated the freedom of his motion. When Osipova and Kittelberger claimed the stage for a duet, it felt like a let down.
Thankfully in the end the three reconnected and bewitchingly their unique kinesthetic kinship reached this audience member as if through osmosis. Even if Osipova is not yet as comfortable with the floorwork as O'Hara, she is well on her way in the exploration of the possibilities her art form has in store for her.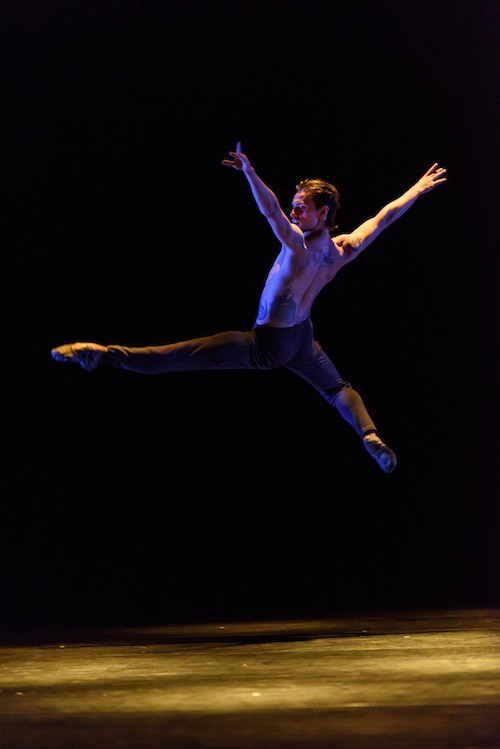 Sergei Polunin in Russell Maliphant's Silent Echo. Photo: Bill Cooper
At first only intermittently visible, Osipova and Polunin returned in pools of light and darkness in Russell Maliphant's Silent Echo. I wish this work had been shown in silence rather than with the dull musical accompaniment that weighed it down. Beautifully sculptural in every pose, these masters of classical technique are trying to embrace new movement styles and look stunning in the process.
Fragments developed into phrases and progressed into dance segments. That's where it ended. It could be seen as a metaphor, because surely Osipova and Polunin are still at an evolutionary stage of their dance partnership and are testing foreign waters by commissioning contemporary work. Hats off to Ms. Osipova for dancing outside her comfort zone. Her extraordinary talent will be a gift for imaginative choreographers who are not afraid to nurture her artistry.
---
The Dance Enthusiast Shares IMPRESSIONS/ our brand of review and Creates Conversation.
Check out our other IMPRESSIONS here.
Share your #AudienceReview of this show or others for a chance to win a limited edition of Jordan Matter's book Dancers After Dark