IMPRESSIONS OF: Netta Yerushalmy's "Helga And The Three Sailors"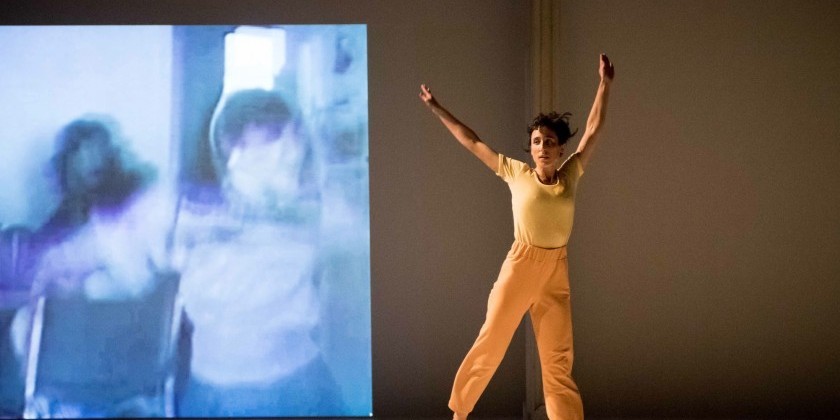 At Danspace Project
Date: November 8, 2014
Choreographer/Dancer: Netta Yerushalmy
Dancers: Marc Crousillat, Amanda Kmett'Pendry, Sarah Lifson
Composer/Performer: Judith Berkson
Videos by the Yerushalmy Family
---
Netta Yerushalmy has a natural gift for movement so organic, dynamic and infectious that she makes us curious what she perceives within. Are we perhaps overlooking something within ourselves? That gift was apparent from an early age, as evident from her family's video of her dancing as a very young child projected at the start of Helga And The Three Sailors.
Yerushalmy repeats the movement of her younger self beside the screen so many times that the audience is thrust into an analytical mode, invited to compare the screen and live versions of the movement, the child and the adult. How could this child have such an instinct for asymmetry, for accents in unusual spots, and for sensual departures?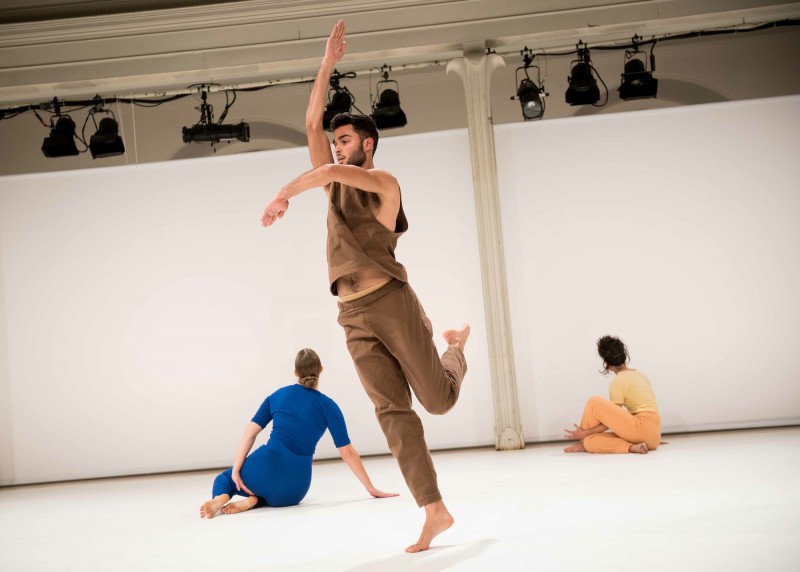 Photo: Ian Douglas
Once the screen image fades, that intense examination is shifted to phrases or details within phrases repeated - sometimes 20-30 times -  so that we, the audience, are again challenged to question why.  Of course, when a child likes something, they cry, "Do it again! Do it again!" According to the program notes, Yerushalmy sees her movements as ideas. The dance is perhaps constructed like a game of charades, with enough time provided to guess her implied thoughts.
Yet, the adult Yerushalmy carries throughout the 50 minute program a carefree buoyancy shared also by Marc Crousillat whose performance was particularly engaging. Often, dorky movements are favored as a treasure to be explored from every angle. A commandment, "thou shalt not do pretty" seems to guide her choreographic choices.
Photo: Ian Douglas
For the second part of the program, Yerushalmy turns our focus to her Three Sailors, dressed in prime colors, who lay face-down on the floor most of the first half, like scattered toys. They partner each other or dance short solos with an angular, oblique strength. The music by Judith Berkson complemented the dance perfectly, honoring stillness with silence, the darts of energy, and matching moods.
The closing solo consisted of a small movement repeated with minimalist precision on half toe around the perimeter of Danspace. Might this be a call to silence technical glitches within ourselves? Or, is it more evidence of a wry sense of humor, a whim to exit with the robotic precision of a wind-up toy?