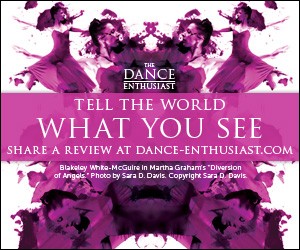 Related Features
IMPRESSIONS: Robert Mark Dance in "SHORT STUFF" and "DAWNED" at the Culture Lab in Long Island City
Choreography by Robert Mark Burke
Dancers: Derek Crescenti, Monica Gonzalez, Sarah Hillmon, Sarah Housepian, Jared McAboy, Allegra Persico, Sara Elizabeth Seger, Andy Santana
Executive Director: Sabatino A. Verlezza // Technical Director: Natalie Mármol
Music by: Frédéric Chopin, Eric Dietz, Luke Howard, Louis Prima, and Mark Sanderlin
---
He calls the program "Dawning," and choreographer Robert Mark Burke clearly regards his performances, Oct. 28-29, at the Culture Lab in Long Island City, as a fresh start. The engagement represents his company Robert Mark Dance's first independent showing in New York, and this talented dancemaker is re-emerging from the Great Lockdown with new works to share, and with his optimism intact.
A special poignancy adheres to those pieces created last year, however. During the height of  Covid, when many dancers were not allowed inside a studio, Burke took his company outdoors to record their performance of Sing, Sing, Sing for all those viewers who were not allowed inside a theater. Now this dance film set in Central Park has a strange, gas-lit quality. The landscape glows with fall colors; and sunshine makes the atmosphere sparkle. The dancers jog and whip around exuberantly to Louis Prima's raucous, big-band standard. Yet all are wearing masks. No breathing allowed! How did they ever convince us that fresh air was dangerous?
Passages: Photo Courtesy of  the Company
Passages was created the same year by three dancers working in a "bubble," and this dance has a marvelous intimacy. Relationships matter more than ever in a society where human contact has been outlawed. Derek Crescenti, Sarah Housepian, and Jared McAboy lift and tumble. They come to rescue one another, and offer comfort. This gentle piece has a satisfying rhythm, striking a balance between lyricism and moments when the movement is suddenly arrested by a sharp intake of breath or by an invisible obstacle. Most intriguing, though, is the way the dancing defies its circumstances with large gestures, and full-bodied movement. Created in confinement, Passages dares to dream of wide-open spaces.
In contrast to the smoothness of Passages, the 2019 duet Veil, danced by Burke and McAboy, has a shakiness that does not bode well for this relationship's longevity. Here the clinging feels selfish, and the surrender desperate. It's no surprise when McAboy walks out in the end.
Robert Mark Dance in "Out of the Void..."; Photo: Courtesy of the Company
Out of the Void; Into New Light, from 2018, concludes the first act of this program, dubbed "Short Stuff." Burke eases us into this clever piece for five dancers with a simple walkaround that playfully rearranges the composition. Each time the dancers pause, a new pattern drops into place. When Out of the Void picks up speed, gestures become rushed and angular, with lifts that fly and spin, but the choreography continues to weave new designs and startle viewers with unexpected connections.
Act 2 is devoted to the evening's premiere, another ensemble piece called Dawned. The new work has a simple concept: at a certain point the six dancers begin gradually to exchange gleaming, futuristic costumes for more "natural"-looking sand-toned gowns, and we can imagine that these characters have been reborn. Evidently, this transition cannot be accomplished without a struggle; and while Dawned is a sprawling, busy dance with much coming and going and a heroic, formal architecture, it all comes down to a final, tense encounter between McAboy and Housepian. A late arrival, Housepian has come to save McAboy, who has one arm pinned painfully behind his back, and who is among the last holdouts---maybe THE last one---still wearing his Star Trek pajamas. He's a tough case.
If this scenario seems a little trite, it's only because the prophets of Dystopia have been warning us for so long that our technology has a dark side. Understandably, few of us wish to abandon our cyber cafés and return to manuring the fields. On the other hand, now that transhumanism is really a thing, maybe we should start to question what "progress" means. Do we want to lose our humanity?
Burke is clearly on the side of nature. The expressivity of dancers like Housepian, Sarah Hillmon, and Sarah Seger, whose skin reacts to every shift in the emotional breezes, signals how we ourselves may feel when a Major Life Transition occurs. These dances are ingeniously constructed, but they (and we) are far more than machines.
---
The Dance Enthusiast Shares IMPRESSIONS/our brand of review, and creates conversation.
For more IMPRESSIONS, click here.
Share your #AudienceReview of performances. Write one today!
---
The Dance Enthusiast - News, Reviews, Interviews and an Open Invitation for YOU to join the Dance Conversation.