IMPRESSIONS: Sidra Bell Dance New York in "F R I C T I O N" and "garment"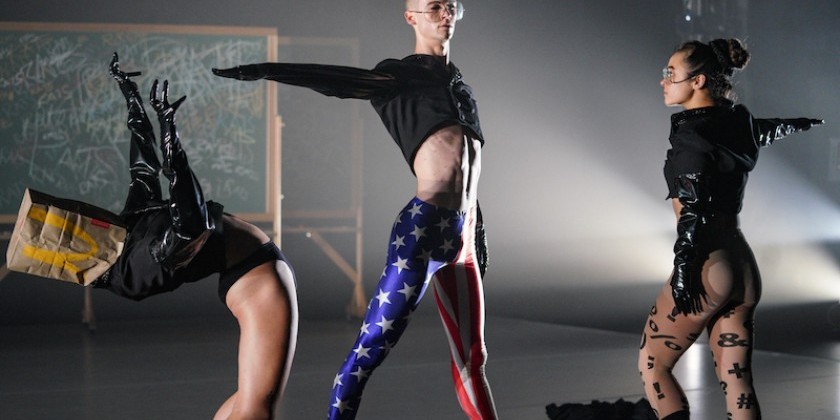 New York Live Arts
June 28, 2018
Performers: Sebastian Abarbanell, Tushrik Fredericks, Drew Lewis, Misa Kinno Lucyshyn, Madison Wada and Leal Zielińak
Music for F R I C T I O N: Alexey Gorokholinsky / Music mix for garment: Sidra Bell
Costume design for garment: Caitlin Taylor
Creative Director/Lighting Design/Decor for garment: Amith Chandrashaker
Pictured above: Sebastian Abarbanell, Madison Wada, Leal Zielińska in garment
---
In her double-bill including F R I C T I O N, a world premiere, and garment (2014), Sidra Bell jumps from distinctly adorned, raw physicality to extravagant, everything-but-the-kitchen-sink theatrics to share her surreal take on human nature and identity. While I couldn't understand every choice, I was captivated by Bell's intricate and unsettling onstage worlds.
As F R I C T I O N  begins, we find a faun-like figure on the floor exploring a series of delicate isolations. Not quite human, and not quite performing, he appears aware of our gaze.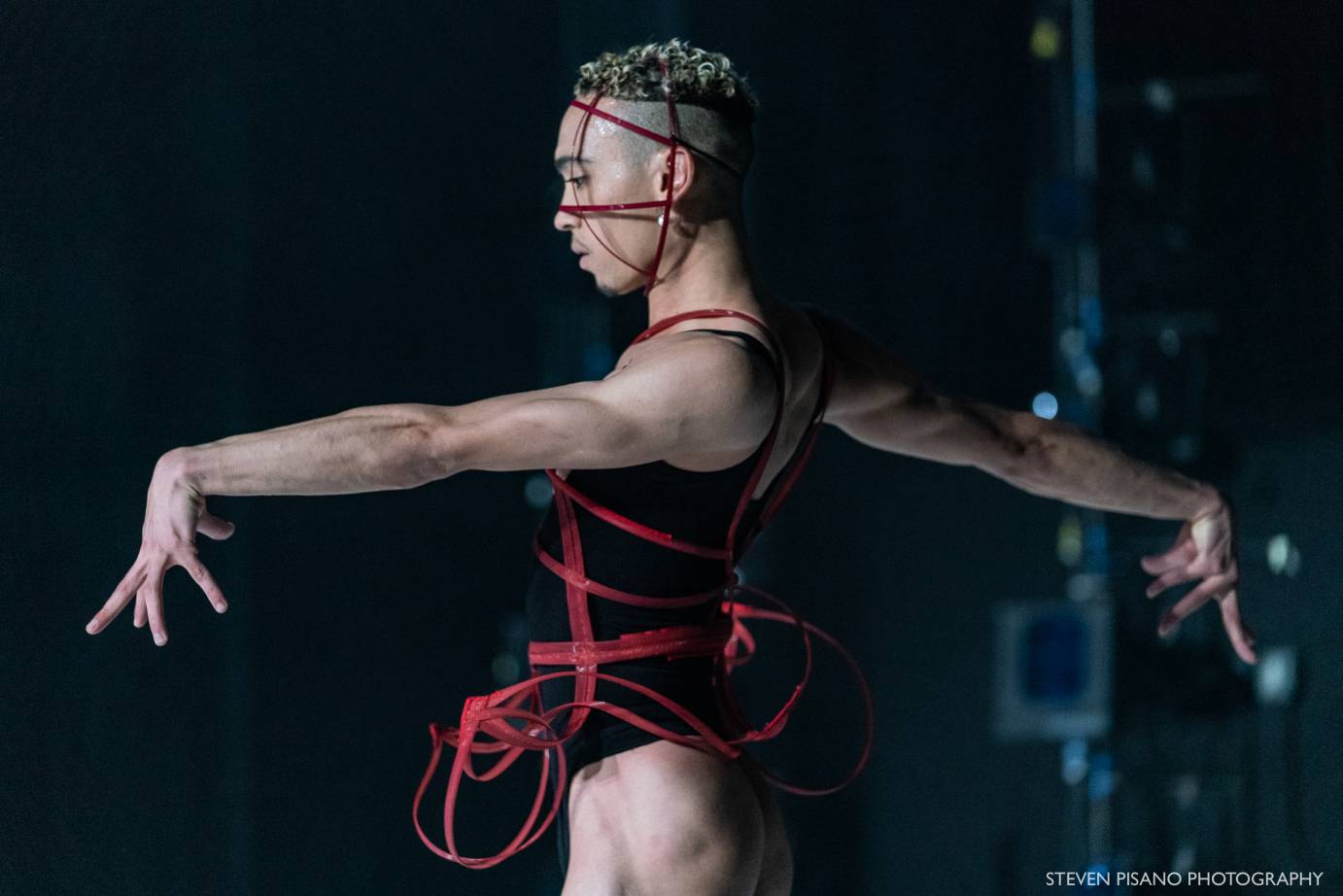 Tushrik Fredericks in F R I C T I O N by Steve Pisano Photography
My eyes are snatched away from this gentle solo as five dancers burst onstage running, rolling, jumping, crashing, and falling. Wearing minimal leotards that leave their rears (and one pair of breasts) exposed, they interlock limbs and pelvises for sexual and violently charged exchanges. Primitive and unrestrained, they don't seem to know or care, who's watching.
One-by-one the cast (including the initial soloist) leave to curiously reappear decorated in stiff, red-ribboned garments that look part corset, part insect. They dominate the stage with high extensions, giant lunges, and increasingly complex gestures that carve the space around them.  Progressing from impersonal encounters to moments of soft, tender contact, we notice an evolution occurring, but in the parade of constant activity, the goal remains unclear.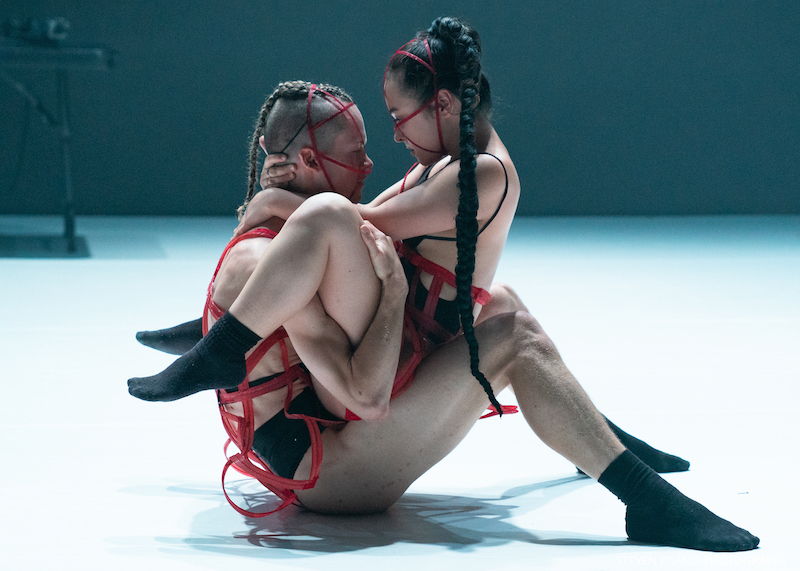 Sebastian Abarbanell & Madison Wada in F R I C T I O N  by Steve Pisano Photography
Finally, after a tense period of mechanical clenches and churning fists, the group releases their upper bodies, twisting and waving as if being carried away by a gentle breeze. In the end, not at their strongest or most sophisticated, these characters have found peace. Perhaps the whole point of the escalating clash of energy was simply to let go of it all?
Absurd, kitschy, and hyper-referential, garment plays with text, audio, theatrical histrionics, and bold costume choices. The soundtrack with its mix of music, voiceovers, and repeating sound bites nods to "Breakfast at Tiffany's," Pina Bausch, and drag ballroom culture. Dancers party, lip-sync, create a twisted contemporary catwalk, and execute gestural phrases with business-like precision.
In a deadpan comical highlight, the dancers give tutorial descriptions of their choreography, putting on accents and experimenting with operatic voices. The men change into dresses and heels, continuing to perform the same phrases they danced in tights and tank tops. Soon even the movement begins to feel like a costume.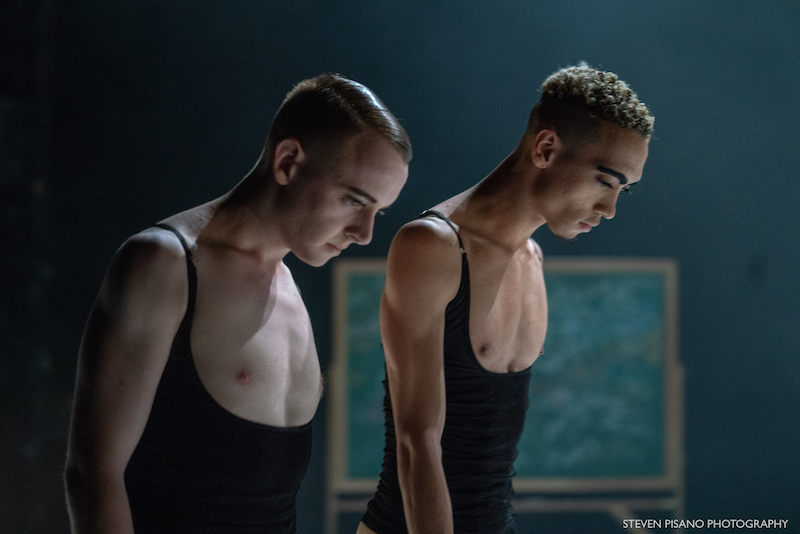 Drew Lewis & Tushrik Fredericks in garment by Steve Pisano Photography
One dancer anxiously searches through a pile of clothing, rejecting each option she finds. Eventually she becomes buried in the pile. Voiceovers that name cultural icons, from politicians to pop stars, interrupt her refrain of "I can't see myself."
Surrounded by clothing and cultural references, the characters of garment are inundated with staggering options for identity that are at once excessive and insufficient.
Sidra Bell introduces us to uncanny alternative realities, often asking more questions than giving answers. Her fearless performers and collaborators, fully committed to the complex movement and theatrics, stunningly transport us to her worlds.
---
The Dance Enthusiast Shares IMPRESSIONS/ our brand of review and Creates Conversation.
For more IMPRESSIONS, click here, and for our 2014 Dance Up Close Feature on Bell, click here.
Share your #AudienceReview of performances for a chance to win a prize.