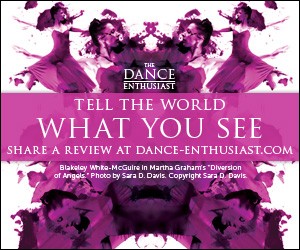 Related Features
IMPRESSIONS OF: Trisha Brown Dance Company
In "Son of Gone Fishin,'" "Solo Olos," "Rogues" and "Opal Loop/Cloud Installation #72503"
Music: Robert Ashley, Alvin Curran
Costume Design: Judith Shea, Kay Voyce
Choreography: Trisha Brown
Venue: New York Live Arts
April 10, 2014
---
The evening included several works created over 35 years, but the first offering, Rogues, satisfied any needs for stimulus, any reminder as to why Trisha Brown carved her niche in the performing arts world. Rogues choreographed in 2011 with original music for harmonica and electronic sounds by Alvin Curran, features Neal Beasley and Nicholas Strafaccia. These two could be laboratory workers assigned to the same exploratory task, or two stunned wanderers, quietly moving side by side, breaking from their unison to each breathe in his own rhythm from time to time. Linked in blissful, sensual harmony, one free of verbal, tactile, or eye contact, they often paused, as though to say, "Lets hold that thought, but overlap it with this other one." Framing particularly beautiful, but peculiar poses, Brown highlights moments that choreographers normally rush through. With its essential ease and precision, this calm duet resembled a monologue, muted because no words could communicate any better this delicate state of being.
Only Tara Lorenzen broke their deadpan countenance. Performed in the intimacy of New York Live Arts, the company never plays directly to the audience. Instead, they draw the audience into their space; we, the viewers, are transported to a rehearsal studio, or perhaps more fitting, a meditation room.
Photo: Ian Douglas
Skimming the floor with an occasional fling of an ear grazing battement, Brown's style has its trademark hip squiggles, shoulder hunches, hops as casual as a hiccup. As I sat admiring the loopy, languidly evolving dances, I wondered whether Brown has ever been compared to the cartoonist Saul Steinberg, who described himself as "a writer who draws." Just as Steinberg's cartoons are often made with a pen that never leaves the page, making intricate trajectories and designs, Brown leaves us a map of her thoughts, with countless, fascinating trails to follow.
As recently announced, Brown had choreographed her last works for the company, named Diane Madden and Carolyn Lucas as Associate Artistic Directors. From 2013-2015, the Trisha Brown Dance Company journeys on a three-year tour around the world.
Follow Deirdre Towers @SpiffMoves