Related Features
Contribute
Your support helps us cover dance in New York City and beyond! Donate now.
IMPRESSIONS: New York City Ballet's 75th Anniversary Season Week Four — All Balanchine — at Lincoln Center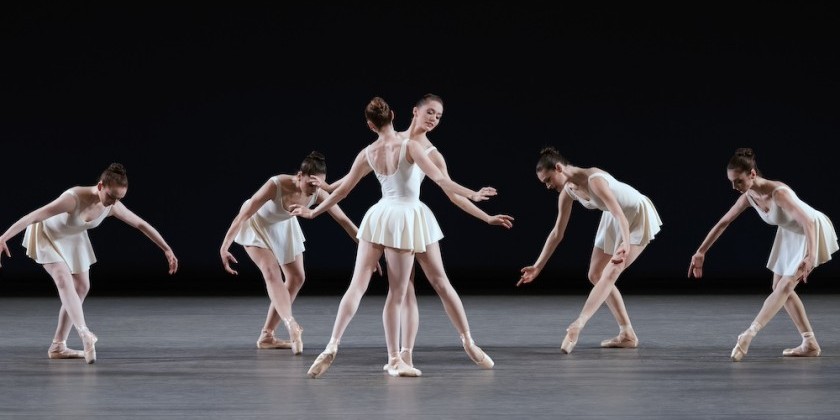 New York City Ballet
75th Anniversary Season, September 19 – October 15, 2023
David H. Koch Theater, Lincoln Center, New York City
Choreography: George Balanchine
Wednesday, Friday, and Saturday matinee: October 11, 13 and 14
---
The final week of New York City Ballet's month-long fall season features its actual 75th-anniversary celebration, on Wednesday night, with the very same three works by George Balanchine that the company presented on October 11, 1941, at City Center: Concerto Barocco, Orpheus, and Symphony in C.
Concerto Barocco, to Johann Sebastian Bach's "Double Violin Concerto in D minor." opens the program under the baton of Clotilde Otranto. Since I reviewed the ballet after this year's spring season here, let me just focus on individual dancers, and praise Emilie Gerrity for her ebullient spirit and expansive dancing in the second ballerina role. She and Unity Phelan match entrancingly in both looks and energy. Andrew Veyette appears not quite at ease with Phelan. While he has no trouble lifting her, a couple of the landings look labored and not secure. Friday's cast features Isabella LaFreniere and Mira Nadon. Gilbert Bolden III debuts in the role of the sole male danseur, and leaves the impression that he was born to dance it. Elegant and assured, he pays attention to Nadon without distracting from her efforts. Bolden's physique is attractively brawny and allows him to be a rooted anchor or space traveler depending on what the situation calls for. He and Nadon serve the music.
Emilie Gerrity in George Balanchine's Concerto Barocco. Photo : Erin Baiano
Solo violinists Kurt Nikkanen and Arturo Delmoni take bows on both evenings in sweatshirts that point out in large letters that the musicians of the orchestra demand a "FAIR CONTRACT."
In the middle ballet, the lyre of Orpheus, designed by Isamu Noguchi, serves as the company's symbol. Balanchine's work is unthinkable without music, and in this collaboration with Igor Stravinsky, they celebrate antiquity's most famous musician. Music director Andrew Litton conducts.
Joseph Gordon in George Balanchine's Orpheus. Photo : Erin Baiano
Wednesday and Saturday matinee turn out to be disparate viewing experiences. Joseph Gordon's Orpheus is just as heartbroken as Adrian Danching-Waring's over the loss of their respective Eurydices (Ashley Laracey and Brittany Pollock). Led by the "Dark Angel," Orpheus descends into Hades hoping to reunite with Eurydice and eventually take her back up to the world of the living. Peter Walker's Dark Angel seems to suggest the journey to Gordon as an option, but it is Gordon who actively decides to take on the quest. He leans longingly with every step propelling the enterprise out of love's desperation. Davide Riccardo's Angel is not just dark, but sinister; he would never dream of giving Danching-Waring a chance. Riccardo has planned every step of the journey, and might as well have a picnic basket prepared as he opens imaginary doors and widens openings for safe passage. Riccardo coils up one moment, and releases energy the next as if he were a magician of the highest power. He renders Orpheus helpless, as if on an invisible leash.
Orpheus's encounter with Eurydice makes for interesting partnering since the two are not allowed to look at one another, but long to do so. When they cannot adhere to the cruel prohibition, their reunion ends tragically with her lost to the underworld forever. Once Orpheus reaches home alone, he wails in despair; and the Bacchantes (steered by Emily Kikta on Wednesday and Megan LeCrone on Friday) have enough of it and tear the bard apart. Apollo (the elegant Samuel Melnikov), who is responsible for having given the lyre to Orpheus in the first place, walks by the mound in which Orpheus's remains fertilize Noguchi's vision of music's spirit. Orpheus's lyre hangs from a sculpture that looks like a treble-clef shaped plant, and makes an even stronger statement than any modern-day sweatshirt.
Joseph Gordon and Ashley Laracey in George Balanchine's Orpheus. Photo : Erin Baiano
Symphony in C, set to the composition by Georges Bizet, closes the programs on Wednesday and Friday with Clotilde Otranto on the podium. Choreographed for and premiered by the Paris Opera Ballet as Le Palais de Cristal the year before its New York City Ballet opening, the work is yet another masterful Balanchine ballet celebrating the art form's tradition and hierarchical structure. Both casts of dancers give me much to applaud, but in the fourth week of an all-Balanchine diet, I long for other choreographic voices. "Allegro Vivo" pairs Megan Fairchild with Gordon in one cast, and Tiler Peck with Chun Wai Chan in the other. I cheer for both pairings. In the "Adagio," Sara Mearns and Tyler Angle float through the choreography with experience and trust in one another. Phelan and Alec Knight might not match their ease but make up for it with keen alertness and elated elegance. Driven by the "Allegro Vivace," Emma von Enck and Roman Mejia soar while Baily Jones and Cainan Weber (who steps in on short notice for another dancer) master each task joyfully. Indiana Woodard with Troy Schumacher and Gerrity with Walker lead the giddy final "Allegro Vivace," which proves time and again the earworm of any evening. The whole cast joins for a powerful ending, a Balanchine formula that is as predictable as it is beautiful.
Megan Fairchild and Joseph Gordon  in George Balanchine's Symphony in C. Photo : Erin Baiano

Instead of Orpheus, Friday's program features Balanchine's Prodigal Son, his final work for the Ballets Russes, in 1929, before that company folded with Diaghilev's death. With music by Sergei Prokofiev, who conducted its premiere, and sets by Georges Rouault, the ballet grandly displays Diaghilev's genius for uniting masters of different art forms as collaborators. Even if Prokofiev was reportedly furious with Balanchine's interpretation of his music, the audience was taken by it and its protagonist, the young Serge Lifar.
After productions for his American Ballet in 1934 and for NYCB in 1950 (with Jerome Robbins in the title role, and subsequently Hugh Laing and Francisco Moncion), Balanchine retired the ballet until he revived it in its current version for Edward Villella in 1960.
Having seen the ballet many dozens of times, nothing prepared me for Anthony Huxley's pure and vulnerable interpretation of this biblical parable. He moves me to tears. Huxley does not act; he just is and lets the story itself be the hero of the evening. The drama unfolds inevitably and Huxley takes part in it rather than forcing it to happen. Mearns as "The Siren," together with his drinking companions, almost devours him and leaves him to rot. Huxley's journey back home is as void of melodrama as the choreography allows. He just needs to get there; and as he crawls into his father's arms you understand why love and forgiveness are the key to Christian faith and the backbone values of any society.
Unity Phelan in George Balanchine's Serenade. Photo : Erin Baiano
Saturday afternoon flanks Orpheus with the two Tschaikovsky ballets Serenade and Theme and Variations. Never have I seen Erica Pereira command the stage with such bountiful abandon. She truly graces Serenade with fellow leads Phelan and Gerrity as well as male figures Danching-Waring and Christopher Grant.
Tiler Peck and Joseph Gordon once more sweeten my experience and make my final assignment for this NYCB season to admire and praise their artistry. These exceptional dancers make me momentarily forget all my trepidations about imperialism, and I cheer with the rest of the crowd after Theme and Variations, which Litton conducts.
Music and dance make this world go around. With the end of the season, the company promotes Gilbert Bolden III and Davide Riccardo to the rank of soloists. At press time, the musicians' contract negotiations have not yet been resolved.
---
The Dance Enthusiast Shares IMPRESSIONS/our brand of review, and creates conversation.
For more IMPRESSIONS, click here.
Share your #AudienceReview of performances. Write one today!
---
The Dance Enthusiast - News, Reviews, Interviews and an Open Invitation for YOU to join the Dance Conversation.