Impressions of: American Ballet Theatre/ Paloma's Farewell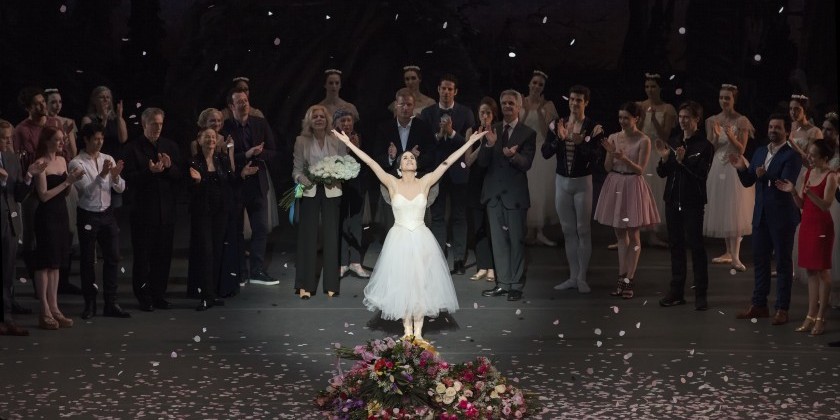 Paloma Herrera retired from ABT with a Wednesday matinee performance in the title role of "Giselle" -- May 27, 2015
American Ballet Theatre
Metropolitan Opera House, Lincoln Center, NYC
May 27, Wednesday 2pm -"Giselle"
PALOMA – a last performance and a tribute to an extraordinary dance career
American Ballet Theatre continues its 75th Anniversary Season  through July 4 at The Metropolitan Opera House. For Tickets go to ABT Calendar
---
"Are you seeing Paloma perform?" It was June of 1991 - time for the annual workshop at The School of American Ballet - when Argentinean maestro Hector Zaraspe stopped me in the Juilliard lobby beaming with pride. Upon his recommendation Paloma Herrera had arrived in New York from Buenos Aires that January to attend SAB. Only 15 years old, she was soon the talk of students, faculty, and administrators at Lincoln Center. I felt lucky to see her graduation performance. With Balanchine's Raymonda Variations Herrera announced herself to the ballet world as its newborn star.
Trained by Olga Ferri in her native Argentina, the young Herrera decided that classical repertoire was closest to her heart; and she auditioned for American Ballet Theatre (ABT) just a couple of days after graduating. Artistic director Jane Hermann hired her and gave the promising dancer a healthy mixture of corps and soloist roles. Her bright Cupid (Amour) in Don Quixote almost stole the show; and Herrera excelled. ABT's next artistic director, Kevin McKenzie, promoted her to soloist; and she danced leading roles in George Balanchine's Symphonie Concertante and James Kudelka's Cruel World. She portrayed Clara in The Nutcracker. Most memorably she mastered the ballerina role in Theme and Variations. All the while she continued to study with Stanley Williams. In 1995, at the age of 19, she became the troupe's youngest female principal dancer in history (fellow Argentinean Julio Bocca had achieved principal status at age 19, in 1986).
After 24 years with the company and after twenty years as one of its leading stars, Paloma Herrera retired from ABT with a Wednesday matinee performance in the title role of Giselle, on May 27, 2015.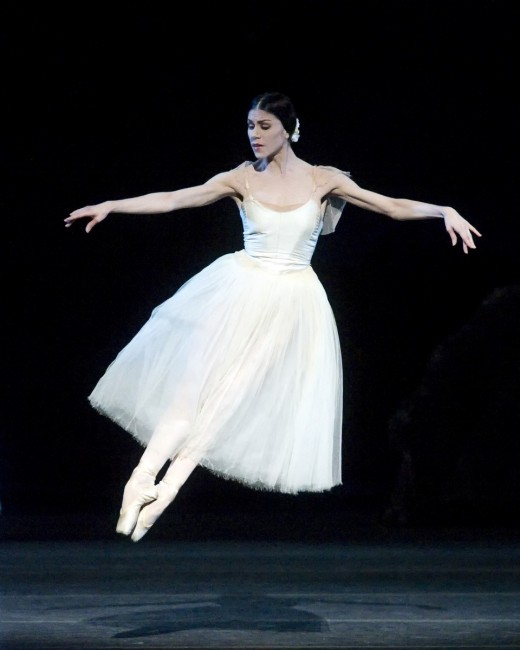 Paloma Herrera in  Giselle; Photo by  Gene Schiavone.
---
Herrera had been scheduled to make her farewell later during the Metropolitan Opera House season, in the new production of Sleeping Beauty staged by Alexei Ratmansky. Yet after she tried out his version, earlier this year in California, she was unhappy and did not want to be seen in it. This decision ruffled some feathers; and instead of giving Herrera a send-off in grand fashion, the ABT administration thought it would be wise to anger its fans by letting Herrera give her last bow at a Wednesday matinee.
The farewell itself was a beautiful afternoon. Herrera stepped on stage to thunderous applause. She took in the audience's adoration as if a fresh breeze of air gave her the impetus to hop, skip and jump. Never before had I seen her more spontaneous as Giselle. Roberto Bolle as her suitor, the disguised Count Albrecht, was dashing and gave her gallant and ardent support throughout the ballet. All the dancers performed with heightened acuity as if they sensed the delicacy of the situation. During intermission many people reminisced aloud recalling Herrera's career high points at ABT. Some wondered even louder what kind of farewell they would have given Herrera if they had a say in the company's artistic direction.
Herrera's early performances at American Ballet Theatre were celebrated events and I contend that through her a new generation of socialites and art aficionados were introduced to the ballet. After Angel Corella joined the company in 1995, Herrera and he ignited fireworks with their technical wizardry and youthful joy as Kitri and Basilio in Don Quixote. At the same time, Twyla Tharp took an interest in Herrera, who created roles in How Near Heaven and later in Americans We, Variations on a Theme by Haydn and Rabbit and Rogue. Working with Tharp, Herrera moved out of the strictly classical realm; and she distinguished herself not only in Tharp's work but also in ballets by Jerome Robbins and William Forsythe.
---
When partners Bocca, José Manuel Carreño, Carlos Acosta and Corella challenged her, she rose to the occasion. But there were times, paired with other artists, when Herrera simplified the movement vocabulary seemingly to protect herself. As an audience member, one never knows if a dancer is injured. To her credit, Herrera always showed up even if she sometimes played it safe. As far as I remember, Herrera got through her career without being sidelined by injury for any significant amount of time, which might explain her careful approach. It made her look slightly anachronistic not to show her full extension in classical repertoire, but I accepted it as an aesthetic choice.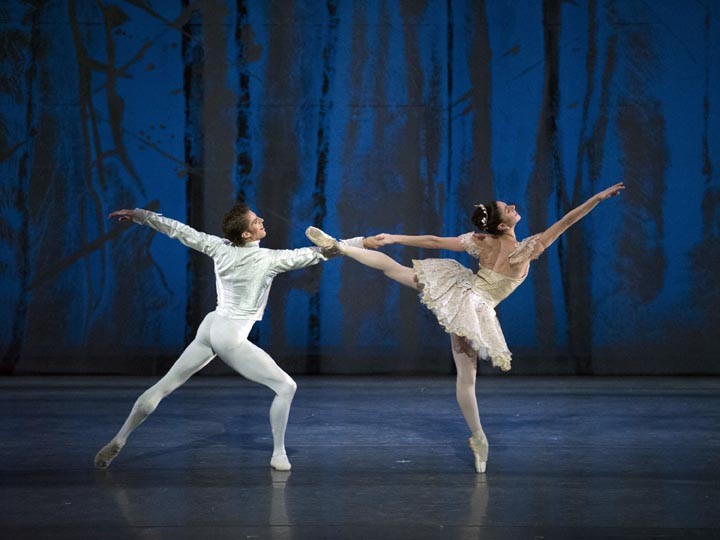 James Whiteside and Paloma Herrera in "The Nutcracker" ; Photo by  Gene Schiavone.
ABT's previous production of The Sleeping Beauty premiered in 2007. Not anticipating what a dud it was going to be, I had tickets for several casts. Only Herrera brought freshness, wonderment and exactitude to the role of Aurora and distinguished herself as the company's leading classical ballerina. But in the winter of 2008/09 ABT made the mistake of engaging Alexei Ratmansky as its artist-in-residence; and his works did not prove the right fit for Herrera. The company then began aggressively to pursue guest stars, leading to an influx of Russian ballerinas and others that continues to this day. Herrera became old news - no matter how good she was - and somehow the powers in charge ignored her.
When a former ABT dancer invited me to watch a company class held on stage during the company's 2009 Avery Fisher Hall season, I arrived early to snag a good seat. Only a few dancers had congregated on stage to warm up, among them Paloma Herrera. She stretched her limbs and strengthened her stomach and back muscles and, when class began, worked in a most focused manner. Other dancers and so-called stars elected to arrive late, and seemed not to have quite the same respect for the art form. The open class showed that Herrera and ABT did not have the perfect marriage. I wonder if her "respect for the art form" ever held Herrera back from reaching her full potential. A servant to the art of dance, she treated the studio and the theater as her sanctuary. Herrera, who does not use social media – as so many others do - to tell us about her devotion, instead worshiped on stage. She had become an anachronism in today's world of self-promotion.
Paloma Herrera and Roberto Bolle in Giselle ;  Photo: Gene Schiavone.
Herrera's tears as Odette/Odile could have filled a lake, when her long-time stage partner Angel Corella retired from ABT in the role of Prince Siegfried in 2012. But last Wednesday, when, toward the end of a long line of former partners, colleagues and teachers, Corella arrived on stage to congratulate Herrera and present her with flowers, she immediately struck a pose as Kitri; and for a moment I was transported back in time. Natalia Makarova, who had sent Herrera in her teens to study for a while at English National Ballet after she participated in the Varna Competition, and Irina Kolpakova, Herrera's coach at ABT, brought more flowers and embraced their protégée. Audience members cheered, "PA-LO-MA!" repeatedly proving they were not prepared to let this 39-year old ballerina go. West Coast audiences can catch Herrera in July; and her final bow will be in Buenos Aires, in October.
I assume she chose to say goodbye as Tatiana in John Cranko's Onegin, in - you guessed it - an evening performance.
---