IMPRESSIONS: Sara Baras and Company in "ALMA" at City Center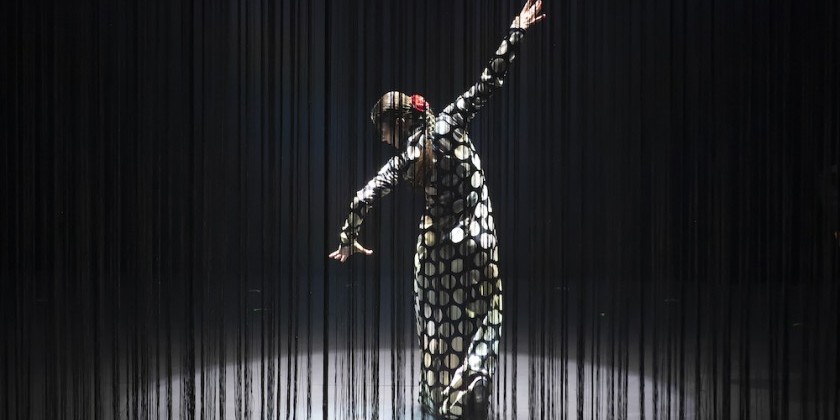 Choreography and Staging by Sara Baras
Music by Keko Baldomero
Scenery Design by Peroni and Garriets
Costume Design by Luis F. Dos Santos
Lighting Design by Chiqui Ruiz
Sound Design and Technical Director: Sergio Sarmiento
Dancers: Sara Baras with Cristina Aldón, Chula García, Caro Pedraja, Daniel Saltares, Marta de Troya, and Noelia Vilches
Musicians: Rubio de Pruna, Matías López "El Mati," Keko Baldomero, Andrés Martínez, Antón Suárez, Manuel Muñoz "El Pájaro," and Diego Villegas
---
Sara Baras wants to share her soul with us in Alma ("Soul"), the stirring 2021 work that her company presented on March 24 at New York City Center, as part of the New York Flamenco Festival. Stepping to the front of the stage, she brings her hands solemnly to her heart and extracts a substance which she casts into the crowded auditorium.
Photo by Sofia Wittert
This gesture is merely symbolic. The actual soul-connection happens while Baras is dancing, caught up in wild rhythms, her heels drilling the floor while her arms float dreamily around her body. Then we can feel it---a miraculous transfer of energy driven by the dancer's concentration, sheer star power spilling over the boundaries that separate individuals from one another. This is why we attend live performances. We go not to gape at flamenco superstars, but because experiencing the energy of a powerful dancer can awaken our higher selves.
While Alma at its best offers a mystical experience, it is also, naturally, a revue with all the theatrical trappings one might expect. Among its props are Bolero hats, fans, and shawls. The musicians sit on movable platforms; while a fringe curtain across the stage becomes semi-transparent and parts to reveal the artists' inner world. The background flashes blue, silver, or red. This décor is not subtle, yet it is spare enough not to interfere as Baras pursues her spiritual quest.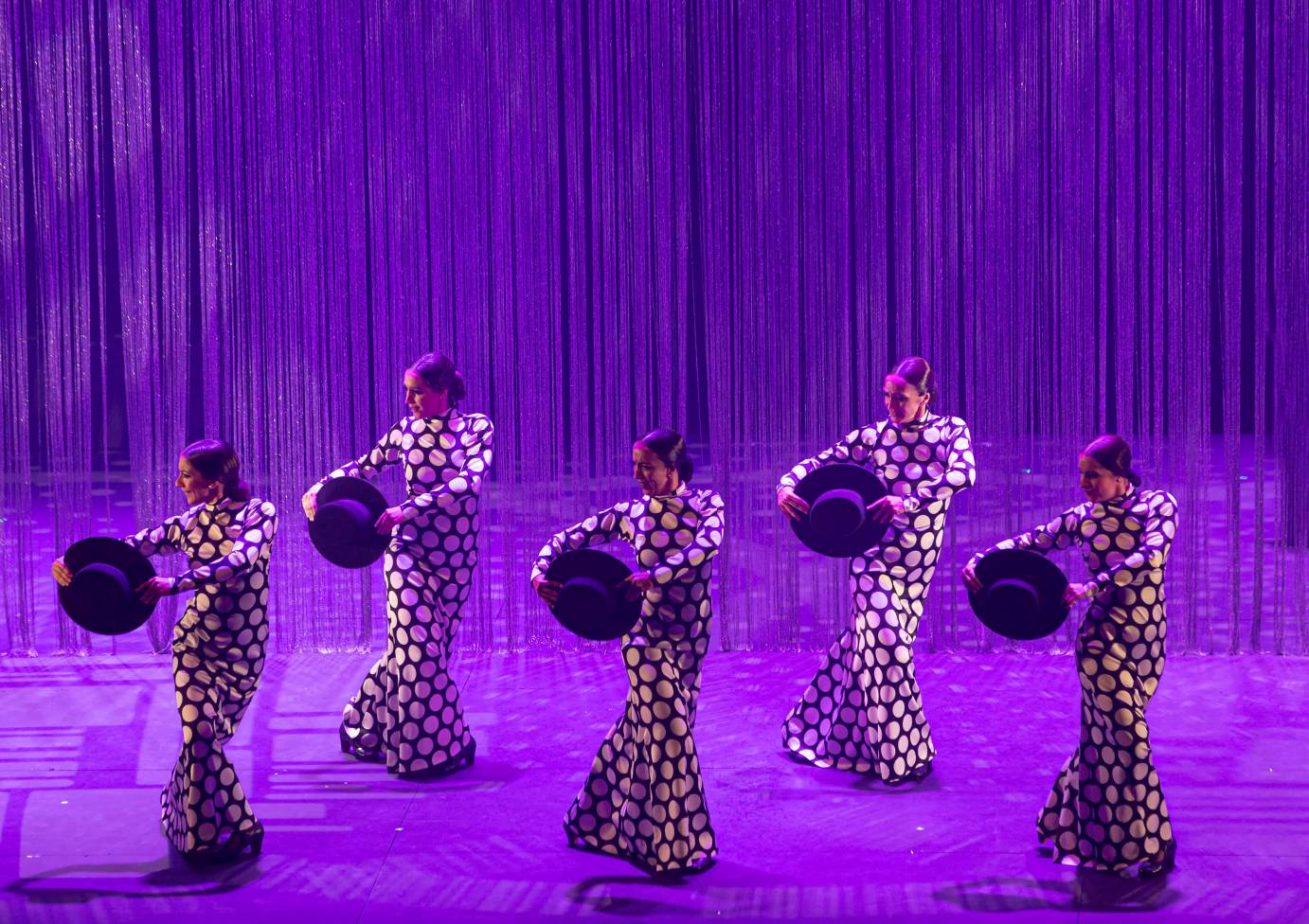 Photo by Sofia Wittert
A six-member dance ensemble headed by soloists Charo Pedraja and Daniel Saltares share her goals. Even while dancing in unison, each of these artists remains an individual displaying the precious spark of life that they are eager to communicate to others. Singers Rubio de Pruna and Matías López 'El Mati' add poetry to the mix, enhancing the mood, while lead guitarist and composer Keko Baldomero and saxophone player Diego Villegas are also featured. In addition to the traditional accompaniment of voice, guitar, and palmas (clapping), the contemporary musical arrangement for Alma includes flute and harmonica, conga drums and other percussion instruments.
Baras' austere choreography eschews frills and gaiety.  At the outset, the ensemble members enter in profile, an elbow jutting forward and their bodies curving back, taut with pride. This etched precision is typical. In a later section (with Bolero hats shading their eyes), the women tease and swish their hips. Yet the fin de fiesta, when the musicians are prompted to improvise short dance solos, will be the only moment that allows for true playfulness.Alma is serious stuff, passing from moods of romantic longing and grief to one of volatile combustion. "Sometimes life carries us to the brink of madness, and only love saves us," one of the singers croons. Later, in a gender-bending trio, Baras will flirt with both the male and female soloists, their arms curling voluptuously as they come face-to-face in mirrored courtship.
Photo by Sofia Wittert
Baras also wishes us to understand that flamenco is a way of life. In the middle, she shows us a backstage scene where, between a property trunk and a costume rack, the women change their clothes and practice their steps. We see Baras herself in the moments before one of her most theatrical solos. Seated in a chair as an attendant smooths her hair, she wears an abstracted expression as if she already heard the music in her head, and could feel the rush of air around her before she begins to whirl manipulating a giant mantilla. It strikes me that there is rarely a time when this artist is not possessed by rhythm. Sometimes, it takes over completely and her feet seem to run away with her. Then she rears back, retreating from an invisible precipice just in the nick of time.
Baras knows that human souls are delicate things, and flamenco can be dangerous.
---
The Dance Enthusiast Shares IMPRESSIONS/our brand of review, and creates conversation.
For more IMPRESSIONS, click here.
Share your #AudienceReview of performances. Write one today!
---
The Dance Enthusiast - News, Reviews, Interviews and an Open Invitation for YOU to join the Dance Conversation.