IMPRESSIONS: waheedworks in "Bodies as Site of Faith and Protest" at The Joyce Theater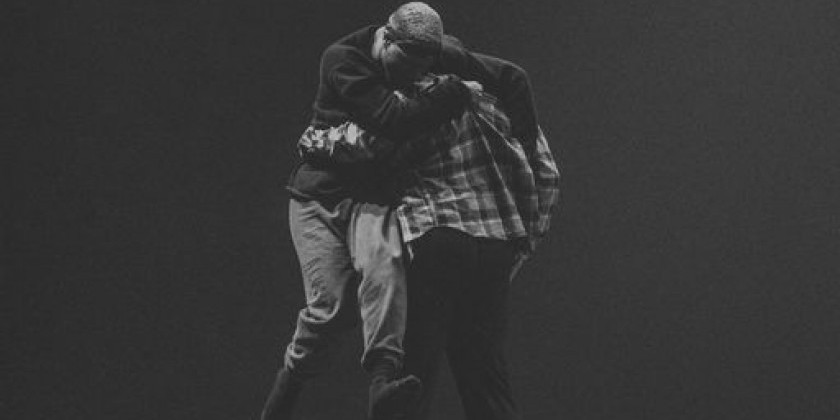 Artistic Director and Choreographer: Tommie-Waheed Evans
Performers: Ankhtra Battle, Isabelle Cattie, Aliyah Clay, JaMeel Hendricks, Breyanna Maples, Kareem Marsh, Zoe Miller, Sloan Pearson, Roderick Phifer, Kira Shiina, and Song Tucker
Costume Design: Martha Chamberlain
Lighting Design: Calvin Anderson
Rehearsal Associate: Roderick Phifer
Original Music: Greg Smith
Music: Dona nobis pacem by Latvian Radio Choir
Walk with me Lord by Martha Bass & The Harold Smith Majestics Choir
Wholy Holy by Aretha Franklin
Eros by Ludovico Einaudi
Sound Design Elements: Jon Baldwin & Raphael Xavier
January 15, 2023
---
Moving and thought provoking, Bodies as Site of Faith and Protest is one of those rare choreographic works which moved me to tears. The emotional reaction caused by Tommie-Waheed Evans' work not only triggers sadness, but taps into a profound hope for the day when equality is restored in America.
Evans, Artistic Director and choreographer of the Philadelphia-based company waheedworks, grounds his creative research in collaboration with his dancers. His quest for liberation is driven and derived from his upbringing in the church. "The work intertwines an urban street style and contemporary dance vocabulary with an emphasis on gospel music and polyrhythmic sounds," Evans states in the program. "The dancers of waheedworks are unapologetically diverse with bold and raw movement."
Tommie Waheed Evans. Photo courtesy of Waheedworks
Nothing about waheedworks's Bodies as Site of Faith and Protest is traditional. Rather than figures beginning to move, as could be expected in a dance performance, voices begin to sing. The house lights remain at full brightness as words of freedom and hope fill the theatre. A sensation of stillness, passion, and the urge to share washes over the stage, overflowing into every audience seat. The eleven dancers acknowledge only each other, engaging as a group without breaking the fourth wall.
As the proscenium theatre expands, exposing a large brick wall and visible wings, the stage transforms into a space of vulnerability. Graphic audio clips of breaking news and speeches of The Civil Rights movement mix with live singing. According to the program, "Speeches from this era not only served as a vehicle for social change, but also for self-assertiveness." With a quick tempo and exquisite partnering, waheedworks presents raw emotion, spotless technical execution, and infinitely floating balances. In attempt to catch every breathtaking turn and exciting lift, one's eye is forced to dart across the stage, yet at other times it is relaxed, enjoying luscious duets that weave in and out of purple smoke.  
Photo courtesy of Waheedworks
Suddenly, everything stops. Red lights sear the floor as each dancer lies down, and a newscaster announces incidents where a Black life was threatened or taken. The dancers are motionless. Faint ambulance noises wash over the scene. Distinctly unforgettable, the sight of prone bodies is eerie, honest, and impactful, reflecting the effects of terror and racial injustice, while calling to the fragility of human life. Gently emerging off the floor, Song Tucker begins a heartfelt, fervent solo set to "Walk with me Lord" by Martha Bass & The Harold Smith Majestics Choir. Each dancer returns to their feet gracefully and respectfully. Sounds designers Jon Baldwin and Raphael Xavier mix gospel music, historical speeches, breaking news and street noises to create an emotional audio track that enhances Evans' powerful statement on equality in America.
Photo courtesy of Waheedworks
In a time where our differences are often magnified, Evans' debut to the Joyce Theatre offers a gift of hopefulness and a reminder of the power achievable through unification. The performers join in one final song. Singing "We Shall Overcome," from Dr. Martin Luther King Jr.'s infamous 1968 speech, Bodies as Site of Faith and Protest speaks to a value that cannot be measured: human life.
---
The Dance Enthusiast Shares IMPRESSIONS/our brand of review, and creates conversation.
For more IMPRESSIONS, click here.
Share your #AudienceReview of performances. Write one today!
---
The Dance Enthusiast - News, Reviews, Interviews and an Open Invitation for YOU to join the Dance Conversation.