MOVING PEOPLE: Vangeline on the Impact Of Watching "Flashdance," Penning Her First Book, And How She Is Carrying Butoh into the 21st Century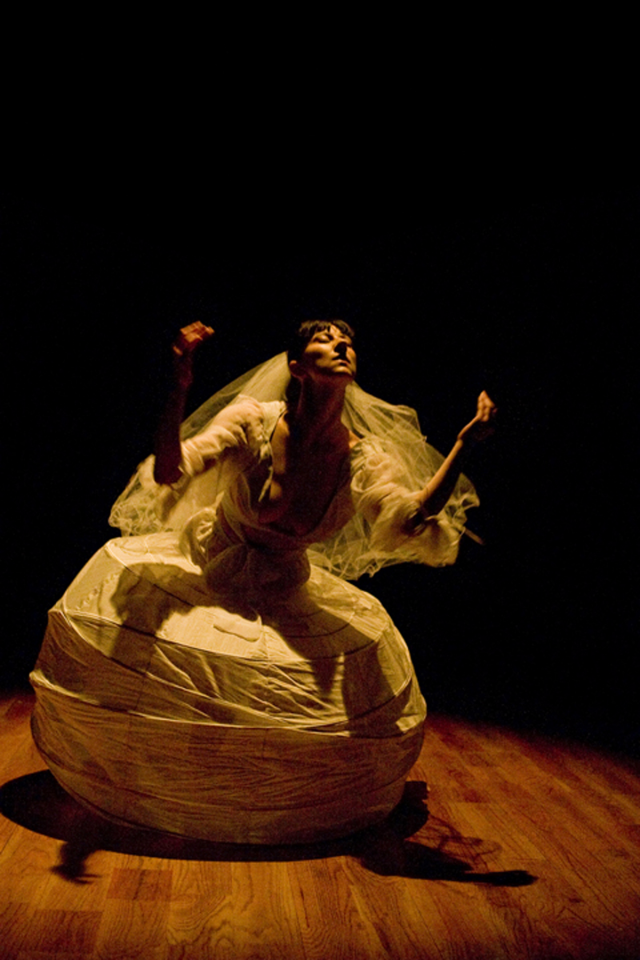 1
Butoh first entered my life by means of _____________.
2
Prior to discovering butoh, I was ___________.
a jazz dancer/gogo dancer/vaudeville and burlesque performer 
3
My childhood was ___________.
totally immersed in nature in Burgundy, France, and in books
4
Adulthood is ___________.
having the courage to forge your own path and trust your intuition against accepted norms
5
An event that transformed my life, dance-related or not, was ___________.
seeing the movie Flashdance. I started taking dance classes because of it
6
A truly good day in my books includes ___________.
sharing the joy and power of dance with others and being in my center
7
___________ are overrated.
8
___________ is underrated.
9
My favorite kind of apparel to move in is ___________.
loose and comfortable, so the air between my skin and the garment can move me.
10
A personal challenge I face is ___________.
11
My personal motto is ___________.
"If it does not work the first time, try again!"
12
The New York Butoh Institute carries Japanese butoh into the twenty-first century by ___________.
being inclusive of butoh dancers from all over the world, shining a light on gender inequality, focusing on the work of LGBTQ artists, reaching out to vulnerable populations including the incarcerated, and turning to science to understand butoh in all of its complexity while honoring the Japanese lineage. One hand reaches out to the past and the other to the future. Butoh is found in the middle.
13
The New York butoh scene ___________.
is constantly changing. Right now, after Covid, it has fluidly morphed into a world digital scene
14
What most people don't know about "The Dream a Dream Project", which brings butoh to correctional facilities across New York State, is ___________.
that it took three years of rejection for me to get my foot in the door
15
Working with SKRILLEX was ___________.
a magical moment where I was flown to Los Angeles to perform an intimate piece one-on-one for him on his birthday
16
I knew I wanted to write "Butoh: Cradling Empty Space" when ___________.
I was asked to write a short essay about butoh in 5000 words and felt that I could not adequately write about the subject in a short format
17
Neuroscience is to butoh as __________ is to __________.
the microscope
the living cell
18
Outside of dance, my greatest pleasures include ___________.
walking in nature and swimming in the ocean. I also love creating pieces with unique soundscapes, lighting, costumes and storylines. I love the creative process and dreaming something into existence
19
The first city/country I want to visit when traveling is permissible again is ___________.
anywhere! Sometimes I think I love traveling more (being in transit) than arriving someplace in particular
20
I am looking forward to ___________ 2021.
continuing to be adaptable
MOVING PEOPLE: Celebrating People Who Power The Dance World!
Do you know of a MOVING PERSON  we should celebrate on The Dance Enthusiast?
Please take a look at our 10th and 11th Year — People Who Power The Dance World — The Dance Enthusiast A to Z 
Related Features
More from this Author