Related Features
Contribute
Your support helps us cover dance in New York City and beyond! Donate now.
A Postcard from Columbia Ballet Collaborative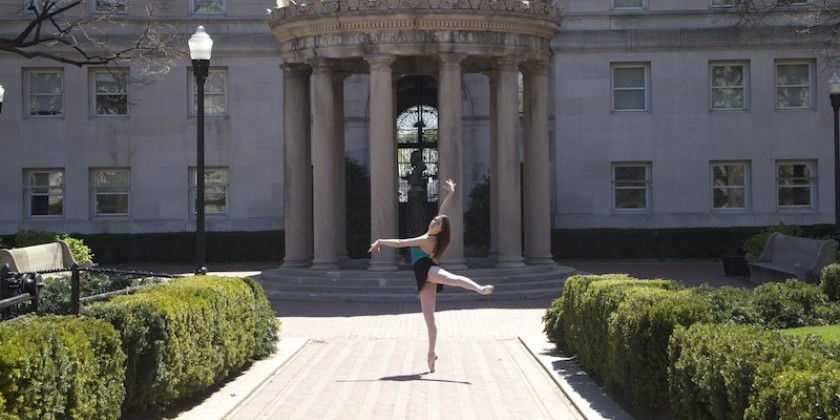 as the Company Prepares for its Season at the Miller Theatre
Performances: Saturday, May 3rd, 8pm & Sunday, May 4th, 3pm
Miller Theatre 
2960 Broadway 
New York, NY 10027
For more information, got to CBC's site.
---
Nevermind the midterms, rehearsals for Columbia Ballet Collaborative's Spring 2014 season are well underway for dancers at Columbia University. CBC was founded in 2007 by a group of former professional dancers-turned-Columbia students who wanted to create a student-run dance company that gave talented student dancers an opportunity to continue dancing at an advanced level, while also sharing their art with the Columbia community.
The group is comprised of students from all of the university's four undergraduate colleges (Barnard College, Columbia College, the School of Engineering and Applied Science, and the School of General Studies) and also has many members from various graduate programs. Though the dancers differ greatly in their academic goals, career aspirations, and dance experiences, they are all united by their love of ballet and commitment to creating and performing new works by professional and student choreographers. For two hours each week, students and choreographers come together for rehearsals in the dance studios at Barnard College. In the past, CBC has worked with both emerging and established choreographers, including Emery LeCrone, Justin Peck, Devin Alberda, Brian Reeder, and Pam Tanowitz.
Taylor Minich in Lisa de Ribere's Jadam's Apple from the Fall 2012 season. Photo © Victoria Robson
---
Although CBC is generously supported by Columbia University, the costs of producing a professional-level production greatly outruns the limited funding available to student groups. It is CBC's responsibility to raise the rest of its budget through creative marketing initiatives and additional grants. All of CBC's artistic, executive, and public relations functions are organized by students. Though this is a huge challenge to balance the workload of running a dance company with the homework, group projects, and study sessions for academic classes, CBC's executive board, led by Artistic Director Rachel Silvern (Barnard College Class of 2014) is committed to producing thoughtful and engaging performances each semester.
Claire Wampler (left) and Gretchen Schmid (right) in rehearsal for Caitlin Dieck's (center) piece Les Ballerines. Photo © Joe Ritter
 
This semester, CBC will present a program of six works. Five of these will be new works, featuring choreography by Michele Wiles, Jeremy McQueen, Caitlin Trainor, Constantine Baecher, and myself, Katherine Bergstrom. The sixth work will be the "Elegie" section of George Balanchine's Tchaikovsky Suite No. 3, which will be staged by Deborah Wingert.  Although CBC is of course interested in ballet, we also want our programs to also reflect the post-modern and contemporary dance interests of our dancers, so it's important for us to include a range of choreographic styles and vocabularies each semester. 
Rebecca Walden is lifted by her fellow castmates in choreographer Ja'Malik's piece Brief Company for CBC's Fall 2013 season. Photo © Sarah Crosswell
 
This will the second season that CBC has been granted permission to perform a Balanchine work, which is a great honor for a student-run company.  Last year, CBC performed the opening theme sections of The Four Temperaments, pictured below. 
CBC dancers Caitlin Dieck and James Lasky perform during CBC's Spring 2013 season in The Four Temperaments, Choreography by George Balanchine © The George Balanchine Trust. Photo by Joseph Ritter 
 
CBC is always looking for new ways to engage both the student community at Columbia and our greater New York audience. This season, we hope to do both by commissioning a new work from a member of the Barnard Dance Department faculty, Caitlin Trainor. In addition to teaching modern dance classes at Barnard, Trainor is also the founder and Artistic Director of Trainor Dance.  Her work for CBC this semester is inspired by Caroline Shaw's Pulitzer-Prize winning composition Partita for 8 Voices, a work that uses explores the different percussive and fluid combinations of a cappella voices.
Part of CBC's goal is to expose and connect its student dancers with the greater NYC dance community, and each semester, CBC selects one or two student choreographers to make a piece for their peers. This semester, I will be creating a piece for seven women that explores the idea that the body is a unit made of many distinct parts, and the idea of the body an art object or museum piece.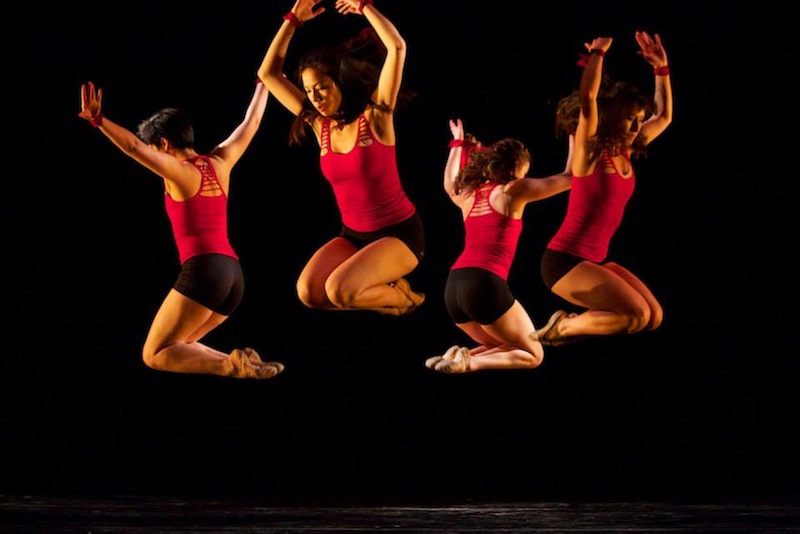 CBC student choreographer Serena Mackool's Beat of the Beast was a highlight of the Spring 2013 season. Photo by Joseph Ritter.
In addition to producing an evening-length performance each semester, CBC connects to the campus community offers a free ballet class to Columbia University students and affiliates on Saturday mornings. CBC has also organized an outreach program with local public elementary schools, and each week, a group of CBC volunteers teach beginning ballet classes to 2nd and 3rd grade students, led by Outreach Director Brianna Hill.
CBC dancers Brianna Hill, Gretchen Schmid, and Rachel Silvern recruit new members at Columbia University's annual Activities Fair.
Columbia Ballet Collaborative will present its Spring 2014 season on May 3rd at 8:00pm and May 4th at 3:00pm at Miller Theatre at Columbia University. For ticketing information, choreographer bios, and past season information, please visit CBC's website.