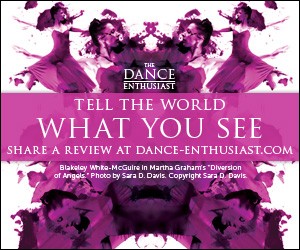 Related Features
THE TABLE OF SILENCE PROJECT 9/11 - 100+ DANCERS COMMEMORATE PEACE FOR A FOURTH YEAR
A Prayer for Peace Rises Up
From THE JOSIE ROBERTSON PLAZA, LINCOLN CENTER
on THURSDAY,  SEPTEMBER  11,  2014
---
At the Revson Fountain, Josie Robertson Plaza, Lincoln Center, Columbus & 64th Street
Free Admission
Information: 212.719.3301
Conceived and choreographed by Jacqulyn Buglisi, in collaboration with visual artist Rossella Vasta
Over 100 Dancers, led by the Buglisi Dance Theatre, will appear in this
Performance Ritual starts at 8:15 AM and concludes precisely at 8:46 AM
---
Jacqulyn Buglisi and Buglisi Dance Theatre are honored to be welcomed back by Lincoln Center for a fourth presentation of the transcendent  Table of Silence Project 9/11, a public tribute to 9/11 and prayer for peace, conceived and choreographed by Jacqulyn Buglisi in collaboration with Italian visual artist Rossella Vasta.  The tribute will take place Thursday September 11, beginning at 8:15 AM and concluding at 8:46 AM, the moment when American Airlines Flight 11 crashed into the North Tower.  
Table of Silence Project 9/11 Photo by Terri Gold
 
In partnership with Dance/NYC and The September Concert, Buglisi Dance Theatre brings together over 100 dancers, selected from major dance companies and professional institutions including The Ailey School, Martha Graham Center for Contemporary Dance, The Juilliard School, and Steps on Broadway.    Moving to the minimal plaintive cries of the singers, echoes of the flute and conch, and the ritualistic beat of the tympani - a metaphor for the heartbeat - the dancers ascend onto the Josie Robertson Plaza forming patterns of concentric circles to create a Peace labyrinth while encircling the Revson Fountain, symbolizing eternity, purity, and the continuous life cycle.   This sacred landscape becomes filled with the transcendent energy of the Mandala, connecting dancers and viewers to the healing rituals of the natural world. At 8:46 AM, the dancers will turn their wrists with open palms and extend their arms to the sky for one minute, evoking the simple gesture of universal peace.  Spectators are invited to join in this ritual.
Since 2011, the event has been viewed via live-stream in 45 U.S. States and 82 countries around the world, including New Zealand, Russia, Guatemala, Italy, Venezuela, South Africa, Thailand, Israel, Egypt, India, Vietnam, and our troops in Afghanistan, to name a few.   Crossing all borders and boundaries and expressing what makes us human, The Table of Silence Project 9/11 has proved itself a powerful transmitter of universal consciousness and understanding. 
Remembering September 11th:
"I looked downtown from my terrace near Time Square and saw the first tower smoking and flaming," says Jacqulyn Buglisi, Artistic Director of Buglisi Dance Theatre. "It was very terrifying. It was one of those effable moments actually. When you see a tragedy like that, you feel something that you never have felt before. That day transformed the world dramatically."
Buglisi and her collaborators are dedicated to infusing positivity into the world around them.
The Origins of  The Table of Silence Project 9/11 - a Dance Enthusiast repost
for more video on The Table of Silence Project 9/11 from The Dance Enthusiast click
here.
"The Table of Silence Project represents the common threads of humanity which unite all mankind into a single force with common goals and aspirations regardless of race, culture, or religion.  Through this event, we wish to achieve the dual purpose of celebrating and honoring peace, through listening, a united moment of silence - a call for Peace in our world."   Jacqulyn Buglisi, Choreographer