The Dance Enthusiast's Social Distance Dance Video Series: Abdiel Cedric Jacobsen and Kristine Bendul "2 of Us"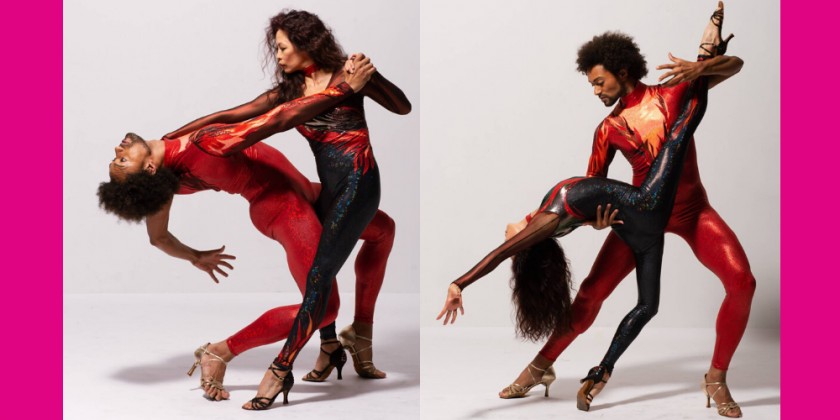 Abdiel Cedric Jacobsen and Kristine Bendul's video, 2 of Us, shows the usually  ballroom glamour-clad couple stuck in opposite parts of the world (in their comfie pants) finding a way to dance together.  Radiating  with positivity, fun, and hope, despite the knowledge they can't be in the same room, this piece reminds us that even through the current COVID 19 obstacles, we can maintain bonds, continue to create, grow, and, yes, laugh.  Bill Withers' "Just The Two Of Us" performed  by artists Véronique Schotte & Louison Watrin provides the soundtrack for this short light-hearted piece.
Here at The Dance Enthusiast we've followed Jacobosen since he joined the Martha Graham Dance Company in the early 2000's.  An enormously talented dramatic and technical presence, prior to working with MGDC Jacobsen had a phenomenal ballroom dance career. Presently in partnership with the stunning Broadway performer, Bendul, he continues to reach new heights.
Together the dancers became America's first professional male/female ballroom couple to compete as "Gender Neutral" in the Dancesport ballroom, blazing the way for inclusivity, fluidity, diversity and expression. The pairs choreographic advisor, Emmanuel Pierre-Antoine, says of their gender neutral ballroom work, "It is a new conception, a new way of seeing dancing,  as not male/female, as not man/woman, but as pure energy..."
To read more about Abdiel Cedric Jacobsen and Kristine Bendul's ballroom work click here for The Dance Enthusiast article by Erin Bomboy.
---
 
Christine Jowers for The Dance Enthusiast: How are you both and how are your families?
Kristine Bendul: I am actually embracing the time I have for myself and realize it's a gift. I am  using my time to continue self -development. 
I have begun working out again, completed an online course with Yale, created the video I have shared, am learning Hawaiian, started The Artist's Way at Work. 
And, I have found time to enjoy watching TV, which I didn't do before all of this.
There were a couple of moments my health felt slightly off, but I gave myself the rest without guilt.
My family is all faring well, thank goodness.
Abdiel Cedric Jacobsen: I have been displaced in California. I was in San Francisco and San Jose for a Hustle dance event called Marquee Madness that I was teaching and judging for. The end of the event had to be canceled due to the reduced-size gathering mandates set in place. My flight was canceled, so instead of flying back to New York City, I was urged by a cousin of mine, who works as a supervisory epidemiologist for the CDC, not to get on a plane and put myself at risk.
At that point most of my scheduled performance engagements in NYC were already being cancelled as Broadway shut down along with all other theaters. I knew that flying back home would not be the wisest choice.
I decided to rent a car from San Jose and drive six hours down the coast of California to Irvine where my best friend (who I call big sis) lives. I have been staying with her in her apartment ever since March 15th. I don't know when I'll ever be able to safely get back home.
All my family are back on the east coast in Maryland and have gathered together to stay under one roof; my eldest sister's home along with her husband, two daughters, my middle sister and mother.
We lost my father to cancer on Feb. 12th just a month before all the COVID madness and lost my mother's cousin (we referred to him as uncle) on April 4th due to COVID. He was serving as an essential need provider; a pharmacist. They speculated he contracted it on the job.
It has been an overwhelmingly traumatic course events for my family and I the past few months. Being separated on opposite coasts from my family, friends, dance partner, and home has been extremely tough. 
---
How are you communicating with your friends and family over this stay-at-home period?
Kristine: Being old fashioned, I phone my father, sister and some friends. I do have another group of friends that prefer FaceTime/Zoom which has been interesting for me to get used to using.
What helps you cope with our current COVID lifestyle ? How are you moving to keep  mentally, physically, spiritually healthy at this time?
Abdiel: What helps me cope is regularly, first and foremost, staying in touch with all my family and close friends via FaceTime, Zoom and other video chat platforms, checking up on each other periodically.
Secondly, I have been meditating regularly and practicing breathing and spinal mobilization techniques from Gyrotonic method to keep my spiritual, mental and physical connection aligned.
Also, I have taken up artist projects with my professional dance partner back home in NYC to keep connected in our practice as partner dancers and  to stay inspired to continue creating.
I have embraced teaching online courses through my own company which have been going successfully. It was awkward to transition to virtual classes -for both the students and teachers- but with time, we have been learning how to make it more engaging for everyone.
I was able to get a job as a deliverer for Amazon Flex and recently food delivery for InstaCart. Serving as an essential need provider to get people their groceries and mail has been humbling. I see so many people putting themselves at risk everyday who are dedicated to serving their community.
Although I understand I am putting myself at risk under hazardous circumstances, it gives me a sense of purpose and comfort to know that I can help get people their food and mail.
Kristine: I am healthier now knowing I have the time and energy to workout and do ballet barre. My vegetarian diet is even more healthy as I am detoxing from libations and breads. I already had a daily meditation practice and now I have time to catch up on inspirational books, audiobooks, online videos, etc. which I did not have before.
I know we are all in this together and there is strength in numbers. The more I nurture myself, the better I feel. 
---
Is there any message in particular, you would like to share with your colleagues, your audience, and our readers?
Kristine: When we are busy we all wish for free time. This is an opportunity to press reset, to go within and reflect on where we are in our personal and spiritual development.
Take advantage of this interlude and don't give up faith. As my mom always used to tell me, "This too shall pass."
Abdiel: Allow yourself to surrender to this moment of stillness and contemplation. Don't try to force certainty in the things unknown, nor try to force "busyness" to make yourself feel productive.
Truly go within and reconnect with that inner voice that communicates your authentic self and fill it up with love. When we come out of this we will have the opportunity to move from a more connected and gracious state. I look forward to this. 
---