The Dance Enthusiast Asks Bessie Award Winner, Beth Gill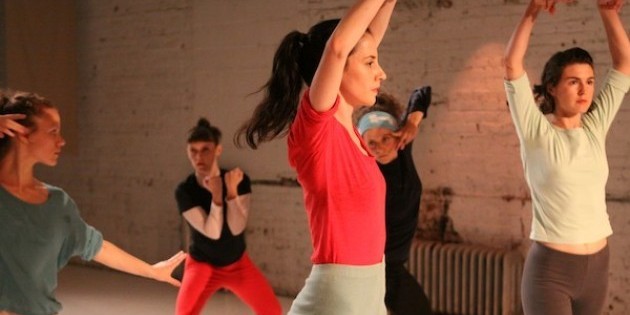 Beth Gill on Risk, The Big Picture (and More)
---
Beth Gill, Winner of the 2011 Outstanding Emerging Choreographer Award at The Bessies Chats with Brittany Beyer, of The Dance Enthusiast
---
Beth Gill and I were classmates at NYU/Tisch's Dance Department from 2000-2003. As my first assignment for 2012, I wanted to interview the Bessie winner about her choreographic process and what she thinks of present trends.
I attended one of the revival performances her "Electric Midwife" at the Chocolate Factory during APAP in January. Gill's choreographic prowess was certainly already developing when we were classmates over ten years ago,it is exciting to see that her talents as a choreographer being recognized. ~Brittany Beyer
---
RISK
Brittany Beyer: When I was doing my graduate work, I looked at the Chocolate Factory for one of my projects. Brian Rogers told me that for Electric Midwife you had a very specific point of view for the audience. Having a small audience, rather than a large audience can be risky.We have also been in New York for over ten years now, and I was wondering if feel like you're taking risks with your work. If you are defining a landscape that is risky or safe?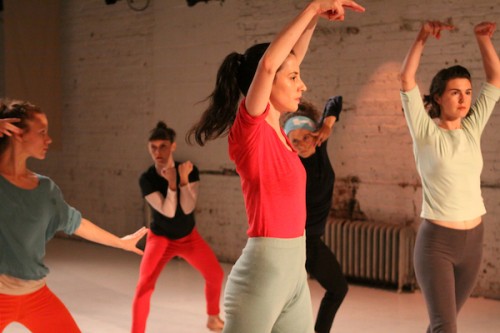 Electric Midwife Photo by Steven Schreiber
Beth Gill: I guess there are different kinds of risks. To choose to make dance at all, you are undertaking a tremendous amount of risk, often financial. But I don't think that is unique. There are other levels of risk, and they have to do with the importance of acceptance or validation of your work. When you think about it that way, it really depends on the (who the) different communities are that you feel like you are participating within.
I am always trying to stay connected to what feels authentic to myself. As much as I can, I try to operate within that realm and outside of a clear influence from these said communities. I really felt at the start of Electric Midwife that I was interested in doing something that I hadn't done for myself, which was to work in an almost classically formal way. That felt outside of the trends I was seeing in contemporary dance. I needed to flesh that out for myself, see if I could do it, see if it was interesting to me, and have that experience of making dance in that way.
At the time, it didn't feel risky, it felt like trying to make sure that my creative direction is sourced from a very clear internal place.
---
NYU , LEAVING SCHOOL AND CHOREOGRAPHING
"... yet there was something that felt even more daunting. I was letting the momentum of opportunities carry me out of my own creative terrain. If I kept working in that fashion and didn't take a moment to dictate my own timing, I might not have opportunities to propel myself forward in a fashion that I wanted."
BB
: And that's something that I felt even we were in college. I guess when you are working in a more organic nature, it feels like you shouldn't take any steps outside of a certain pathway. Maybe it doesn't feel risky because you are taking contemplated steps forward.I wanted to go back to being at Tisch Dance. Do you feel like there are any nuggets of truth you go back to, or was it just a staging ground?Were there certain things you revisit every once in a while?
BG: There are certain resources that I found while I was at NYU. Two individuals that have remained important to me, but were not necessarily a large part of the three years there, were Phyllis Lamhut and Tere O'Connor. Tere was just brought in to teach a workshop at the end of our three years: that was a really important workshop for me. I reference that still. With Phyllis, she made herself available even after I graduated, and became a resource that I could come to with current concerns. I think NYU created a platform for me to engage with peers that I was really sincerely inspired by. (including Eleanor Bauer, Eleanor Hullihan, Neal Beasily, Heather Lang, and Manelich Minnefee to name a few.) I am still close with a couple people from our graduating class, and they remain motivating figures in my life. I have had creative awakenings since I graduated that I am sure could not have happened without my experience at NYU. But the particular moments that have felt much more transformative or informative, I think they have come from a stripping away of the comfort that exists inside of an institution. Being on my own, having to re-commit to the practice over and over, those moments have really shaped my experience.
BB: And what were some of those moments?
BG: Well, when I first graduated Tisch I was really disheartened because I was conflicted about being an "actual performer". I think I was very fearful of the stress of being a performer. That, pared with the clear identity I felt with the role of choreographer made me shy away from going out and auditioning with my peers.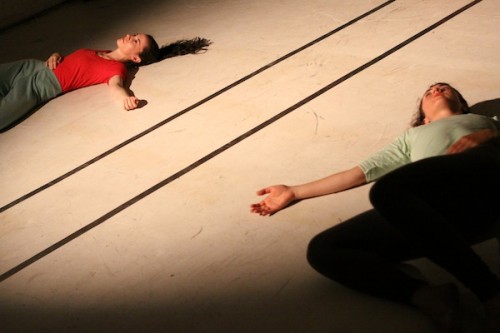 Electric Midwife Photo by Steven Schreiber
There were moments when I really considered doing something radically different (than dancing), although I was never able to actually follow that through. Each time... I say, "I am not done with this thing (dance) yet. If I let it go, I'll feel like I cut it short."
Then this miraculous thing happened where I made a piece that was in a group show, and through that I was given the opportunity to make a piece at the Kitchen, (2005's wounded giant). That really set up this momentum which lasted from 2004 into 2008.
The next hurdle was after my first evening length piece at the Kitchen, (2008's what it looks like, what it feels like.) There was such a formative and personally momentous arc that took place in those four short years , when I reached the landmark of a full-length piece, there was a lot of catching up to myself that I needed to do. When ( what it looks like, what it feels like) was over , I was left in this position of confusion on how to move forward.
---
GRANTS/THE LARGER PICTURE
BB: Was it the administrative side? How to write and get grants?
BG: That was a really big part of it. I can be naive and sort of blind to the more necessary parts of life. I was really committed to making work during this time, and I was really trying to make it work. I knew I should be applying for stuff, but there is so much cynicism surrounding this (the work that goes into applying for grants, coupled with the slim chance of receiving a grant) I found myself in a position where I needed to fund a full-length work and I had only really been working in the field for a short time. I didn't have an infrastructure. That piece ("what it looks like...") was built on a very meager budget- essentially self-funded with some donations.
"I definitely watch things a lot. I sort of obsessively watch things, and there's this editing process that happens that is about repetition and noticing consistent responses to things over time. Making choices based on that. "That was the first moment where I actually saw the larger picture. It was clear that this was the rhythm I was getting into: producing things every year or two years. I asked myself how I was practically going to make that happen, yet there was something that felt even more daunting. I was letting the momentum of opportunities carry me out of my own creative terrain. If I kept working in that fashion and didn't take a moment to dictate my own timing, I might not have opportunities to propel myself forward in a fashion that I wanted. intently took a year after the piece at The Kitchen and stepped away.
It was pretty amazing. I went to visit my family for the holidays this year, and their perspective is that this past year has been a really big year with big achievements and accolades. (including this past year's Outstanding Emerging Choreographer and a Juried Award for the choreographer they feel exhibits some of the most interesting and exciting ideas happening in dance in New York City today.)
We talked about where I was emotionally during that year away, (from dance) which was not so dissimilar from the year NYU. I really needed
to reconnect with some need or necessity and get back to the work. I needed to rekindle my artistic practice.
During that year, I found that I had not allowed myself to make the large scale, crafted, obsessive piece I have always wanted to make.
Thinking about my heros and influences in the dance realm brought me back to a place where I wanted to try this.
Now, I feel there are different types of questions and problems for me going into future projects. Now, it's how to keep fresh and connected to the moment and what the current interests are right then.
---
LOOKING AT THINGS
BB: Did you find you were giving yourself a diet of things to see to get back to your creative self?
BG: It's more that I was giving myself the space to really reflect on the individual pieces I had made up until that point, which I hadn't done. I spent a lot of time writing about them, and thinking about them (but) Not really watching them or giving myself the headspace to reflect on them.
BB: Is there something in the pieces that you need to physically revisit?
BG: No, It doesn't feel stimulating to go back and re-work them. However, I think I am always looking at past gestures. They are very much carried into other pieces.
I remounted Electric Midwife (for APAP at the Chocolate Factory, Jan 5-9th) I was really afraid I was not going to want to look at it at all, and I was pleasantly surprised. It's been a really good experience for me to sit and watch it again.
---
DANCE IN MUSEUMS AND GALLERIES
Electric Midwife Photo by Steven Schreiber
BB: We ran into each other a few times during PERFORMA 11. There is a big push to have performance works in museums, and even more so in gallery spaces. What are your feelings about that? Are you finding the value in it?
BG: I feel like contemporary dance is very much in a dialogue with other mediums. I have always felt that the study of space to be a big interest of mine. I am in a dialogue with certain visual art practices, and it is very visible. That is part of how I think about the body, and using the body. Even in more recent work, the body is being used as a sculptural item with a real static nature. It has always been interesting to me to present my work in a visual art capacity. I see the trend and think it's fascinating because the nature of contemporary dance exists in such a confusing ontological realm. What "it is" is not clear, and it leaves itself vulnerable to be absorbed by genres which are defining themselves. I can see how dance will be absorbed into the gallery and museum space, and subsequently the economic and operating structures of those institutions.
---
HOW DO YOU START TO MAKE A DANCE?
BB:I'm thinking about the ways of making a dance piece, and how methodical you are making a piece. Are there ways that you enter into an idea and work from there?
BG: What is my methodology? Physical spaces are always the starting point for me.
BB: And lately you have known the space you are creating for?
BG: So far that has always been the case. In that way, I am usually thinking about things in a much more painterly way. Building images inside this interior space. The work in the studio is about physicalizing the images. This last practice (Electric Midwife at the very specific space, The Chocolate Factory) basically created its own methodology because of the imagery. I don't know how it will ever repeat itself.
I definitely watch things a lot. I sort of obsessively watch things, and there's this editing process that happens that is about repetition and noticing consistent responses to things over time. Making choices based on that. This kind of allows me to distill down sections for a dance and access these essential components for myself.
---
CLASSCLASSCLASS
BB: I had a question about your involvement with CLASSCLASSCLASS. You were involved with it very early on.
BG: I think I was involved the first year, and then last year.
BB: What were some of the things that were beneficial to being part of it?
BG: I guess I spent so much time after school developing the role of choreographer, and I was not investing my own skills as a dancer or teacher. My experience of class as a student is still rooted in being in college. I, of course, took class after that, but never to the point where I would learn the structure the teacher was putting forth.
What I took away from CLASSCLASSCLASS is that teaching is f***ing hard. I'm very intimidated by it because I have a tremendous amount of reverence for the act of teaching. I have this goal of taking class more because I think I need to give myself that experience at this point in my life. I think it will really help me organize what I would like to teach.I think what I failed to do with my teaching (with CLASSCLASSCLASS) was really build a class structure that accesses my knowledge in an authentic way. I tended to create structures that mirrored structures that I have taken before.
---
Beth Gill is looking towards possibly touring her Bessie award winning piece, "Electric Midwife", around the country. She will also begin working on her next full length piece within the next six months.