THE DANCE ENTHUSIAST ASKS: 
Anabella Lenzu on Motherhood and Art, Choreography and Community
and her work-in-progress "Listen to Your Mother" Showing at Movement Research on March 6th, 2023
Every immigrant has a story.  Anabella Lenzu's is an epic of adventure, exile and return; a self-styled "feminist rant," and something like Walt Whitman's "Song of Myself" by a simple separate soul that yet utters the word "democratic." Dancer, choreographer, actor, teacher, author, filmmaker, wife and mother — like Whitman she is large, she contains multitudes.  
At age 23, she emigrated alone from Argentina to New York, to dance and study choreography. At Peridance and Juilliard, and the New York Public Library, she immersed herself in modern dance and dance history — especially the heritage of female choreographers.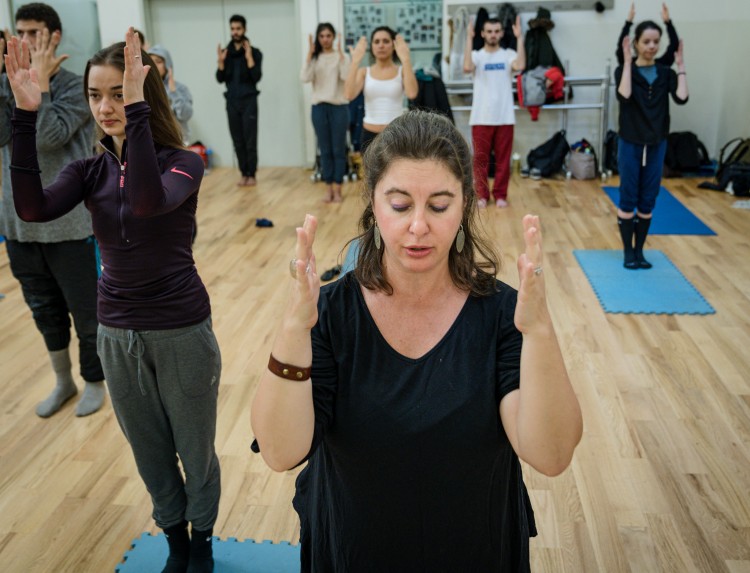 Anabella Lenzu, the Teacher; photo by Todd Carroll
After the World Trade Center attacks in 2001, she flew back to Argentina to see her family. When she returned to New York the next year, US immigration officials refused to believe she was a dancer, put her in handcuffs and leg irons, and deported her with a five-year ban on re-entry.  She vowed never to return. 
She resumed her career in Italy, where she married an American photographer — and after long and painstaking deliberation, they decided to raise their children in the US. Today Anabella Lenzu, Todd Carroll, and their son and daughter live in Williamsburgh, Brooklyn.  And Lenzu is deep into the work of a lifetime, a research project/dance drama about mothers, artists, and immigrants.
Its latest iteration is a work-in-progress, Listen to Your Mother, in which she acts out the impossible contradictions of being an artist and a mother, and reaches out to others under the same burdens. The Dance Enthusiast asked her about it in February.
Tom Phillips for The Dance Enthusiast:  So you are trying to find out what your experience has in common with other artists, other mothers, other immigrants. Why is this so important?
Anabella Lenzu:  It's about finding my community — to find other voices, to honor other voices.  I've talked to forty other women, from age 80 to 30, who are mothers, dancers and choreographers.  We have these commonalities:  this idea of guilt, this idea of care, this suffering and this role that they put us to be. Is my job to clean the house?  I don't know, but we all do.   
I'm investigating why I'm alive. And again, I'm not doing this work for me. My daughter is nine years old, but she sees me and hears me, and she sees these other mothers, and I feel like I'm passing on (to) her so much knowledge and appreciation.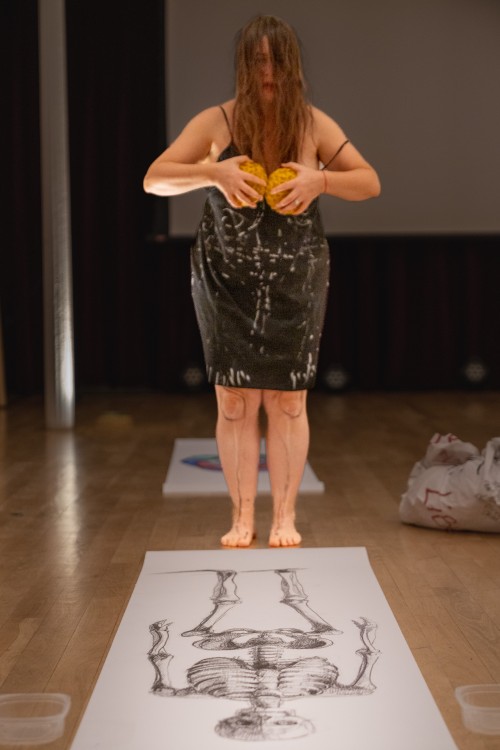 Anabella Lenzu in Performance; photo by Todd Carroll
It's like a big embrace. I feel like the pandemic tore us apart, and performance is a celebration of coming together.  And many of these choreographers and dancers are saying "thank you!" Because nobody ever asked them about this.  Many of them choreograph about being a mother, but their works have never been presented or recognized.
One gentleman who attended my work-in-progress said, "this is not an original theme." And I said yes, but it's been forever and nobody paid any attention! He's not a mother, but he has a mother. A psychologist friend of mine said Anabella, you are getting to the middle of the storm, because everything is based on your relationship with your mother.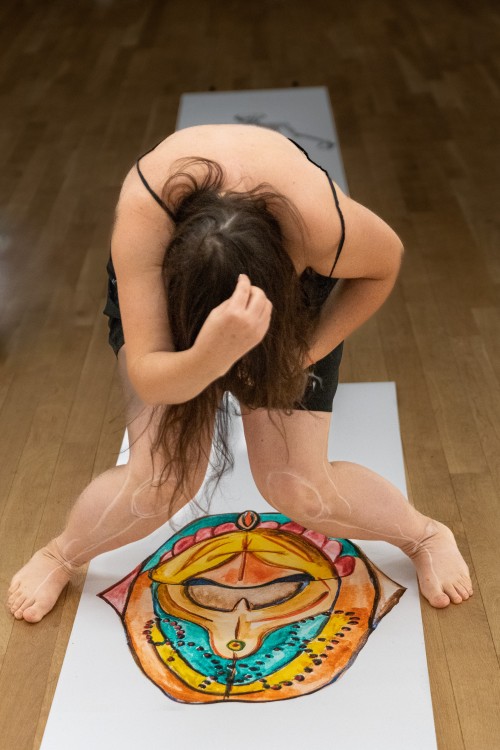 Anabella Lenzu in Performance; photo by Todd Carroll
The women you talk to: how do you find them, choose them, and what do you ask them?  
The first one was Sara Rudner, she was my boss when I taught at Sarah Lawrence. I was pregnant at the time, and I felt embraced by another mother who understood the journey.  So it was natural to interview her, and Christine Jowers (the founder of The Dance Enthusiast), and choreographers that I used to baby-sit for when I was a student at Juilliard.  And then they started to suggest each other. I talked to Vicky Shick, and she introduced me to Iréne Hultman-Monti, and one after another, we connect and expand.  I don't have a number. 50 or 100, I don't know yet.
One of the questions I ask is, "Are you listening to your mother? What are the things that you listen, and you don't listen?"  Because I found that many times, the mothers of these artists are not artists. So, there are certain dialogues that we can find among ourselves that we can't find in our own families.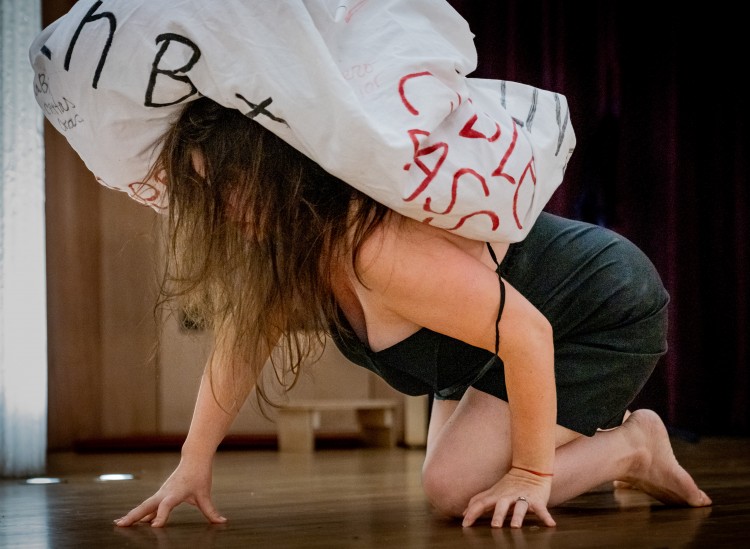 Anabella Lenzu in Performance; photo by Todd Carroll
How do you envision the final version of this work?  Will there be a lot of people on the stage?
Well, right now I'm doing a solo because of the budget, but I would like to have more bodies on the stage.  And if that's not possible. maybe do a dance film — that would be a time capsule about these bodies and these stories.  
Let me throw some quotes of yours back at you. In an earlier version of this work (No More Beautiful Dances, 2018), you described 26 hours of labor you went through for the birth of your first child.  When finally they put your son on your chest, you say you "understood everything." What was it you understood? 
Everything and nothing!  My modern dance teacher told me you need to "feel the gravity," and for me I'm a ballerina, I'm anti-gravity.  But when I get my kid and I walk out of the hospital to get a taxi and come home — then I understand gravity. Having this kid in my arms, the life, the responsibility — maybe it's due to my Catholic background — this is real. That I'm all for someone else. As a dancer, single or married, it's all about you, but now it's nothing about you, all the arrows are pointing outside. So I understood everything and nothing at the same time.  
I understood the idea of self-donation, to donate yourself completely.  I wanted to squeeze my whole body — I had this image that I am a breadcrumb, full of milk. But it's so much more than your physical body, being a mother. 
Anabella Lenzu in Class; photo by Todd Carroll
Last year, at the end of your performance at West Park Presbyterian Church, you herded the audience onto the stage, and you told them repeatedly, "We are all artists, and this is for us." Then you walked out and left them on stage. What were you trying to show them?  
It's being the protagonist of your own life. I put them in a position of responsibility. What are you doing about your life, about yourself?  Embrace that. Then I walked out, and they thought I was taking the bus and going home. That was a reverse of roles. If I was living in Argentina, I would not dare to do that. They would be terrified!   
Finally, in your barre a terre class at Peridance, you gave your students an exercise, and told them the purpose of it was "to be or not to be."  
It's a joke. I'm performing when I'm teaching, and humor is very important. Also when they are in a floor-barre class  — which is highly technical — I need to freak them out, change their perspective. You are training to be a performer: you want to perform, or not?  
And that is my take on the last ten years. People teach dance as fitness, not as an art form. I bring my students back to reality. This is not about technique — this is poetry.  
Anabella Lenzu will perform her work-in progress "Listen to Your Mother" at 7 pm Monday, March 6, at Movement Research at the Judson Church (55 Washington Square, NY 10012).  FREE Admission.
---
The Dance Enthusiast Asks questions and creates conversation.
For more of The Dance Enthusiast Asks, click here.
---
The Dance Enthusiast - News, Reviews, Interviews and an Open Invitation for YOU to join the Dance Conversation.