Christine Bonansea Premieres "OnlyHuman" as Part of Danspace Project's Community ACCESS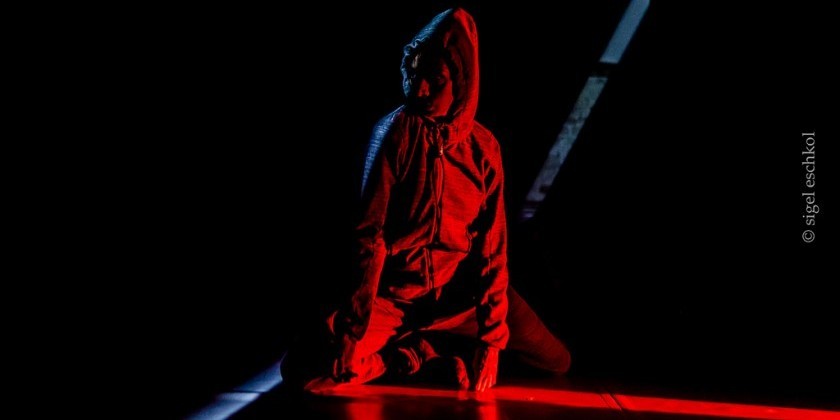 Inspired by Friedrich Nietzsche
OnlyHuman at Danspace Project
Thu-Sat, November 15-17, 2018; 8:00PM
Concept, choreography & performance: Christine Bonansea, Robert Flynt, Yoann Trellu, and Nicole Carroll
Original music: Nicole Carroll / Photography: Robert Flynt / Graphic programming: Yoann Trellu

OnlyHuman is a solo inspired by Friedrich Nietzsche's aphoristic volume "Human, All Too Human." Performer/choreographer Christine Bonasea is investigating the stark contradiction between humankind's capacity for freedom and beauty against its most destructive and illogical behaviors. Created in collaboration with the artists Robert Flynt, Yoann Trellu, and Nicole Carroll, this highly kinetic and virtuosic dance is a meditation on bodily images and stereotypes of self in the context of the environment - geography, emotions, social structure. 
---

Sammi Lim for The Dance Enthusiast: Hi, Christine! How's it going? Will it be difficult for dance enthusiasts to follow OnlyHuman if they aren't the slightest bit familiar with Friedrich Nietzsche? 
Christine Bonansea: You don't need to read him to enjoy OnlyHuman; it can only give a stronger context but the piece is not about the book. This collection of aphorisms was an initial incentive, a beginning.
Nietzsche is a great source of inspiration for me. The subjects he explores are universal, accessible to anyone. He was a critical theorist, a German philosopher, an essayist, and an artist. His writings on truth, morality, language, aesthetics, cultural theory, history, nihilism, power, consciousness, and the meaning of existence have exerted an enormous influence on Western philosophy and intellectual history.
Christine Bonansea's "OnlyHuman." Photo © Robert Flynt.
Be my SparkNotes! Can you tell our readers about "Human, All Too Human: A Book For Free Spirits" in a nutshell?
Christine Bonansea: The questions brought about by Nietzsche are about an individual in modern democracy. 
He wrote about the nature of the self and provocative proposals for promoting cultural renewal and improving social and psychological life (he criticized traditional values). In "Human, All Too Human," Nietzsche explores the possibility of grounding the culture in scientific knowledge. This new concept of culture requires a critique of the Wagnerian romantic-artistic cultural project, which as Nietzsche reveals, rests on erroneous religious, moral, and ultimately metaphysical assumptions. The radical critique of these latter assumptions forms a bridge to Nietzsche's mature philosophy.
There are different views or interpretation of his work. Some interpreters of Nietzsche believe he embraced nihilism, rejected philosophical reasoning, and promoted a literary exploration of the human condition — all this without concern for gaining any truth and knowledge in the traditional sense. Others think that he was engaged in a positive program to reaffirm life, and so called for a radical, naturalistic rethinking of human existence, knowledge, and morality. Both interpretation agree that he suggested "becoming what one is" through the cultivation of instincts and various cognitive faculties — a plan that requires constant struggle with one's psychological and intellectual inheritances.
How will you and your team break down the thick tome into a performance piece? According to aphorisms? By chapters? Or sentences that stuck out?  
Christine Bonansea: The idea is not to embody the book or the work of Nietzsche. The aphorisms make statements that contain a truth revealed in a terse manner. With these concise and laconic forms in his oeuvre, Nietzsche points out certain facts about humanity. In addition, aphorisms often come with a pinch of humor, which makes them more appealing to the wider audiences and generally amuses me. I got inspired by his style of writing and tone, and adopted the compositional structure when creating OnlyHuman.
Christine Bonansea's "OnlyHuman." Photo © Sigel Eschkol.
How did you come into cahoots with your collaborators?
Christine Bonansea: I'm really attentive to sound and experimental forms, moreover. My collaborators are open to taking risks, so they understand my motivations and have also developed unique aesthetics. I met musician-composer Nicole Carroll during a residency at Atlantic Center for the Arts in Florida in 2010. In 2016, mutual friends introduced me to the visual artists Robert Flynt who made stunning photographs that were projected in the piece, and to Solomon Weisbard, the lighting designer who recently worked for Robert Wilson. I met the multimedia artist Yoann Trellu in San Francisco when he was working with another choreographer. Yoann lives in Berlin; we were a very good team at DOCK11 where OnlyHuman premiered. He is really open to experimenting visual and playing with the materials! This is essential for the work. 
This project also features a really strong cast of skilled dancers whom I met at performances or my own workshops: Mei Yamanaka performs the solo and is joined by Alvaro Gonzales, Malcolm Betts, Maya Orchin, Becca Loevy, Charles Gowin, Cameron McKinney, Amelia Koper Heintzelman, Ichi Go, and Kristopher Pourzal.
This looks to be quite a digitized dance performance — how does Yoann Trellu's graphic programming add to/form part of OnlyHuman? 
Christine Bonansea: Trellu set up a program that generates video projections that interact with Nicole Carroll's sounds, which she also performs in real time. The three of us composed the multimedia sequences together. Each visual is connected to an ensemble of movement: sound, body, lights are interconnected. The environment reflects an idea, a point of view, that exposes the body space.
Had you not received subsidized off-season rental via Danspace Project's Community ACCESS, would the work still have manifested?
Christine Bonansea: I looked for a space for a whole year, doing a lot of partial showcases in NYC — at the Judson Church, in Draftworks at Danspace Project, also at other venues in Brooklyn or in the Bronx. After receiving the Creative Engagement Grant for the Lower Manhattan Council, I was finally able to perform the work in its entirety. The Foundation for Contemporary Arts just provided support for this production with an Emergency Grant. Danspace was the ultimate opportunity. I'm really grateful for all that support and the Community ACCESS program. I would not have been able to show the complete work without them.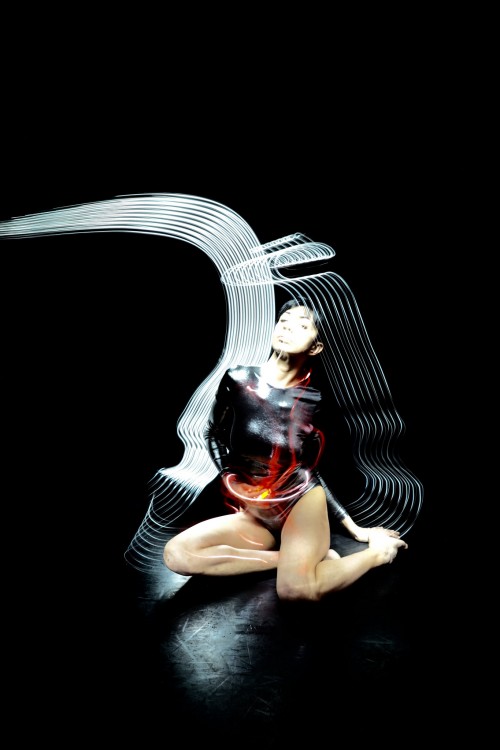 Christine Bonansea's "OnlyHuman." Photo © Robert Flynt.
Any plans on expanding OnlyHuman into a trilogy? After all, there is 'Assorted Opinions and Maxims' (1879), and 'The Wanderer and his Shadow' (1880).
Christine Bonansea: Oh yes! OnlyHuman is the beginning of the trilogy OH Project. The second part (OH-2) is already programmed in co-production with DOCK11 in Berlin at the end of November 2018, right after the NYC Premiere of OnlyHuman! I will show the first version of OH-2 on November 29-30th and December 1 in Germany. I am again working with an international team of artists, including Nicole Carroll and Yoann Trellu, my main collaborators. The piece OH-2 will [officially] premiere in 2019 in Berlin. 
I've also started to process part 3: OH-3, which be performed in public spaces by a larger group of dancers. OH-3 will be site-specific so the dancer can use the mass circulation of an anonymous crowd. I've been teaching the scores of OH-3 in my workshops, creating improvisation performances with the dancers at Grand Central in NYC and at Alexanderplatz subway station in Berlin this year. I would like to make a movie that reflects the intensity of the mass movement in the various performative spaces.
Finally, the trilogy OH Project gives me the opportunity to collaborate with other dance companies in Europe in 2019. 
---
---
The Dance Enthusiast Asks Questions and Creates Conversation.
For more of The Dance Enthusiast Asks, click here.
Share your #AudienceReview of this performance or others for a chance to win a MARQUEE.TV ONE YEAR SUBSCRIPTION for you + a friend!