Related Features
Contribute
Your support helps us cover dance in New York City and beyond! Donate now.
THE DANCE ENTHUSIAST ASKS: Cynthia Oliver, Ni'Ja Whitson & JanpiStar On What Being A 2021 USA Fellow Means To Them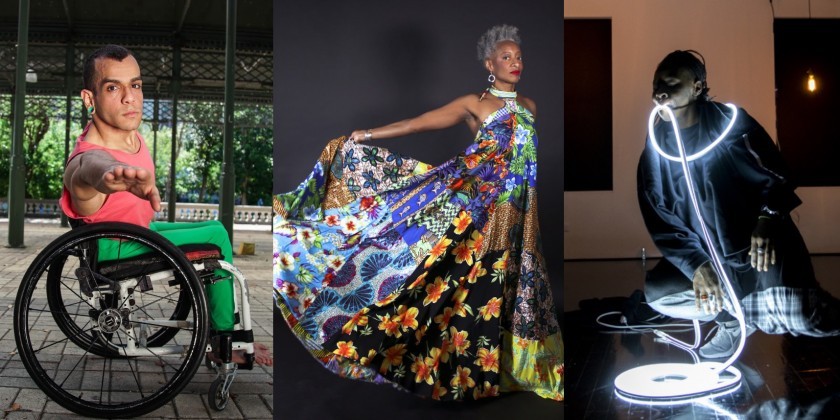 Earlier this year, United States Artists (USA) announce its 2021 USA Fellows, which also happens to be their largest fellowship to date, with 60 artists working across 10 disciplines. The extraordinary grant was bestowed upon five dance artists: Ishmael Houston-Jones, JanpiStar, Emily Johnson, Cynthia Oliver and Ni'Ja Whitson, three of whom we recently caught up with (see below). For the full announcement, click here.
---
ABOUT THE ARTISTS:
CYNTHIA OLIVER is a dance maker, performer, and scholar reared in St. Croix, US Virgin Islands. Her work incorporates textures of Caribbean performance with African and American aesthetic sensibilities. Her most recent evening-length performance work, Virago-Man Dem, premiered at BAM's 2017 Next Wave festival and toured the country.
JANPISTAR was born and raised in Puerto Rico. They are an integrated dance instructor who has practiced the art of Drag Queen. Their most recent solo work was commissioned for 2019's inaugural FROLIC Queering Dance Festival. In January 2020, they participated in the Holland Dance Festival with AXIS.  JanpiStar's mission is to empower people to believe in themselves and follow their dreams.
NI'JA WHITSON is an award-winning, Queer, Nonbinary Trans multidisciplinary artist and futurist. Their practice extends to choreography for conventional and experimental theater and performance, most recently with Yale Dance Lab and for the opera Omar—composed by Rhiannon Giddens and directed by Charlotte Brathwaite—scheduled to premiere at the 2021 Spoleto Festival in Charleston, SC. Their writing has been published in Contact Quarterly, Dancing While Black journal, and the Critical Black Futures anthology (2021).
---
JanpiStar. Photo by Anastasia Kuba
What was everyone in the middle of when United States Artists announced the 2021 USA Fellows? 
JanpiStar: When they announced the news it was still really early in Oakland, California so I was asleep, and woke up to a normal rehearsal day albeit the many notifications on my phone and social media. In Puerto Rico they put it in the newspapers and all my families and friends were tagging me in the announcements.
Ni'Ja Whitson: I wish I could remember that day and moment more clearly to answer this question! The person who called me heard me scream, tear up and say, "What?" and "Thank you" repeatedly. They laughed with me and were so deeply caring, while expressing an appreciation for my work, and I felt their love. 
Cynthia Oliver: What was I in the middle of… I was driving to pick up my child, who was hanging with friends in a park (socially distant of course) and I just screamed and screamed in the car. You lie! You lie! Aieeee!!! I have been nominated four times, so I really didn't expect it to happen. I was stunned and over the moon.
Virago-Man Dem premiere, 2017. Brooklyn Academy of Music Next Wave Festival. Photoby Julieta Cervantes
Which of your fellow dancers in the 2021 class have you seen perform live?

Ni'Ja Whitson: I have had the pleasure of seeing Ishmael Houston-Jones perform live, facilitate workshops and speak, and I have witnessed Cynthia Oliver direct performers (myself included) and perform as a part of that process. 
Cynthia Oliver: I have seen Ishmael Houston-Jones and Ni'Ja Whitson perform live. Ni'Ja graced the stage in my last full evening work, Virago-Man Dem. So we've even been in process together. I have seen Emily Johnson's work on video. And I have yet to see my compadre de Puerto Rico JanpiStar—I call them this as a fellow person from the Caribbean; St. Croix is 60 miles from Puerto Rico.
JanpiStar: I haven't had the pleasure of seeing my fellow dancers perform live—yet—but I definitely researched each of them when the fellowship was announced, and I think all of them are awesome artists.
JanpiStar, since you've lived and worked in several countries, what have you noticed about the similarities/differences in drag culture?
JanpiStar: I have noticed that the Drag culture is very unique in every country. In some places we can find smaller groups but very strong ones. I noticed that the drag culture in every place is very resilient.
Ni'Ja Whitson. Photo by Scott Shaw
This one's for you, Ni'Ja: How do dance and writing go hand-in-hand in your world?
Ni'Ja Whitson: It is all art. All modalities of artistic practice. There is no division for me of when "dance" starts or "writing" begins. They are both/all embodied, they are both/all languages where I disregard boundaries in order to cultivate meanings that are as precise as they are imaginary.
Cynthia Oliver. Photo by Val Oliveiro
If you don't mind sharing, where does most fellowship funding usually get channeled?
Cynthia Oliver: Usually towards a project at hand, specifically as fees for artists with whom I work. That is my biggest expense, because they are the everything of the project.  And then there is travel, accommodations, et cetera. But since there is none of the latter, I am awaiting more mobility before making concrete plans. I am allowing myself to dream. And when the time comes, I will begin fleshing the dreams out. Making them manifest. I look forward to that again one day.
JanPiStar: The majority of the fellowship funding will be used to start my goal of buying a house. It has also given me the opportunity to get a car, which allows me to reach more places and to be more independent in my practice. 
Ni'Ja? What does the fellowship funding mean for your practice in 2021?
Ni'Ja Whitson: It must be said that receiving a fellowship award of this kind during a global pandemic is a strange happening. So I don't know all the ways this funding means to my practice yet, but I know now that it is an invitation to slow down. Maybe.
JanpiStar: I feel that my work as an artist is validated by receiving this fellowship. I feel that my career got a really big impulse in so many ways and that I can continue the work I'm doing with more strength and confidence. I think artists need more support like this because art is important for our society and sometimes we don't have the necessary resources to work and create.
---
The Dance Enthusiast Asks questions and creates conversation.
For more of The Dance Enthusiast Asks, click here.
---
The Dance Enthusiast - News, Reviews, Interviews and an Open Invitation for YOU to join the Dance Conversation.